A new study published on the relationship between dog bites and breed-specific legislation (BSL) in Denmark was published in 2018, and an article by Zazie Todd has been subject to much discussion on social media. As usual, that discussion is rarely positive about BSL, and anecdote after anecdote roll in about how great our 'dangerous' dogs are. I don't usually class lots of anecdotes as data as some are wont to do, but a pattern was evident. Nobody had been saved from being bitten by BSL, and a large number of people have dogs who are affected by it. Including us at the Refuge de l'Angoumois in France.
Those of you who know me will know that canine aggression is an interest of mine. Most of the dogs who come to me for behavioural modification have issues with aggression. I don't have the patience or the nature for fearfulness, and although the two things may go hand in hand, I feel I have a better grip on the aggression cases I work, and I'm glad to have worked with a lot of people who've come through the other side.
Aggression is such an interest of mine that I wrote my diploma for my canine behaviour practitioner course on it.
That happens when you've spent 20-odd years working with teenagers, I think. "They're not aggressive, they're just misunderstood!" I find myself saying.
So I compile case studies of my own – not subjective anecdotes but heavily-documented objective case studies. And I read statistics from France, from Ireland and the most recent from Denmark. It's a morbid obsession I know.
Most of my private clients arrive with dogs who either have bitten and been reported or have bitten and have luckily escaped the legal hoo-ha that can follow a bite. So I know bite law and responsibility and insurance and all that malarky inside out for France.
Bites, for instance, of any kind are supposed to be reported by the person bitten to the town hall. Sometimes other things are included in that, such as attacks on other dogs – whether fatal or not – or on cats, livestock or wildlife. That, not to trivialise bites, ranges from the slightest graze of a tooth in play to bites that kill a person. It makes no account of context, motivation or emotion. The municipal staff should then request the owner present their dog to a vétérinaire sanitaire (sanitation vet) for what is called a protocole mordeur or bite protocol. Loi 2008-582 published on 20 June 2008 makes what happens next a clear pathway. On the day of the bite (Day 1), the dog should be seen by the sanitation vet, then again on Day 7 and then again on Day 15. There is only one purpose for this: to check whether the dog has rabies.
Since dogs don't have rabies in France (it is rare enough to be reported by the decade) this is largely just due process.
The municipal staff can also insist (and 'should' insist, according to the law) that an 'évaluation comportementale' or behavioural evaluation be carried out by a specialist vet.
I say specialist with a large caveat. I am not a vet basher by any means, not by any. But there are vets in our community for sure who work exclusively with equines or farm livestock who are 'qualified' to do this test. Since it was based on inscription numbers and the region must have a certain number, only when those vets decide to remove themselves from the list or they retire can another vet step up. That means one of our local horse vets who shoved an unknown dog presenting aggressively into the back of a strange car and got very badly bitten is as qualified to 'evaluate' a dog's behaviour as vets who work as vétérinaire comportementaliste – behavioural vets who mainly work with dogs.
There are anecdotes out there about the disparity between results of the behavioural evaluation and how those results are achieved. Dogs are assessed as being level 1 (no danger beyond the usual dangers presented by owning a large predator) to level 4 (unpredictably and explosively aggressive with high likelihood of wounding). But no peer assessment is done. No standard battery of tests. Nothing to prevent vets from provoking dogs, or not taking it seriously and letting you off with a 1. Basically, not worth the paper it's written on, and very easy to cheat if your dog bites and you pick your vet carefully. One vet will give a 4 and one vet will give a 1 or a 2. Hardly fair. Just to put that in perspective, my former vet made my dog literally crap himself. My current vet told my dog how handsome he is and what a good boy, and gave him a chew. Which vet do you think my dog would be likely to behave as a level 1 dog with, or a level 4? There isn't even an attempt to make sure the behavioural evaluation is conducted in an egalitarian and fair way, and your dog's reaction to the vet is the main factor in the evaluation. It's highly subjective at best.
After this, the vet will write a letter back to the town hall to account for the rabies tests and the second vet (if the first cannot conduct the behavioural assessment) will state what level of risk the dog presents, perhaps recommending euthanasia for dogs who are level 3 or 4. It is the town hall's choice as to what happens next.
Some will issue an arrêté municipal or legally-binding statement. That might say you will do a training course, walk your dog on a lead if in public and muzzle your dog. It may say the dog needs to be removed because you are incapable of handling it and it would therefore be okay in the right hands. Or it could be a destruction order. Unlike the UK where destruction orders are frequent, this is rare. I've only known a handful in all my time here in France – and usually for dogs who have a high level of danger, are owned by irresponsible owners and are subject to breed-specific legislation.
As you can imagine, most dog bites are not reported. I've been bitten I'd guess about 8 times. One was by my old malinois Tobby. He was irritated and I got in the way. One was my old Amigo who bit me when I grabbed his collar during one of his dementia-driven midnight wanderings where deafness meant he'd not heard he was about to get into bed with another dog and cause a fight. Technically I should have reported all of those bites. Just recently, a dog from our shelter bit his owner. The owner told the town hall. The town hall told him to report to a vet for the 15-day visits. The guy did. The vet recommended the dog be euthanised. Another vet realised the dog had health issues, an enlarged heart, and the town hall had to then choose between a very well respected vet saying 'kill this old dog' and one saying 'treat this old dog'.
I know I don't need to tell you how utterly heartbroken I'd have been if my old Amigo had been put to sleep because I grabbed him to stop a fight breaking out.
This is why I am very clear that owners whose dogs have bitten are very welcome to get in touch with me and I'll do my best to find them a fair vet. It is not fair for a sick dog to be judged on behaviour during sickness – you may think differently and I'm happy to hear that – but those are circumstances that need to be considered. It wasn't like the dog had mauled the owner. It was a very bad-tempered 'Get off me' bite that left no bruise, broke no skin and was intended as a warning.
Do you see what I mean about playing the system though? Ridiculous isn't it? And as it says in the legislation, it is the owner who chooses the vet they report to for the behaviour test. So choose carefully.
And if you don't get the behavioural evaluation, the town hall can decide to issue an arrêté for the immediate euthanasia of the dog once the 15 days rabies check is up. The clock ticks.
All of this is rien à voir as the French say with breed-specific legislation. Nothing to do with it at all.
Following on from the US (1987) and then from the UK and Norway (1991) many European countries followed suit. France's legislature came into play in 1999.
Let's just stop for a minute to think about the media-driven climate of fear that led to BSL in the UK… largely driven by a series of events in the late 80s and early 90s, this culminated in the well-publicised death of Kellie Lynch, an 11 year old girl in Argyll who was killed by two rottweilers she was walking with a friend.
Did that launch an investigation into the levels of danger presented by rottweilers? An exploration of when and where dogs might bite?
No.
It led to the banning of four other completely unrelated breeds, including two that were not represented in the canine population in the UK at the time.
Reports in Mills and Westgarth's excellent Dog Bites: A Multidisciplinary Approach states that rottweilers and German shepherds, who ranked most highly for both fatal and non-fatal attack numbers (irrespective of the population size) were not included in UK legislation because that would have caused issues with the security industry and the police who used a number of these dogs.
It led to the banning of the Dogo Argentino (DA) – non-existent in the UK at the time.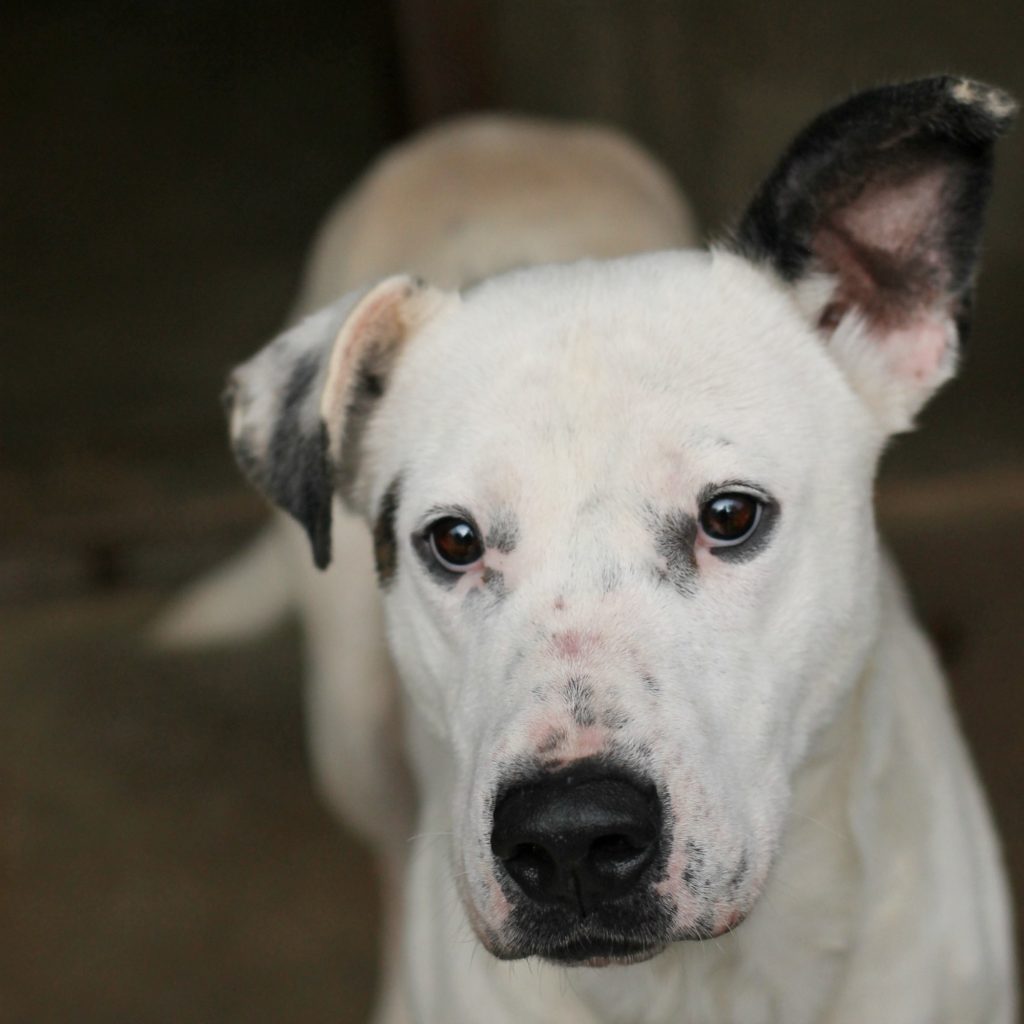 The dogo and the rottie are fascinating because in France, one is banned where the other is not, and in the UK, it is the other way around. 20 miles of water and a dog will be destroyed in the UK.
And in the other direction, it's life on a lead or muzzled, regardless of whether you are a good boy or un chien méchant.
So that's my first bone to pick with BSL: it's based on media-inspired nonsense and not on actual statistics, epidemiology or anything sensible. And if you're a rottie in the UK, well done for avoiding BSL when most of those media shitstorms were about you!
In France, it's similar to the UK. Two breeds of dog that aren't even ever seen here (the Boerbull and the Tosa) and some spurious deciding that something is a breed (American Staffordshire) that isn't a breed in other places. There was a lot of hoo-ha about staffordshire terriers (not an actual breed) that were initially included in French legislation and then a quick addendum was sent out to say NOT Staffordshire Bull Terriers as if to make up for that huge faux pas. Well not pedigree staffies, anyway.
Now France, it must be said, has kinder legislature and kinder authorities on the whole. There was outrage at our shelter when I explained what happens to non-pedigree pitbull types in the UK. To be fair, those things also happen in France, but there are plenty of easy-to-exploit loopholes that make a mockery of things but also make it virtually impossible to find homes for our slobbery 'dangerous' dogs.
So, the two types / breeds that this mostly refers to in France is American Staffordshires (Amstaffs) and rotties. If you have pedigree ones, you still have to do some hoop-jumping. Always on a lead in public (though no legal maximum length) always muzzled in public, public liability insurance, annual rabies jabs and the owner has to have a permit. If you have a 'type' rottweiler (ie they're not kennel-club registered) then you still have to submit to the same rules. You can legally buy, sell or breed your Amstaff or rottie as long as you don't have a criminal record.
If your dog is 'non-pedigree' and conforms to a 'type' then they can be classed as category 1, which means you cannot sell them, give them away, breed them (they must be sterilised) and you will have a devil of a job getting your house insurance to cover you.
For a shelter, this means our 'type' Amstaffs / pit bulls can never legally be adopted. They can go on long-term fosters but never be adopted. Some shelters opt to kill the dog rather than find long-term fosters. I understand that – many of our legally-adoptable category 2 dogs (rotties and pedigree Amstaffs) have been waiting an age for a home. Some shelters also don't have the space. This was not what the legislation intended: it intended an end to non-pedigree Amstaffs and pitbull types. It didn't bank on shelters saying, "okay, so the dog has to stay in our name? Fine – we'll let them go on long term foster contracts" which is what many shelters and associations do. Just one flaw in the system.
But there are plenty of flaws in the system.
One is at initial identification time. At 8 weeks, when you take your puppy to be chipped, the vet has to write a breed.
The vet wrote collie x for Heston.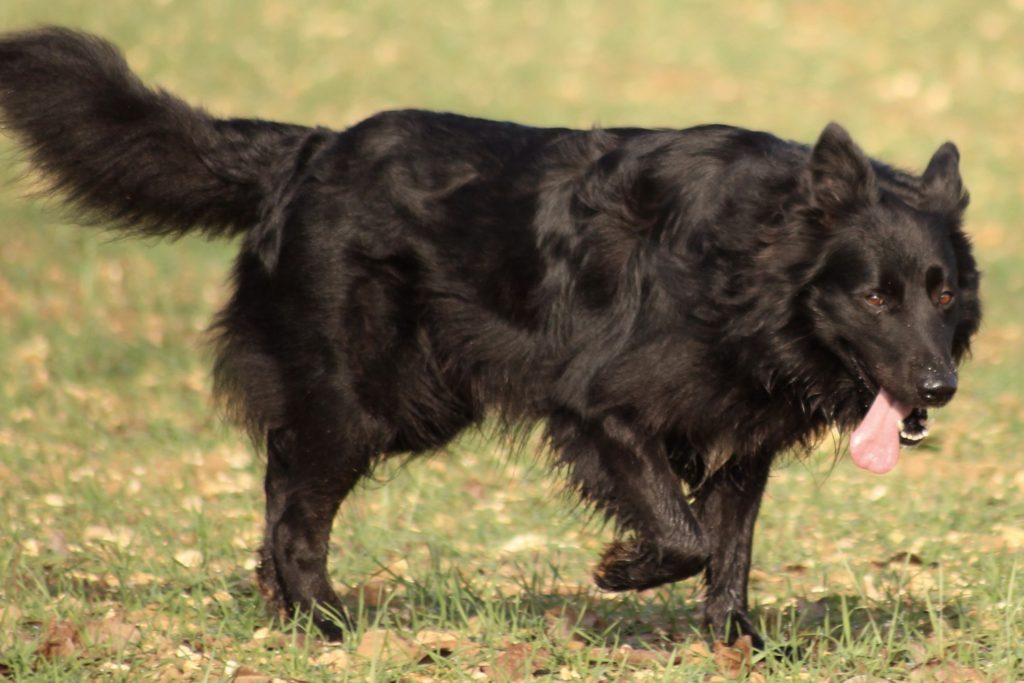 He is in fact predominantly shepherd – Groenendael and GSD – and no collie at all.
The vet could equally have put flat-coated retriever, because he often looks a bit flattie…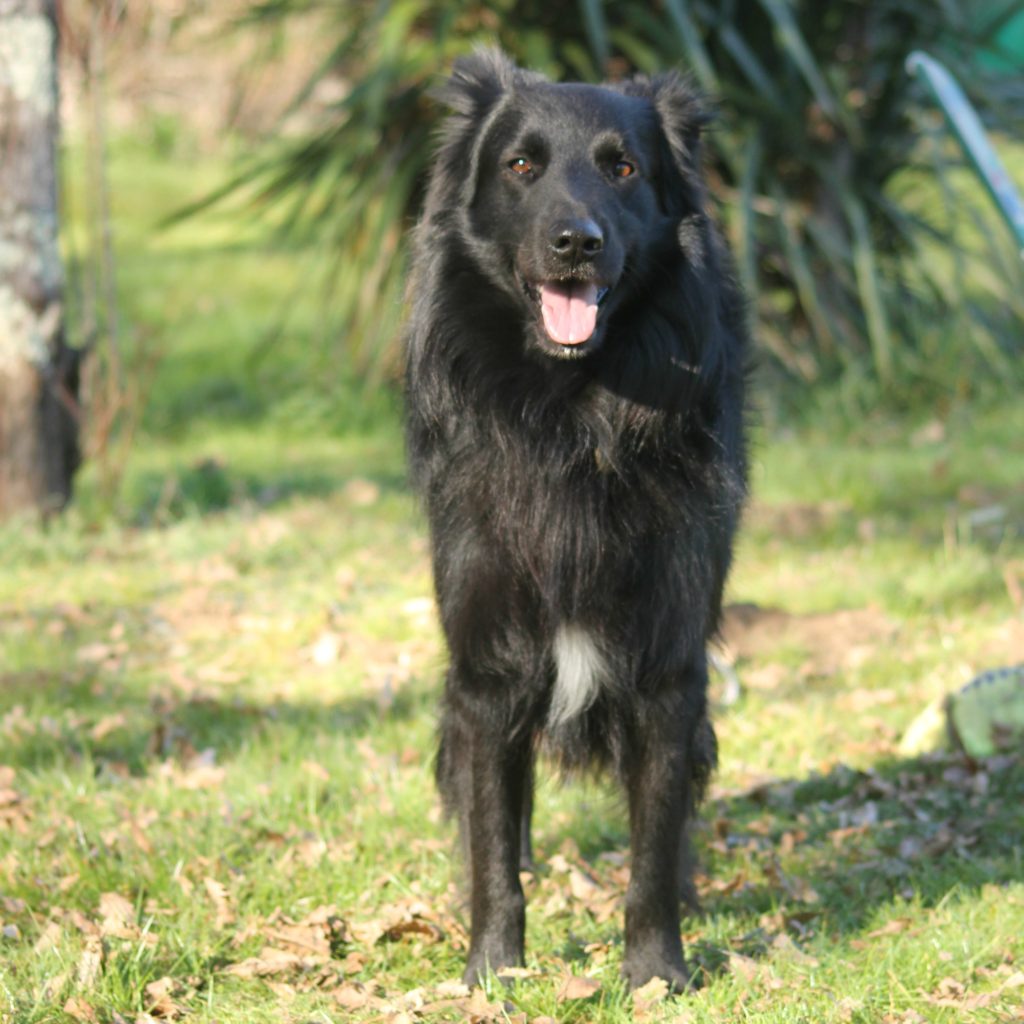 At 8 weeks, a vet (who has no particular specialism in confirming pedigree per se) has to decide groenendael vs GSD vs collie vs retriever …
For most dogs, that doesn't matter.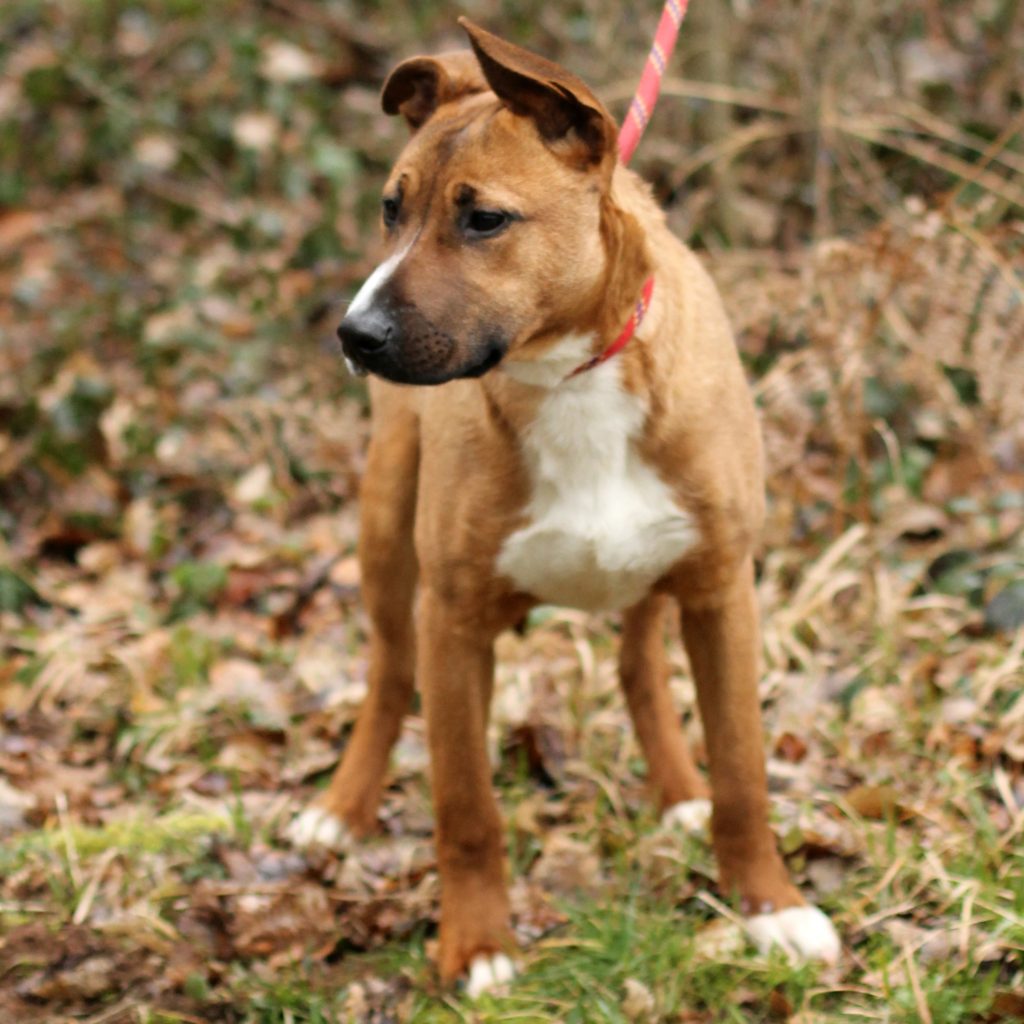 Billy's identifying vet wrote bull terrier x shepherd. Not a problem in France. Big problem in Germany where EBTs are subject to BSL.
Some vets are happy to steer clear of identifying a dog in a way that will condemn it for life. Others are happy to damn a dog forever – even one already decided by another vet!
My case in point is the Molly dog. I made sure before we moved to France that Molly was clearly identified as ironically, I didn't want problems moving her back to the UK. As you can see from the photo, I didn't want dispute.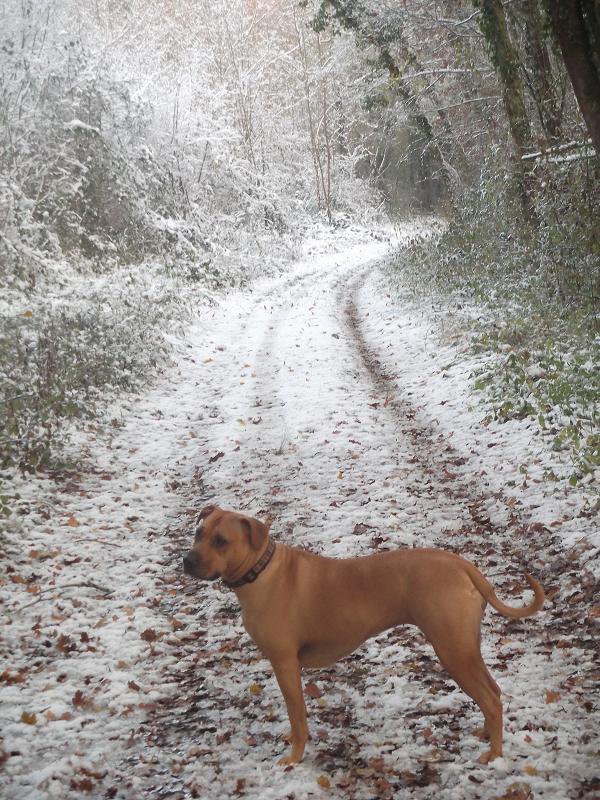 So Molly could have been boxer, labrador, ridgeback or any number of things. Most likely she was nothing much – she resembles quite a lot of completely average street dogs with her hair, colour, ears and tail. Those dogs who've been happily breeding for years without any hint of a breed. But she was deep of chest and slightly wedge-shaped for the head and I didn't want problems getting her back into the UK. The vet wrote labrador mix I think, and off we went. Except when it came time to redo her vaccinations. The same vet who made Heston pee his pants decided Molly was a pitbull. They didn't have my name and address, so I walked out and went elsewhere.
Whilst this may seem like an a-typical story, a number of Brits arriving with short-haired, semi-brachycephalic dogs fell foul of the same situation.
So identification matters whether it's at 8 weeks (and I've had arguments with vets over the 'brindle' in a coat being the mark of pitbull type because, you know, boxers, bulldogs, Frenchies, fila de sao Miguel, Dutch shepherds…) or at 5 years. And when you know there are vets who are happy to slap a BSL breed on a dog that could be just about anything, you need to know to pick your vet carefully.
That way, you can avoid all kinds of problems.
The second relates again to that behavioural evaluation. It's the same one they use for dog bites – no standard test, no peer-review, no comeback – and with a level 1, you've got a dog who never needs to do it again, and with a level 4, you've got a dog who needs to see the vet yearly for behavioural assessments.
Pick one vet and you have a get out of jail free card. Pick another and you've got a catalogue of problems that will follow. It's a lottery.
Now excuse me for thinking that it shouldn't be a lottery when a dog's life is literally at stake. Excuse me for thinking that something that affects a growing number of dogs should be taken seriously and peer-reviewed evaluations from a standard battery of situations could be deployed (and none of your ridiculous Assess-a-Hand or taking food off a dog tests, please)
Finally, like handsome Zorro in the title, you can also be decategorised – which means a vet is happy to go up against the opinion of another vet and say the dog is not what it was first classified as. That takes a brave vet though, and it could cost them dearly if anyone challenges their decision. Justifying euthanasia is easy; justifying why you decided a mutt could be anything means your reputation could end up on the line.
So that's my problem with BSL. It has both huge loopholes AND huge obstacles.
And it doesn't work. There is no connection between BSL and dog bites. The paltry evidence of bite-statistics in France suggests no connection at all. Even my own bite history – one terrier, one collie, one mutt, three malis (because I work more with them and have owned two), one shepherd mix – probably dutch shepherd – and one accidentally-gnawed finger joint mistaken for cheese from a briard x – bears no correlation with the popularity of Amstaffs and rotties. I'm still waiting for my first call ironically enough from someone who has a dog subject to BSL. Don't you think, for someone specialising in aggression, I'd have had one? Just one? Among the cockers and the collies, the shepherds and the terriers, the bitey westie and the grumpy goldens (more of them than you'd think!) I've never had anyone call me about an Amstaff.
Now you may want to argue that BSL is probably keeping idiots from owning them, and you may have a point. Except…. Amstaffs are the same status avatars for disenfranchised young men in France as this 'type' of dog is across the rest of the world. All BSL does is make them desirable. At least 5 of the pedigree Amstaffs currently in the refuge care were removed from poor owners – BSL does at least make that easier – but has this combination of breed and impoverished background impacted their behaviour? Not a jot. They are – to a dog – irascible, joyous, friendly, jovial dogs who have a great affinity with people. Often fairly crappy with other dogs – and dog/dog aggression can be an issue for all terriers, from the little-bitty ones up to the bigguns. Partly, I've always thought they aren't very 'readable' – they are muscley, bow-legged dogs who just aren't as flexible with the old facial muscles. Plus, they play hard and lots of their play relates to their hunting sequence, which is often fine for other, similar dogs, but overwhelming for the shrinking violets or those who don't play quite so physically. One of the main things I think that makes terriers popular is their ability to live happily without other dogs – not always, but more often, if my casebook is anything to go off. Not one that I've ever met – whether they've come from the best breeder or the worst – has ever been anything but a little smasher. As for the rotties – my personal experience is that they're more temperamental than UK rotties – and I think that some of them are somewhat more true to their original working purpose – but that's just my view of French rotties. That said, I've only worked with one single rottie as an aggression case, and that was over a learned response to forced muzzling which worked the first time and turned into a nightmare the second.
I guess that tells you all you need to know.
I thoroughly concur that BSL is Breed-specific bullshit. It bears no relation to danger or threat – both actual through reported bites – and hypothetical. The widely-circulated information about bite strength has been proved to be a circuitous daisy chain with no clear origin and no supporting data. In fact, the last two Amstaffs I know who did bite had a real good hold for a good minute or more, and actually did little damage at all to the other dog. One of our female staffs got a good grip on a GSD who got too close – his lip was torn by the handler pulling him back. She, on the other hand, sustained quite a nasty cheek wound.
If you want more reading about how society, the media and the government have created a climate for BSL, Mills & Westgarth's book comes highly recommended. In particular, Jim Crosby's two chapters highlight risks: big, unsocialised, uncastrated male yard dogs kept outside who are approached by young male children who are friends of the family seems to be a theme that crops up time and time again. Socialising our dogs and keeping them as family dogs, not yard dogs, will stop other countries following the path to the USA stats, which are certainly not a benchmark by which we should be comparing ourselves. For a start, you need a licence to teach bitework in France, and you need to be registered. Whilst you get rogues and amateurs, it serves no purpose because you can't work with the dog and you can't show the dog. That is not true in the US. The landscape of dog ownership in the USA leaves a lot to be desired and it behooves other developed Western cultures not to jump on board where things like dangerous dogs and breed are concerned. Social media has a noisy, populous North American bias that impacts significantly on values beyond their shores. The picture is very different in France and I surely wish Europe hadn't jumped wholesale on the BSL wagon.

If you want to know more about the media's role in creating a public enemy out of dog breeds, Janis Bradley's excellent book Dogs Bite But Balloons And Slippers Are More Dangerous is also highly recommended. France has yet to be touched by the pitbull phenomenon, and a quick search for recent news articles found an anatolian shepherd, two malis, a collie, a shepherd cross, a labrador and a cane corso. Only one newspaper reported anything with Amstaffs or rottweilers, and their fervent reportage suggests a touch of the old media demonisation to sell papers rather than anything that could constitute useful data.
Finally, as to what this means for us as a shelter… BSL means we have a number of lovely dogs who need a home – dogs who've been waiting much longer than their non-BSL counterparts. You will need to jump the usual hoops, but we're always happy to help you with that – especially as it means some of our fabulous 'dangerous' dogs find a home. Definitely time to put an end to the dog racism and remind ourselves that any dog can bite. But, as Janis Bradley's wonderfully titled book says, balloons and slippers are more dangerous.