Last week, I was looking at "Take it!", which is a great behaviour to teach a dog as part of programmes to keep their mouths busy. It also teaches them to wait for permission before putting something in their mouths. If you've taught "Wait!" then "Take it!" is the perfect cue to let your dogs know that now is the time that they can get what it is they're waiting for, if it's a toy or a food item. "Take it!" and "Leave it!" are great skills to help dogs understand what they can and can't have. They're both great for impulse control and for helping your dogs understand about patience.
"Take it!" is also great for avoiding potential guarding problems. A dog who is adept at "Drop!", "Wait!", "Take it!" and "Leave it!" is a dog who is happy to learn how to trade with you. A food or toy guarder, by their very nature, has already learned to use their mouth to help them out, and so putting those behaviours on cue and making them fun helps you avoid all manner of self-employed robbery, pick-pocketing and menacing later in your puppy's life.
Once you've got "Take it!", you can use it so easily every time your dog eats even if you feed from a bowl twice a day. That's at least 14 trials of "Wait!" and "Take it!" every single week, even if you don't play much with your dogs.
"Fetch!" is another really useful behaviour, as well as a trick. Whilst holding stuff in their mouth, carrying it and giving it up are great, "Fetch!" is lots of fun and takes it that bit further.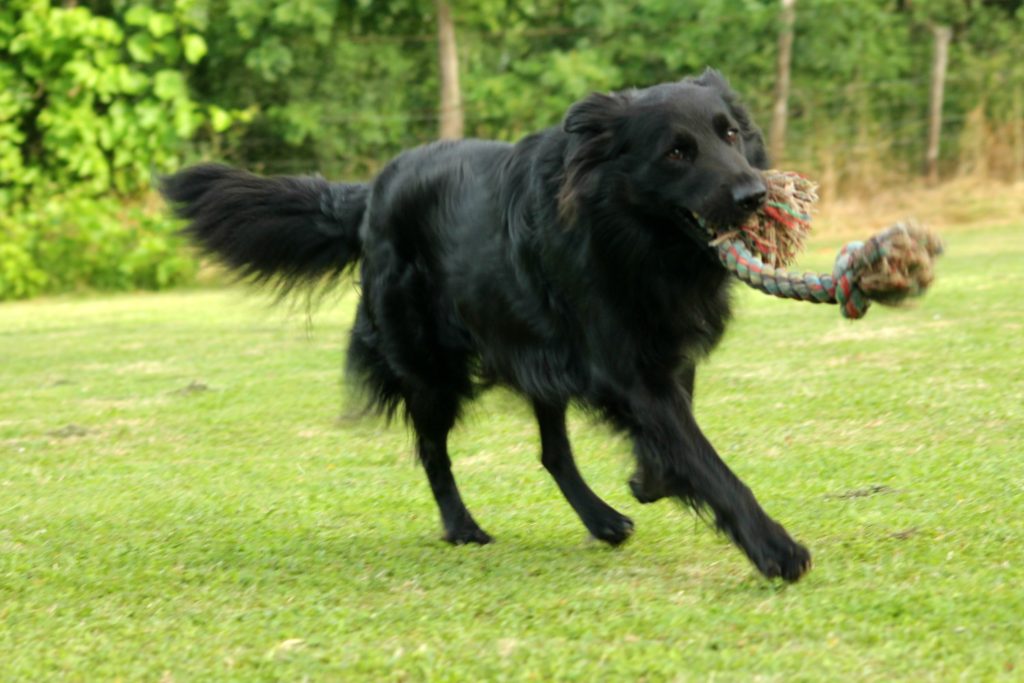 Obviously, you can't teach fetch without a good hold!
When I first got Heston six years ago, nobody thought to tell me that it's easier to work backwards. Luckily, he quickly got the notion to bring things back to me. It's one of the reasons I was convinced he was a retriever X. And he has a bit of labrador in those genes for sure. But if you have a terrier, how many of us throw a toy for our puppy only for them to teach themselves a M-A-G-N-I-F-I-C-E-N-T new game… a terrier's favourite game… "Chase me!"
Picture the scene…
You throw a toy. Your terrier runs after it delightedly. It picks the toy up. You call your terrier back… and…. it runs off into the distance to dissect it under a bush.
Some terrier owners have got savvy to this and use flirt poles and tug toys, knowing that a terrier can't run off with a flirt pole and they love a game of tug almost as much as they love a game of "Chase me!"
Other dogs don't get that they're meant to a) grab the toy or b) bring it back. Effel my foster beauceron spent weeks chasing tennis balls happily, never even nosing the ball. Not a chance he was going to pick it up and bring it back.
Tobby my ancient old rescue mali got as far as "Take it!" before he arrived here and never wanted to relinquish, chase or retrieve.
Not everyone is lucky to have themselves a Heston who learns forward first by chasing a ball, picking it up and bringing it back.
But fetching stuff is such a great skill. If you don't fancy a walk, if they've got a burst of energy, if you want to keep your dog near you when off-lead, if you want a part-time assistance dog who can pick up your washing and bring it to you, fetch is a skill that makes the most of our human-canine bond. It gives dogs a helpful job to do at times. At others, it keeps them occupied and helps them burn off steam. You can see why so many people who have working scent dogs use 'Fetch!' with their dogs.
Pair it up with "Find it!" or scenting and you have a very, very good game of hide-and-seek that can be used for so many reasons. First, it's a great game to keep your dogs busy. Second it's a very useful thing. Attach a special keyring to your keys and if you've got a dog who's been trained to find it and fetch them, you're never going to lose your keys again.
"Fetch!" has practical applications in all sorts of dog activities: obedience, ringsports, frisbee, gundog trials to name but four. It's such an addictive activity that many professional trainers use it as the reward for their detection dogs. When you see a dog searching an avalanche for humans, you might not even wonder why they're doing it. Often, why they're doing it is that their game (whatever it is) is based on successful location of an item. They may work for hours on bombsites or on earthquake sites, in busy airports or in nightclubs simply for a game. Along with tug, it's one of the tricks up the sleeve of many professional trainers, and you can often see a sneaky tug toy or ball on handlers. And if you've got a dog working around drugs, excrement or human bodies, you can see why you need a game and not a food reward.
A dog who has a mild obsession with "Fetch!" is a dog who is hanging around you on a walk. Guess how far Heston is from me on walks when I have his favourite squeaky rugby ball? For many dogs, toys end up being a much more powerful reward than food. It also fulfills very different needs. It's not about eating. It's about play. It taps into predatory behaviours. A dog who has a good "Fetch!" has a behaviour that you can use instead of food.
And that is the side-effect of games like this: they can be highly addictive to your dog, so be aware of that before you start. As with all physical games, make sure you are on even terrain, that your dog is in good health and that you are not playing two hours of Fetch with a young dog whose bones are still growing. It's one reason why I like to teach a dog to come around the back of me and chase the ball or toy rather than dancing around in front of me waiting for me to throw it. They at least have a chance of seeing where they are going, and yes, I know dogs daft enough to run into trees or over the edge of a slope or cliff because they are that fixated on the target. It's one reason I prefer 'Find it!' and 'Fetch!' eventually, because that way you a) aren't being pestered as often to throw something and b) your dog isn't that fixated on a ball that they'll run into a fence.
To teach "Fetch!", it's really helpful to have a "Drop!" cue and a "Take it!" behaviour so that the dog is used to taking things in their mouth and they're also used to giving them up. If you've taught "Give!" as a separate behaviour to "Drop!" you'll find your dog more able to give to your hand and differentiate between that and spitting something out on the floor. That might not seem so important until you've got a really bad back and you don't understand why your dog keeps dropping stuff on the floor instead of putting it in your hands. You may also want to think about teaching "Take it!" as a cue that means "take from hands" compared to "Get it!" which means "take from wherever it is". That is also useful for precision. In themselves, they aren't massively different to us, but they are to a dog. That can help you with troubleshooting, and also with a 'business retrieve' for competition work.
A dog who thinks "Take it!" means always from your hands won't perhaps generalise that it also means they can get things from the floor, from a table, from under a bush. This is why I use "Get it!" as well. "Take it!" is for things on my person. "Get it!" is for things that are not on my person.
A dog who thinks "Drop!" means the item must go on the floor isn't going to understand why you keep holding your hand out. "Give!" is a nice way to get them to give it to your hand rather than "Drop!". You might not think that is important until you have a dog who's brought back a mangled pheasant or you want to spit out half a clod of chewed-up cowpat.
Here's a great video on training the whole "Fetch!" behaviour, back to front.
Start with mouthing and holding the object, then holding it for longer periods of time.
You then start throwing the object short distances before increasing the distance.
One of the biggest problems can be getting the dog to hold the object for longer periods of time. If that's happening, you will need to slowly shape that hold, so that the dog is doing it for longer and longer periods. Make sure you choose something that is easy for the dog to hold (which is why I started Effel on tennis balls even though I don't ever use tennis balls when playing fetch) and that the dog is rewarded for holding.
Once you have a great fetch behaviour, you've got a brilliant way to encourage recall, to keep a dog working with you in your space instead of buggering off and to keep your dog fit. For your dog, there are two types of reward: those you have to teach them to like, and those you don't. You don't have to teach a dog that sausage is yummy. You do have to teach them that fetching is fun. Some of these 'secondary' reinforcers that need teaching at first then become 'primary' – you don't need to keep rewarding a dog with hot dog for it to still be fun. It'll always be fun whether it comes with hot dog or not. Whereas normally, an taught reinforcement, like Pavlov's bell, stops meaning anything fun once you break the connection with the primary reward. If you 'de-couple' hotdogs and bells, the bell stops making the dog salivate. That happens if you stop pairing your clicker or your marker word with a reward. That's not true though when you de-couple hot dog and fetch games. Then fetch is fun all on its own.
For many dogs, a game becomes much more fun than food ever can be.
That's why Heston's Game Face looks more excited and interested than his Food Face.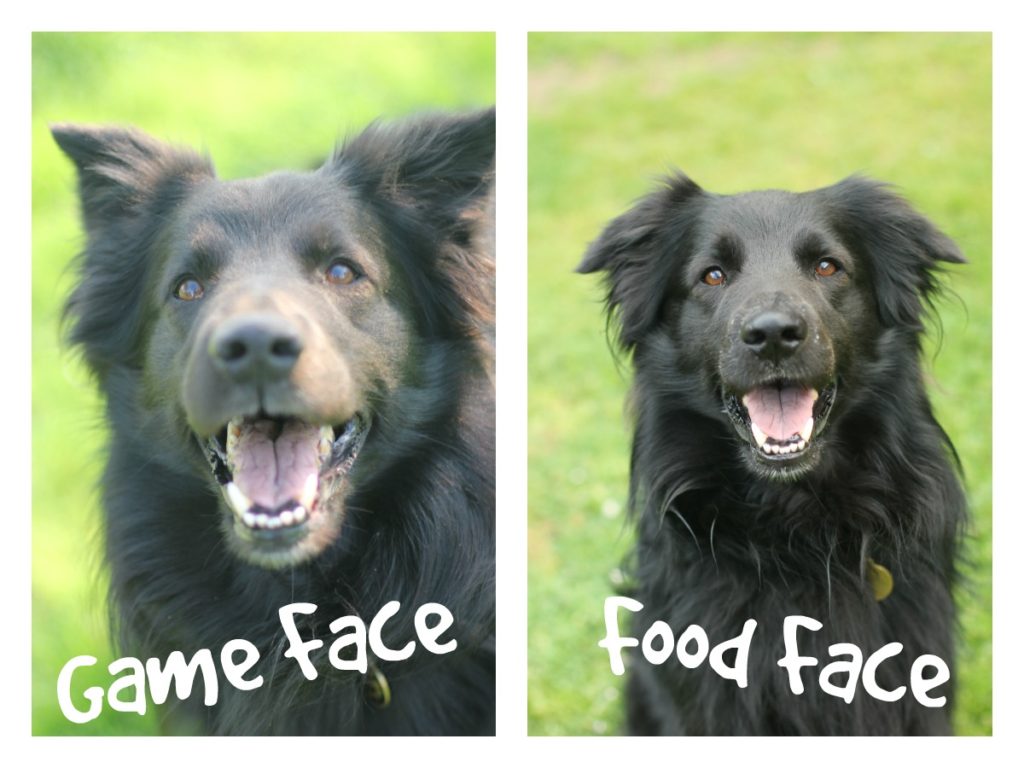 Now that Game Face is great for focus – and it's what handlers look for in competition, in agility, in trials, in work. Don't get me wrong, some dogs are happy with food. My cocker spaniel Tilly is one of those. But other dogs have other drives. Playing fetch is a great way to tap into those.
Besides, even the most crass of the punishment-based trainer accept that game play is a happy middle ground. Although if you follow these methods, you've got no need for old-fashioned ear pinches or other cruel and unethical methods!
Here's Philippa Williams' amazing gundogs at Crufts showing what you might do with your "Fetch!"
But you could also use it as a base to help your dog find your keys, fetch their lead, bring your slippers, fetch the newspaper or just enjoy a good old game in the garden! A 'Fetch!' junkie has a very reinforcing behaviour in their repertoire that you can use as a reward for all sorts of other behaviours.
As always, be careful with what you ask your dog to fetch. With rebounds and direct catches, there is a risk that the item can get lodged in the dog's mouth. Ropes can get all yucky and germy. Frisbees can be awfully heavy. Make sure you check out safety concerns, don't use tennis balls or small balls that could end up choking your dog, and make sure you keep the objects clean. It's a good time to check out a canine first aid course so you're prepared for small hiccups when you start doing anything remotely energetic with your dog.
So far in the series:
#Drop