It can be hard when you've got a barker – especially one that barks at a number of things for a number of reasons.
Isn't that right, Flika?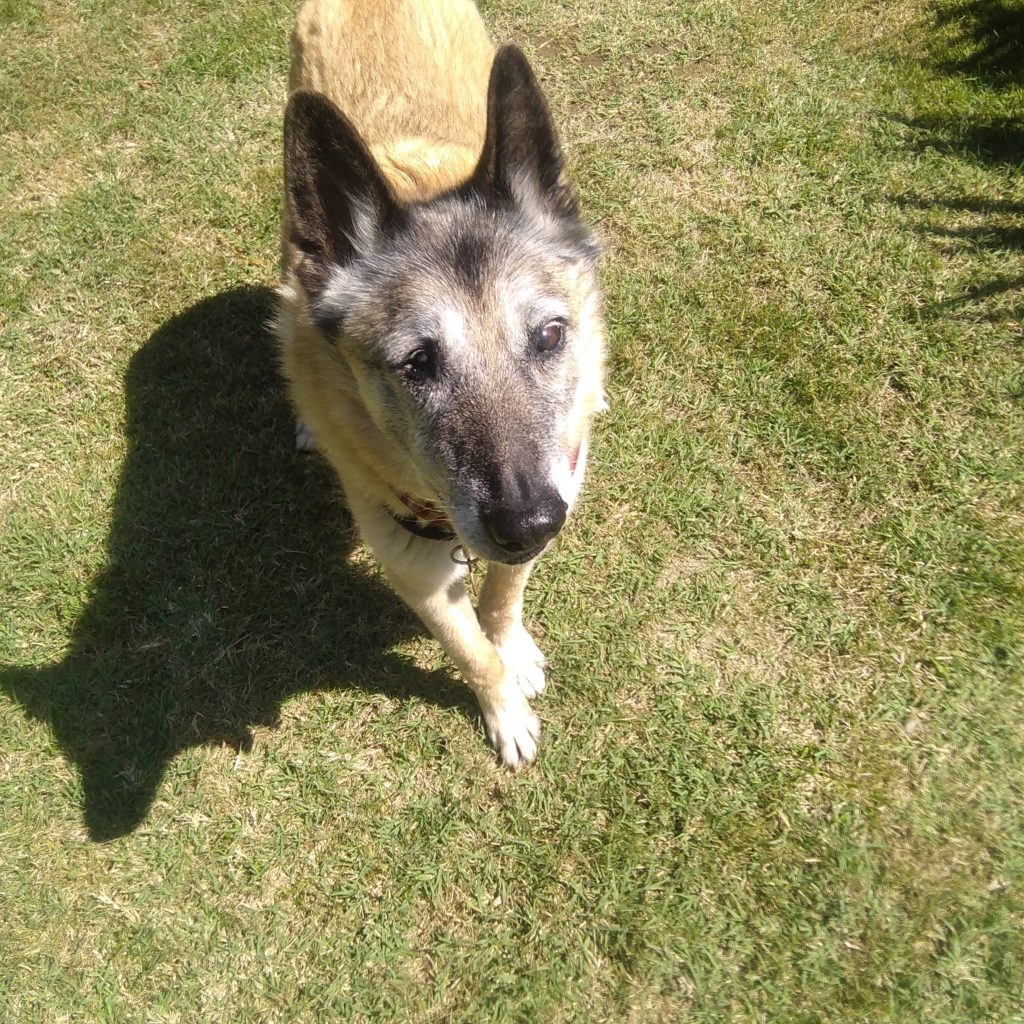 This is Flika… Barking was literally her job for at least three years. Like a number of shepherds in France, she was kept for her fearsome presence (yes, really) and her ability to bark at stuff. A dog barking "There's a dog in here!" is a regular deterrent for French businesses who often keep dogs for that very purpose.
The first thing to know is what the dogs are barking at. Flika, for instance, barks at traffic that's going too fast (she's literally the traffic police – or she thinks she is) or traffic going too slow. Noisy traffic also. She barks at my neighbours if they leave their cars idling as well. She also barks at noisy low-flying planes.
The only other time she barks is when she sees or hears me and can't get to me. She stays in the office when I'm at the shelter, and if she sees me going past or hears me, she'll happily remind me I'm there.
The vet the other week said, "Who's that dog with the broken bark?"
You've guessed it… Flika in the office telling me she was fed up and she knew I was near. She has literally broken her bark – I can only guess by doing it so much. It's not unusual in old dogs with separation anxiety who've been left to guard warehouses on their own all night, I suppose.
So, your first job is to make a list of all the times your dog barks. Be objective. Just say when and where and, if you know, what at.
I'll show you for my other Ronnie Barker, Heston. Remember, target, place, time.
At nothing in particular when he first goes into the garden when we get up.
At me in the house or garden when we are getting ready to go for a walk.
At cars that stop outside the house especially the post van.
At people who come to the gate.
At stuff that spooks him.
At shadows, noise or movement passing the back fence mainly when I am also in the garden, but occasionally when I am not.
Most of those behaviours are to make stuff stop or go away. A bark is more efficient than a bite at clearing the garden of foxes, martens, hedgehogs and badgers as we have here.
Sometimes there's a disconnect because the dog barks but the going away is accidental or incidental – the post lady and those wretched people who pull in to my driveway entrance to answer mobile phones go away eventually of their own accord. Even so, it's become superstitious behaviour and both Heston and Flika do it anyway.
Some of the behaviours are for other reasons. Flika barking in the office is not designed to make me go away, but to bring me closer. Heston's barking before a walk is not because he is scared or annoyed but because he is frustrated and excited.
So once you have your list of the times and places your dog barks, and what they are barking at, you can start to unpick why they're barking.
You might have a long list, but it's worth noting that not all barking is the same. It may be very different depending on the circumstances, and have very different sounds or emotions as well as purposes.
What's the function? To make stuff go away? To bring things closer? I've even known a blind dog who barked as he stood up – and the only purpose seemed to be a form of locating where the other dogs were and where I was, since we all moved when he did it.
For each thing on your list, try to think about whether the purpose is to engage other creatures (including us humans) or whether it is designed to make them stop or go away. Then try to think about the underlying emotion: excitement, happiness, joy, (I'm thinking of Heston before a walk) sadness (I'm thinking of my girl Tilly howling and barking on her own) anger or fearfulness (I'm thinking of one of my dogs who barked at snowmen, and Tilly barking at a tall sunflower, as well as Heston barking to warn things off) or even frustration (like Flika in the office or Heston before a walk).
Once you have those, you have a clearer way forward and different treatment plans based on each kind of barking.
The first thing to do is stop freelancing. What I mean by that is there are a lot of dogs who think it is their job. For Flika, it literally was her job.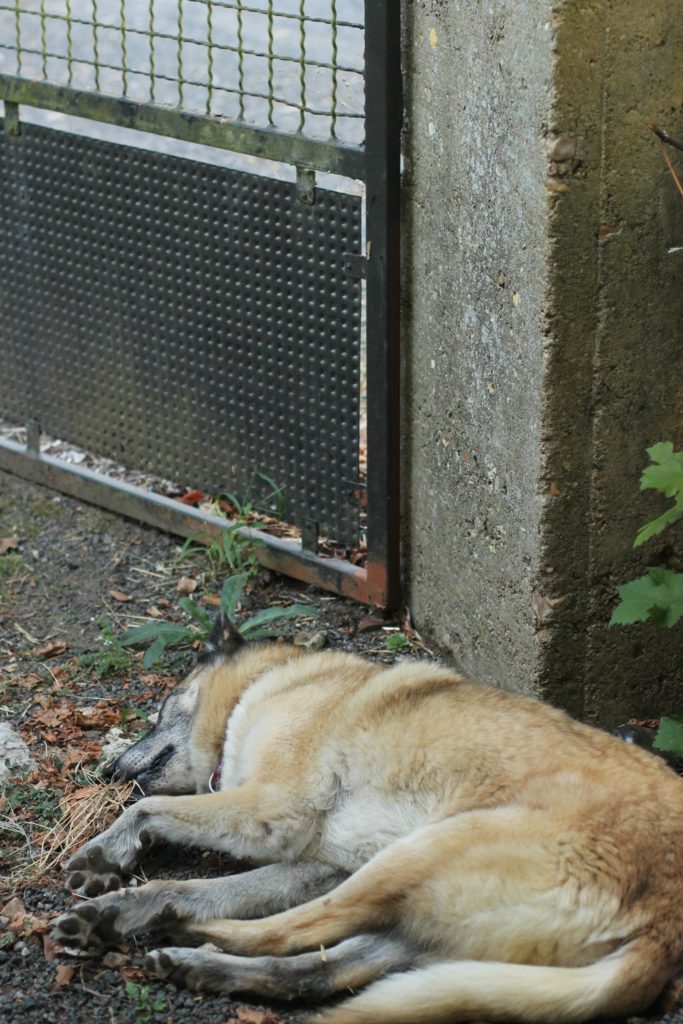 Even if she falls asleep on duty!
You can see she's even choosing places to rest where she can do her job if needed… right near the gate.
What you need to do here is manage the environment to make it less likely they can freelance. That might mean restricting access to their preferred barking spots unless you're there to supervise…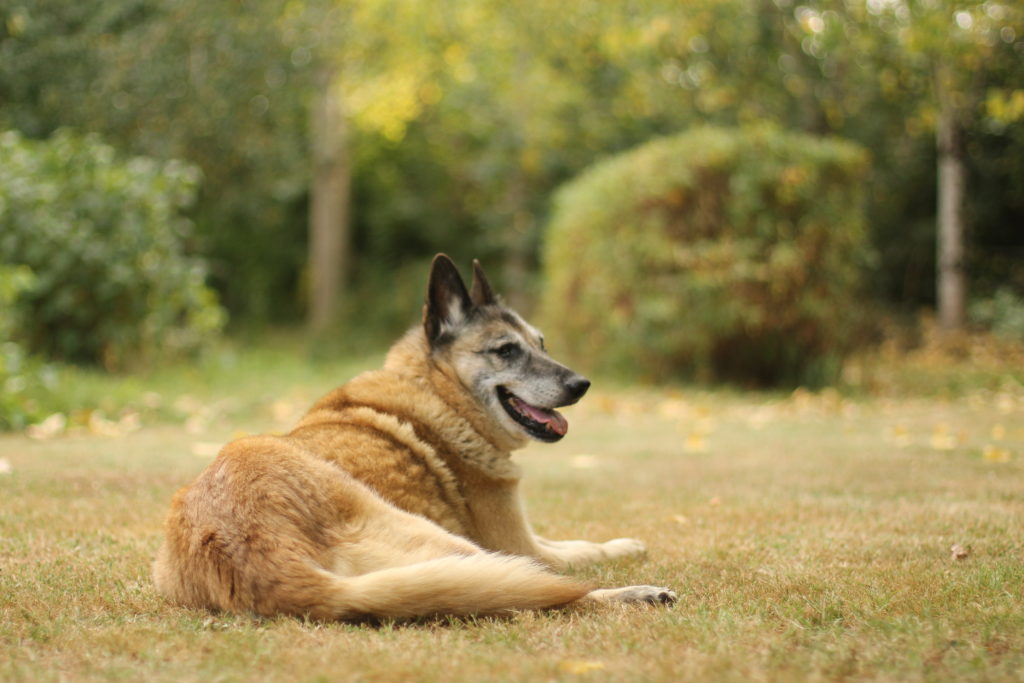 See… not on guard quite so much when we're all just chilling in the garden.
But on the other hand, not the same for Heston who barks more frequently when I'm out there with him, so he has something to keep him busy… be that something to chew, something to keep in his mouth or something to lick.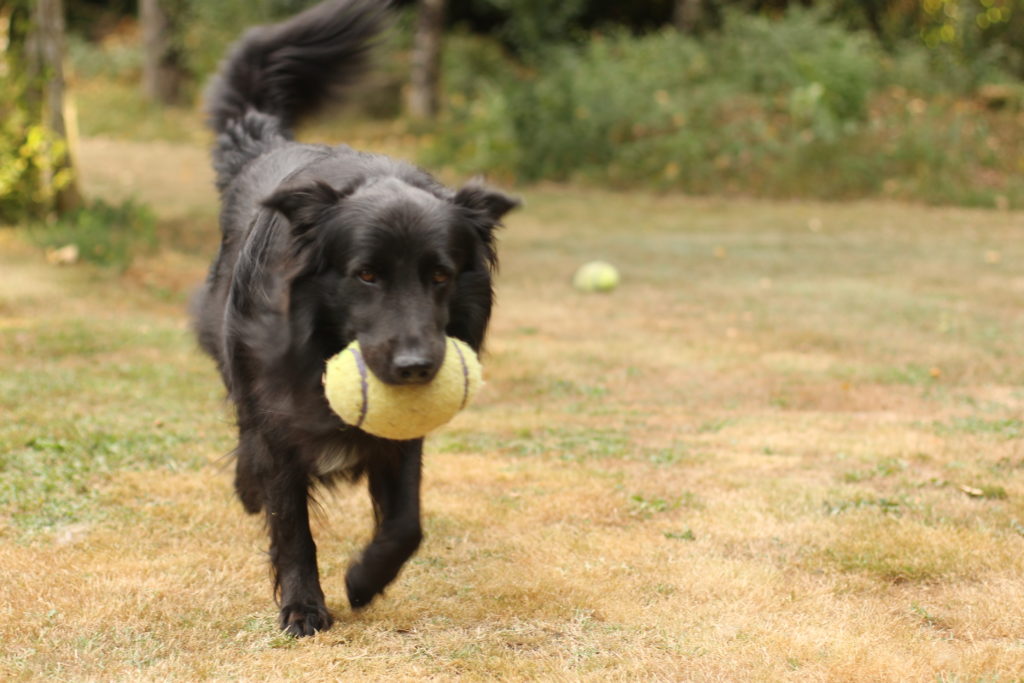 Hard to bark (not impossible, let me point out!) when you have a mouth full of toys. I also like to use fetch as a good way to move him away from the source of grievance. Like it or not, we bred dogs to stand their ground rather than move away when things annoy them – sometimes they need encouragement! There's been a Fetch! backlash this last year or so, but for me, as long as it isn't obsessive, as long as it is under stimulus control (ie the behaviour happens because you invite it, not because the dog is demanding it all the time and can't cope without it) then having a mouth that is already busy is a sure-fire way of reducing problem behaviours. You know what they say about the Devil making work for idle fingers? The same is true for some dogs and their mouths, I'm sure! I jest partly, but I also spent 20 years in classrooms with kinaesthetic children, with children with ADHD and other 'socially undesirable problems' with movement, and I think that when we're immersed in conscious movement, we see fewer 'problem' behaviours. Just my thought.
So fetch, hold and play should form part of your anti-barking strategies if the barking is outside, if it's driven by excitement or frustration, and can be used inside of course if you don't have a big dog and a small house or you've tidied away your ornaments.
In fact, one of Heston's very nuisance-y barkings – the before-walk bark – was completely eradicated by him choosing a toy. I left the toy box outside the door one morning, he happily picked up a squeaky toy and as long as he has things to throw around and raggy ropes, he manages his excitement very well.
One thing that is hard with barking driven by excitement and frustration is that often, solutions are to calm or settle the dog before. To be honest, I had limited success with this as when you're asked as a rational, sensible human being with some ability to rein in your emotions, asking you NOT to be excited about things is kind of frustrating and kind of impossible. Imagine you are about to do something huge and fun, and then being told to calm down. You're a grown up, so you might be able to. But imagine asking a child? I think if we're constantly asking our dogs to calm down and settle, we're actually just punishing their excitement and suppressing it rather than helping them express it in more socially acceptable ways. That said, if a dog is dangerously ramped up and biting is a preferred behaviour other than barking, I'm probably going to do a lot of work on calming them down beforehand, on breaking my own behaviour chains and helping them chill out a bit. A very simple thing is a quick game of Sprinkles or a handful of very small treats on the floor as long as your dogs don't squabble. You can see in the video, Flika is momentarily less crazy 15-year-old Malinois Lady when she finds a bit of dried tendon that Heston has missed.
This behaviour, by the way, is one Heston chose himself. I just encouraged it by leaving a big box of toys near the door and telling him what a good boy he was. It sure beats spending 15 minutes trying to calm him down. When we're presented with two choices, we do the one that is most reinforcing. I think that's why the barking became less strong.
I'm a big fan of mental enrichment for many reasons, but it especially works if you are dealing with excitement and frustration. There was a great article this week in the Whole Dog Journal about some great food enrichment toys (along with their benefits and drawbacks) that are great for dogs who are set on a hair trigger where emotions are concerned. 45 minutes of good enrichment certainly helps 'reset' a dog who's living on the edge.
Let's get to barking related to stranger danger and alerting. Mostly, that's at moving stuff outside the perimeter, but you may find it too with inanimate things that freak your dog out. From sieves to stone crosses, fertiliser bags to big sunflowers, snowmen to strangely shaped rocks, I've seen a lot of spooked barking.
Here you're seeking to reduce the behaviour. That could be the intensity of the behaviour, the loudness or duration. It could be a change in pitch. Heston uses pitch perfectly – his deep bay is intimidating, his high-pitched excitement barks are completely different. I might be seeking a less deep bark or less of a volley. I'm not looking to suppress barking all together. If I get rid of my dog's right to communicate by barking, I'm either going to see it continue when I'm not here (fun for my neighbours) or my dog not bother telling me. Let's be clear: I LIKE Heston's bark under the right circumstances. It is loud and offensive, sure, but it is an unambiguous signal that people take note of. It means he never needs to go to air-snapping or biting. But I do not want him to be in a frenzy every time the post lady appears. That's not nice for him or for her. Being fearful or aggressive does not feel nice, which is the primary reason I want to change how dogs feel and address the deep-seated emotional need to bark.
How I do this is by pairing the bark up with something lovely. Before the barking is needed, I've practised a behaviour that gets the dog away from their 'holding' position and is 100% reliably reinforced by something marvellous. My go-to is the fridge. When I say 'thank you! Good job!' we go to the fridge. I may go to the fridge at other times, but unless I say 'thank you! Good job!' nothing comes out for the dogs (otherwise I'm going to get a lot of disappointment, frustration and anger around that fridge opening). It's really important that it only happens with a cue otherwise you'll have a problem on your hands!
When I say 'Thank you! Good job!' we move away from the bad stuff, the bar is open, the magical treasure trove of goodies for dogs opens, good stuff spills out, the icky stuff goes away and over time, annoying stuff outside your house becomes a) a cue that marvellous stuff will happen, like me when I hear an ice-cream van and b) nothing to feel bad about.
I can use 'thank you! Good job!' any time – with treats in my pockets, freeze-dry stuff I keep on my desk and mantlepiece, in the car with freeze-dried stuff or dry treats or on walks from my treat pouch. I usually add all kinds of silly stuff my dog has saved me from because it makes me laugh and it stops me feeling tense and annoyed, which also sends a message to my dogs.
It takes time but if you work on a 6-month SMART plan, you should find a significant reduction in barking. It might be less long, less loud, less frequent, less numerous, less deep in pitch. It should become much easier to end with a 'Thank you! Good job! You saved us from being burgled yet again by that wretched postwoman'
So if I notice Heston barks usually from hearing the noise until it goes away, I may want to work towards barking twice at a fairly low volume and perhaps a single growl rather than a bark in 6 months' time instead. That would mean in 4 months, planning back, that I want him to stop barking within 8 barks when I say 'thank you!'
Back further, in 3 months, I want 16 or fewer barks after I've said 'thank you!'
Back further, in 2 months, I want 30 or fewer barks after I've said 'thank you'.
Just to be clear, he never barked THAT much! It's just to give you an idea of how to plan for your own dog, working towards a target with planned, manageable, scaled goals. What I mean most to say is don't ask for or expect a complete reduction: barking serves a purpose for your dog to tell the universe to be less scary. But you can turn it from frenzied mania and "PANIC! PANIC! I THINK WE ARE ALL GOING TO BE MURDERED IN OUR BEDS BY THIS CRAZY PAPER-LEAVING PSYCHOPATH!!!!!!!!!" to "The Post is Here!"
You can also, as I have, turn frequent, predictable moments of barking into an alarm clock telling you to go somewhere else and do something fun. Our post coming means we get to go down the garden and play tug with the favourite tug. We only do it when the post lady comes. You wouldn't believe how quickly that turned the post lady from being the Bone-Crunching Paper-Leaving Psychopath into "Oh Goodie, we can play tug now!"
I would also add that if it is impossible to interrupt your dog and choose fridge time over barking menaces, you're asking your dog to do something too hard. That is especially true the longer they have practised. I don't ask Heston to stop yelling at his terrier enemy when his terrier enemy goes on a walk right past our garden. It's too hard. I just make a note that my neighbour walks his dog first thing in the morning and I keep Heston inside. If it's too hard, pick your battles. Start with the least difficult stuff, the low-hanging fruit if you will. Don't ask your dog to choose a cheap dog biscuit over warning off his arch-enemy. You're destined to fail. When you look at the list, you'll see the ones that you can manage by forbidding unsupervised access to the space they bark at (like Flika sitting by the gate to act as traffic police). You'll see the ones you can use play with instead. You'll see the ones where some appropriate enrichment might be more appropriate as the dog is just freelancing and you'll see the ones where you need to intervene with moving away, thanking the dog and bringing in some high value food or toys instead.
Pay attention also to trigger stacking and make sure you're giving your dog plenty of rest, mental stimulation and sleep. Remember too that noise sensitivity can be a signal of pain, so it's worth a vet check. But keep a note of your starting point. How much, how intense, where, when and who at? Keep the reinforcement at 100% for a much longer period than you might normally and maintain a realistic goal about behaviour reduction. Then celebrate the small wins along the way. If you keep it up, you'll see progress much more quickly than you could ever imagine.

If you're not sure why your dog is barking, if it seems not to have start and stop points, if you can't interrupt it and you can't see any change, consult a behaviourist.
Above all, avoid punishment.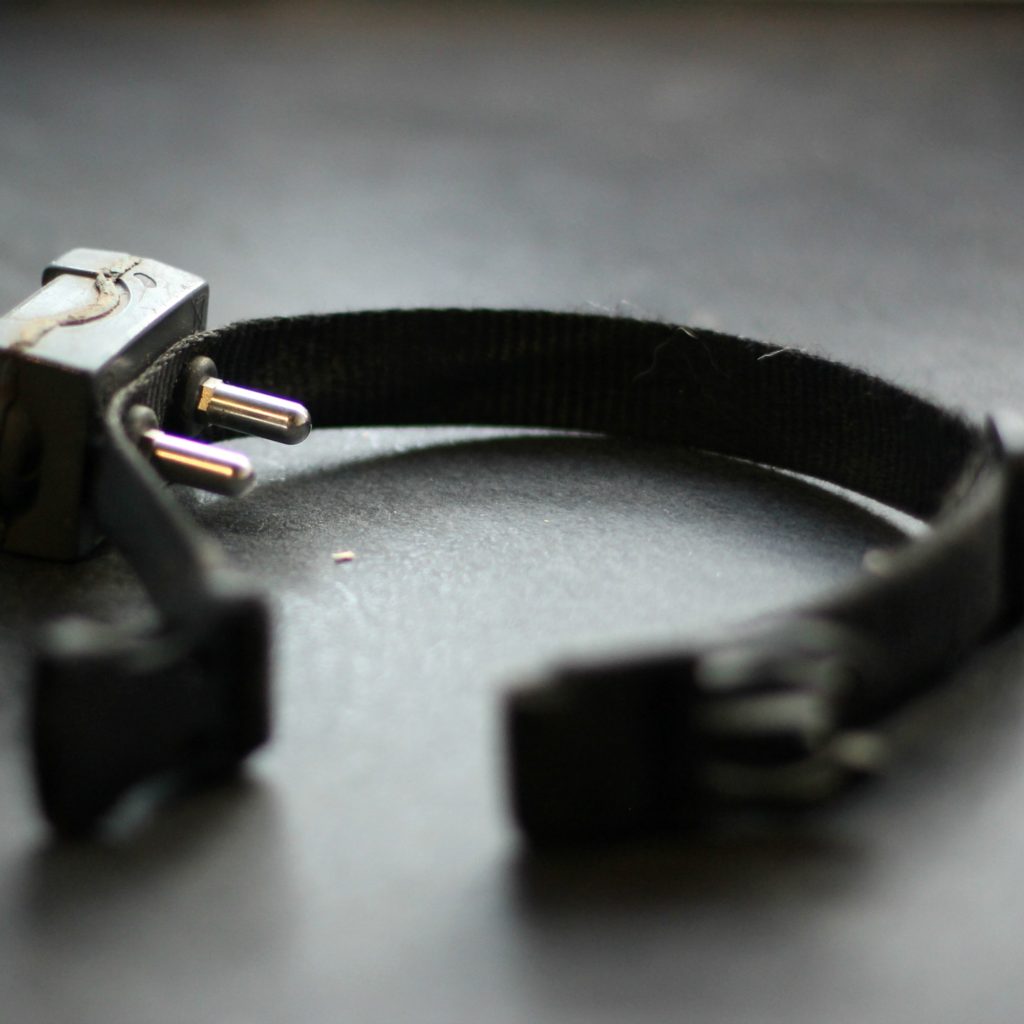 Not only are bark collars often ineffective and a complete waste of money but we owe it to our dogs to treat them kindly when they're emotional. Spraying them in the face may work, but I hope you never need to use a pulveriser spray for anything else such as anti-flea treatments or cortisol application. What usually happens, though, is you end up with a dog who's wet through or scared of the environment and in the case of sprays, raised voices or other punishments, a dog who thinks YOU are the bigger threat.
After all, I want my dog to feel safe in a threatening environment, not to feel like I'm a threat as well.
As you can see in this video, the proof is in the pudding…. two barky, shouty dogs who aren't even fussed about early morning disruption all around them. I did this video between chainsaws, tractors, roofing, shouting and all kinds of comings and goings. What should have been a very noisy day was nothing worth raising your voice over.