This post is the final one in a series of three about keeping your dog safe.
The first post, keeping your dog safe on walks, is largely aimed at dogs who like walks but who don't like certain things that happen on walks, such as strangers appearing or other dogs charging up to them. It's also aimed at dogs who treat the outdoor world as a picnic buffet and like to ingest all sorts of things they shouldn't. It's aimed at dogs with predatory drive that isn't manageable and dogs who are fearful but are in the process of being gradually and gently habituated or desensitised to the outside world. It's for car chasers and bike chasers, jogger-haters and scooter-fans. Reading a sad story about a dog who impaled itself this week during a walk, it's also for dogs in high risk areas such as traffic, dangerous wildlife or man-made risks like traps. Deaf dogs, blind dogs or dogs with dementia would also benefit from the suggestions, no doubt.
The second post, keeping your dog safe in the home, is aimed at door dashers, family and household incidents, dogs with separation anxiety, dogs who are aggressive with family members or other family animals and also puppies. For newly arrived dogs who've never lived inside, it's also useful.
Today, I'm looking at how you can keep your dog safe in the garden. For dogs who may escape or dig out, who have high prey drive or like chasing skirt, it's a must. As with everything, there are times when management is your main goal and there are times when teaching is more sensible. For 14-year-old skirt chasing Tobby, it was a bit of both. When you're 14, there's a time investment involved in teaching new behaviours. Management may sometimes involve financial costs, but it can be used at any point in a dog's life.
Why might our garden be dangerous for our dog?
If you've got an escape artist, it's often easier to escape from a garden than a house.
If you've got a digger, they can break claws, tunnel to victory or unearth roots or plants that could poison them.
If you have a pedigree dog that is a status animal, an unsupervised garden can be an easy place to take them from.
People outside may also open gates inadvertently where they wouldn't open your front door.
If you've got a territorial dog, a fence may not be as secure as you think it is in terms of protecting passers-by.
Also, whilst you may have the most perfectly trained pet who'd never wander off site, it doesn't stop other animals getting in. When you've seen your 45kg shepherd having a fight with a badger, you realise that fences are not just about keeping things IN, but also keeping things OUT. Badgers, by the way, even old, sick ones, can cause a lot of damage. Learned that by experience. You don't have to live in more exotic parts to meet animals that might decide your dog is a tasty snack, that's for sure.
And we have all heard tales of animals poisoned by food thrown over fences, or, here in rural France, animals shot by hunters accidentally.
Lots of reasons then that your outdoor space could do with a bit of thought.
Also, we tend to adapt our houses to suit our dogs when we're out. A couple of chewed books and boots and I got really, really good at tidying up. An overturned bin one day and I was vigilant about putting the bin under lock and key. If we're in and our dogs are in the house, we tend to be supervising them – passively if nothing else. If we're on a walk, again, our dogs tend to be on a lead or within earshot. Certainly, they should be, even though I know this is not always the case.
But we leave our dogs unsupervised a lot out in the garden.
In rural France, a lot of dogs are outside, unsupervised 24 hours a day.
For many dogs, even a slight boundary is enough to keep them in, even if it doesn't stop other things coming into the garden. A 1m high chicken-wire fence is all I've got along one of my boundaries. Any determined dog would make short work of that.
My first question for escapees is over or under?
Are they jumpers or diggers?
I prefer jumpers. So much easier.
Shelssie was a jumper. This 30-cm-high staffie cross could scale a 3m fence. I saw her. A flat, featureless fence that my champion rock-climber friend would have trouble finding a foothold on. She could easily jump 2m and even with a grille across the top of the kennel run, if unsupervised, she would spend her time jumping and headbutting weak spots until she made a gap or got a loose bit, and then she was off. So a roof kind of slowed her down, but didn't stop her. I'm pretty sure she could have scaled 4 or 5 metres even.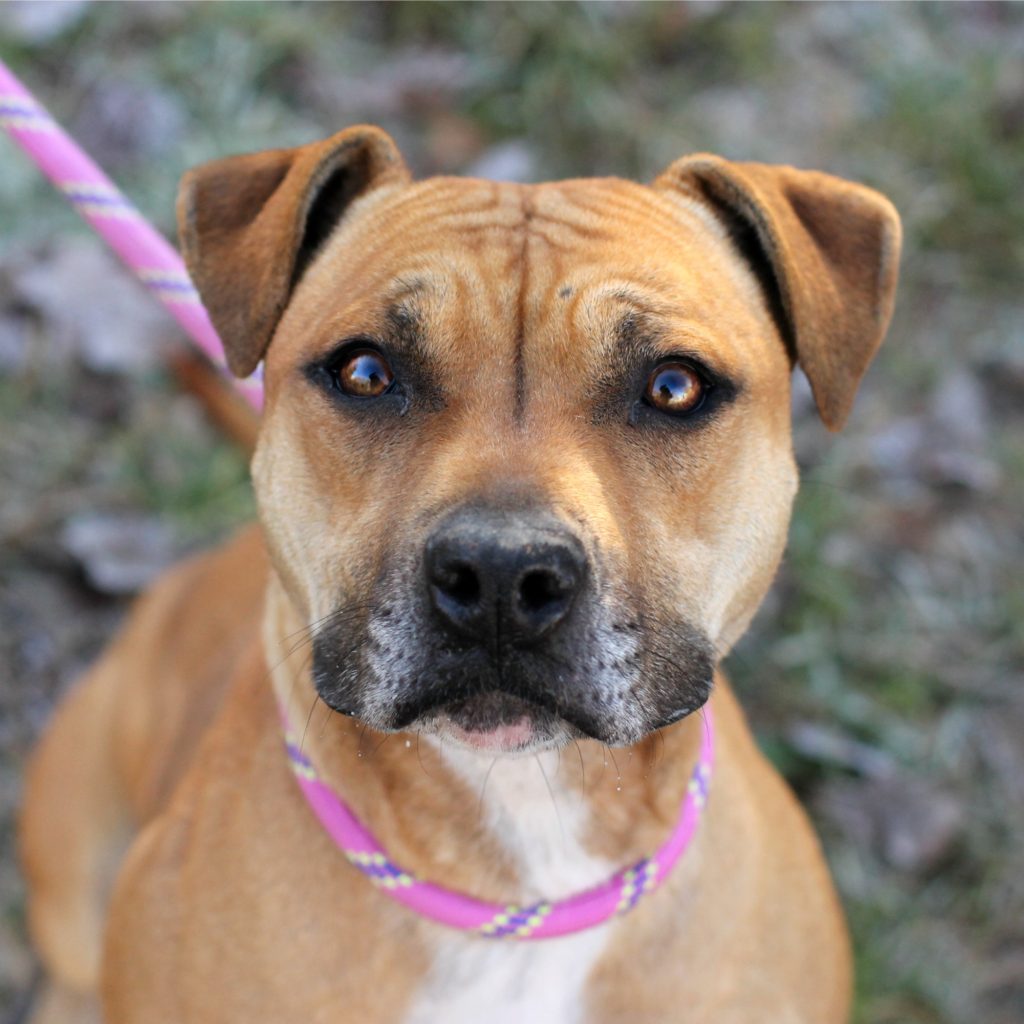 Butter wouldn't melt, would it?
Don't believe me?
Now I'm not a fan of dogs training like this – oh the physical damage they can do to themselves! – but is it really any better for Miss Shelssie who freelanced? Forget this dog's 2-hour training sessions and treadmills, Shelssie practised whenever she was unsupervised, which was a good 10 hours a day sometimes.
Coyote roll bars are a good start – not easy if you have 300m of perimeter fencing, but nobody says you can't fence off a smaller space for your dogs.
So a 2 metre smooth-surfaced fence with roll-bars and an inward-facing 45° section at the top will help manage most hardened jumpers.
Digging is tougher, but digging takes time unless you've built your fence on loosely-packed dry sand or on fresh compost. A hard substrate is tougher to dig out from. The easiest thing to do is lay a hard substrate – cement is also a possibility – and to cover it with solid chicken wire to about a metre out, and then stones or gravel on top. You can put ground cover plants as a hedge. You can also buy rigid fencing and bury it low into the ground.
I fear for this guy's feet in flip flops with bolt cutters right there, let me tell you. I need to do another post for Safety in the garden for Aussies in flip-flops. Dude, you live in a country with deadly snakes and spiders anyhow. Get some proper footwear.
Anyway…
You want something flat and wide from the fence, like a metre of chicken wire, and you want to go down, like reinforcing bars for reinforced concrete if you need something tough.
Again, if it's too expensive, go smaller. Make a smaller penned area.
The most important thing is to tackle the motivation behind the digging or escaping.
To chase? Cats? Moles? Rabbits? I don't need to tell you about the Boston terrier who burrowed through to next door, nipped into the neighbours' house and got himself a guinea pig snack.
Territorial behaviour or competition from other dogs?
Fear and the desire to escape? Separation anxiety?
Boredom?
The desire to mate?
When you know what's motivating this behaviour, you can then start to deal with the cause. So bored animals need some canine enrichment or occupation. Animals who are chasing need to learn some impulse control and to be supervised. Territorial behaviour can be dealt with through desensitisation or counterconditioning programmes, as can fear. Mating can easily be solved with a quick trip to the vet.
Supervision is also crucial. Most dogs don't know not to escape. And you might tell them off, but punishing a dog only suppresses the behaviour, it does not eliminate the need behind it. It just makes the dog more likely to try to escape in your absence. I always ask if the dog is trying to escape when supervised. That is a different thing altogether. But the vast majority of dogs are escaping when they're unsupervised which means they need supervision and a gradual, trained programme of settling when unsupervised. Don't just expect your dog to do nothing for 10 hours whilst your at work. Build up to it and start small.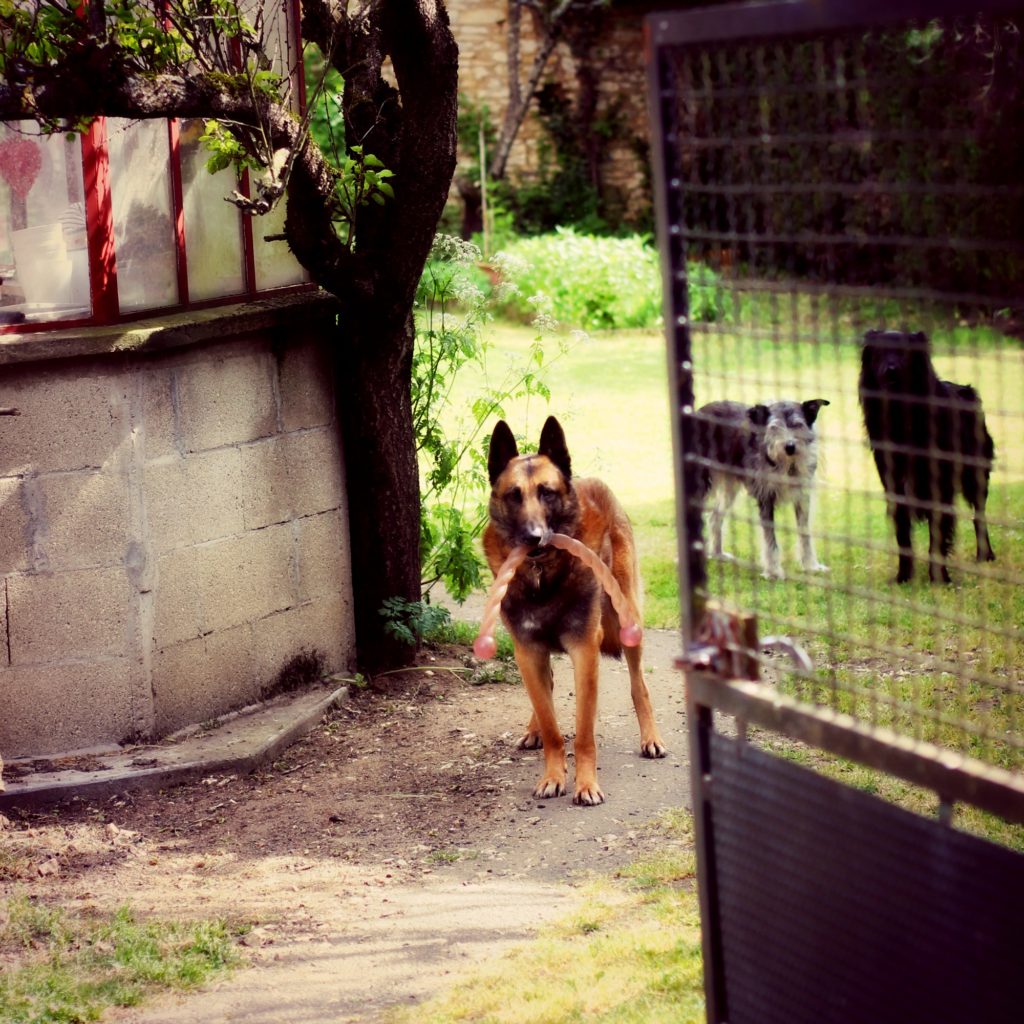 For Tobby the skirt chaser, we got to the point where he could be outside unsupervised and he didn't bugger off through tiny holes despite advanced arthritis… although he was very good at knowing my head wasn't in it and I'd then be chasing my Littlest Hobo through the lanes.
Of course, you don't want to supervise all the time, so you really need to address those emotional needs to escape or dig in other ways. And you need to train them to stay inside the fence at all costs. That photo was me practising with the gate. I'm waving leads and chicken at them. That's what I want.  A rock-solid 'no, this is my giant big den and I'm not budging no matter how you tempt me'. Essentially, what you are doing is 'stay on mat' training, just with a garden rather than a mat.
But get to the emotions and train something appropriate.
Are they searching to get out to exercise their predatory habits? Scentwork, impulse control work and play are particularly helpful at putting an on-switch and an off-switch on these behaviours and giving your dog plenty of stimulation in appropriate ways.
If your dog is seeking to get out to give your neighbours and their dogs a piece of his mind, you really could do with a trainer or behaviourist who can work with you on counterconditioning or exposure therapy to help your dog feel less threatened by what happens outside the fence.
If your dog is afraid and is seeking to get out when there are loud noises or things happen in the home, working on providing a safe, quiet environment and a place for them to retreat to is crucial, as well as working on their resilience and confidence.
Please bear in mind that the emotional drives behind these behaviours can be much stronger than any punishment you may choose. Invisible electric fencing or physical electric fencing may be little deterrent at all. In fact, for aggressive dogs it runs the risk of making their behaviour worse, and for fearful dogs, they may then be reluctant to return home. Shock fencing causes more problems than it solves.
Dogs may also try to get out because they are bored, in which case your dog needs to learn how to settle in your absence and or you to make sure that you are not asking too much of your dog. Occupation, scentwork, mental games and activities should help with that too.
And dogs may also seek to get out for company and companionship. Getting another pet is not a solution, but doggy daycare, dog parks, playdates and dog sitters are one way to both manage your dog's needs and also help make sure they are met. If your dog is not neutered, it is something to consider as to whether those needs are sexual in nature and whether neutering would curb their desire to roam in search of a mate.
So, let's talk worst-case scenario. You've got a dog that, for one reason or another, has horrible aggression issues and the potential to do great damage. You'd like to be able to let them off-lead outside and you have the space to do it, but you don't want to have to supervise (or you can't) 24 hours a day. Or you have the world's most persistent skirt chaser and having them altered isn't an option. Or you've adopted a hound who has a million ways to get out. Or a Shelssie.
For one reason or another, you absolutely need a secure garden space.
How can you create that?
Besides a secure fence, a smooth wall is less likely to help dogs go over. Buried fence panels will stop diggers making such an easy task of it. Roll bars/45° inwards-facing fencing attached to the top will also help. 'Airlocks' or double gate systems can help with gate dashers. You will need a deadlock on gates to stop unwitting guests opening them by mistake. For dogs who don't pose an aggression risk, high-vis collars/harnesses and a GPS tracker will help you locate quickly and also help motorists see them to avoid accidents on the road. Bear in mind, collars can easily be slipped and can also catch dogs onto branches, which also poses a risk. Whilst a dog may get caught up in a harness, it won't strangle them. A high-vis escape-proof harness for all outdoor time will be better than a collar. For dogs who pose a significant aggression risk, it's imperative that your dog is secure.
Just as an aside, if your dog is that aggressive, you will be working with someone, I know. But some things to bear in mind from fatal dog attacks…
The risks of a fatal dog bite are higher with dogs who a) live outside on a permanent or semi-permanent basis b) uncastrated males that are 25kg plus c) in groups
The victims are often physically vulnerable (young or old) neighbours or known to the family (rather than family members or strangers) rather than strangers. That, though, is for fatal dog bites, not the 99.9999% of bites which don't kill. It is not to say that your dog is more likely to bite a child, just that it will be more serious if it does.
I think, though, that there is a lesson in there about dogs in yards.
Dogs shouldn't live in yards if you expect them to be good 'people' dogs. Although socialisation is largely over by 12-14 weeks, you need to keep that socialisation going with strangers and with familiar humans through their teenage years and not deprive them of regular contact with humans in their adulthood. Becoming a yard dog or 'resident' dog who lives out in a yard with little contact with humans is not a good way for a dog to live. No wonder they lose touch with how humans behave! 10 years in the countryside has made me much more edgy in cities. The noise, lack of space and bad manners make me grumpy in ways they never did when I lived in the city. We lose touch with the world and with how people behave if we aren't regularly part of it.
The other lesson is that if you have an aggressive dog who you like to give garden time to, as well you might, don't think that the biggest threat is to people the dog doesn't know. I suspect we lower our guard with people who know the dog, thinking the dog will tolerate them as they tolerate us. So when you're thinking of how to keep your postman safe from accidentally releasing your dog, make sure you think too about access from the house. It's all very well preventing your neighbours' kids from accidentally getting in to your garden from the street, or stopping your dog getting out onto the street, but think too of how you stop grandchildren, visiting children, guests and grandmas getting from the house into the garden, or your dog from getting from the garden to the house.
This is from bite expert Jim Crosby: "Dogs belonging to grandparents or other family not living with the child full time are the most likely of the family dogs to have a negative encounter, whether a full fatality or a simple dog bite. This usually indicates a lack of frequent social contact between the dog and the particular child, coupled with a relaxation of supervision because the dog is seen as part of the family."
I think that's a really important message. When you set up your secure garden, make sure you don't forget security between the house and the garden. It's all very well protecting Joe Public from your dog, or your dog from Joe Public/coyotes/wolves/bears and the likes, but the real dangers are often likely to be ones in the home.