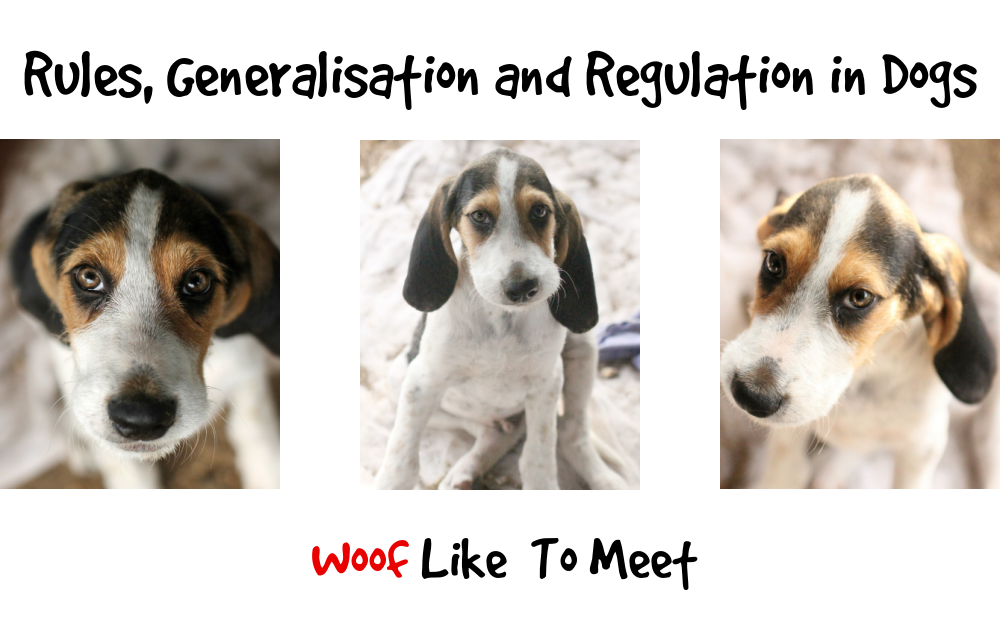 One of the mistakes I think that dog trainers make when talking about regulation is supposing that it's only an internal process. So much about regulation for companion animals relates to external, social processes. It's about time we acknowledged this.
Today, we explore the concept of co-regulation. Co-regulation is a social process. In the relationship between dogs and their guardians, co-regulation could be described as the social process between the dog and the guardian. The process is a fluctuating one of give and take. We alter our actions with respect to our dogs' actions. They alter theirs with respect to ours.
For instance, if I can see one of my dogs struggling to cope with an oncoming dog, instead of doing nothing but continuing with my walk, I might change my actions. I might step aside and give my dog some treats to help them cope.
If you think about it, walking on a lead should be a process of co-regulation, where the dog slows their pace with respect to ours, and we alter our normally flat pace to stop when the dog sniffs or needs more lead. We're moving together, and that requires both of us modify our behaviour in respect to the other.
Walking on a lead also gives us examples of more egocentric walking. Sometimes, it is the dog leading the walk where they make no attempt to regulate their own pace with respect to their guardian and we see dogs pulling their guardian over as they try to get to a chip packet or another dog.
Other times, it is the human who entirely controls the pace of the walk, where the dog is drilled to subjugate their needs completely to that of their guardian.
Instead of walking with the dog or walking with the human, co-regulation would involve walking together.
It is the ballet of interactions.
Most of the time, when we talk of co-regulation, we actually mean emotional co-regulation, where we work to support our dogs. Occasionally, as guardians, we may need to do more to support them. Other times, we may choose to co-regulate by giving the dog less support and structure and letting them make decisions for themselves.
Ideally, we'd like our dogs to be able to self-regulate behaviourally and emotionally, but the reality is that given dogs' cognitive capacities and development, this can be a struggle. To assume that they'll magically just learn to self-regulate at 9 weeks of age is a huge mistake, and yet this is what many guardians do.
The idea of co-regulation also poses problems to some dog trainers.
On the one hand, many modern dog trainers do not like the idea of imposing structures on dogs. They may not even like the word trainer. They definitely don't like the notion of external rule structures. The idea that you might ask a dog to sit and wait while their food is prepared is an anathema to them. Teaching dogs to cope with frustration, to control their bodies and impulses… pffft.
The problem with this view is that it is based on a faulty understanding of the structures within which social mammals live. It is often accompanied by an idealised view of canine cognitive capacities too. It overestimates what dogs are capable of being.
I've had this dogmatically explained to me by grown-up human beings who seem to have zero awareness of the fact they've really not understood the social mores of their own species very well. Worse, they're also not that able to modulate their own behaviour accordingly.
What hope is there if actual grown-up human beings, firehosing others on the regulatory skills of dogs, are unable to modulate their own behaviour?
If you, oh delicious and delightful human being, can't open up your own rigid and dogmatic beliefs in order to entertain the possibility that there may be more to regulation than you imagined and that dogs may struggle with it just as you are, then it's a case in point.
I love dogs *very* much and I appreciate them in all their splendid dog-ness but idealising their ability to control themselves and forgetting that they are social beings doesn't help us live with them much and also places huge expectations upon their ability to restrain themselves and fit in to a group.
Understanding the social rules in play and moderating your behaviour accordingly is a very important part of development.
Whenever we put dogs in situations where they need to moderate their behaviour with other animals, that requires social regulation. When we interact with others, we need competencies in social behaviour. If we expect dogs to confidently and appropriately deal with intraspecies conflict, to regulate their own emotions and behaviour around other dogs or humans, or to even cooperate in joint activities like play or walking on lead, then it requires they exercise a high level of cognitive control over themselves.
Dogs are not born with these skills.
They don't magically occur.
Neither is regulation simply an internal process. Dogs, like humans, are social beings. Regulation is also a social-emotional process.
Caregivers contribute hugely to this process as puppies develop.
As always, it's important to remind ourselves that these skills are developmental. That's to say that puppies are not born with them. They emerge at certain points as they age.
These skills are also about our ability to generalise and understand that these rules are important on this occasion, but that other rules are in place at other times. You know, like we play ball outside, but we don't have quite such big behaviours inside. We run outside, but we walk on the left in corridors… Ironically, we help children remember these rules all the time, but many of us just expect dogs to have been magically born with them and remember them even on snow days and windy days and birthdays.
Understanding rules requires us to be able to generalise and understand our social group. It also requires us to understand context. These are tough skills for dogs!
I often hear that dogs don't generalise well. Generalisation is simply the ability to understand both abstract and concrete rules and infer that they may be applicable in other circumstances.
Puppy trainers often remind puppy guardians, for instance, that what their puppy learns in class will also need to be practised at home because dogs don't generalise well.
I'd like to offer a refinement rooted in comparative psychology.
Dogs don't generalise as well as humans can.
When we say dogs don't generalise well, we often forget to add 'in comparison to us'.
Dogs generalise very well compared to other species.
Also, it might be better to say that dogs are more contextual than humans.
This reframing allows us to remember that the ability to generalise is more developed in humans without denigrating animals whose cognitive processes are more context-dependent than ours. We're the outliers, not dogs. The situation matters more to dogs. Ironically, play outside and not inside will make MUCH more sense to them than it will to a five-year-old. On the flip side, if we're trying to teach them they can actually also play in the dog park as well as the garden, it might not make much sense at first. It's hard for dogs to think like that.
Most trainers understand that the ability to apply old rules in new contexts is a key stumbling block for our teaching. I'm not entirely sure we truly understand what it must feel like to be more contextual in our thinking. It can only be akin to trying to imagine what it is like to be dyslexic when you are not. That is a significant cognitive hindrance for us. We forget that dogs are more dependent on context in learning than we are because we simply can't imagine it.
This is very important when it comes to rules and regulation, especially where these may differ.
HERE but not THERE rules can be tough for humans and easier for dogs.
No ball play in the house. It's fine in the yard.
NOW but not THEN rules are also tough for humans but easier for dogs because of the contextual nature of their experience.
Walk to heel when we're going past the neighbours' dogs but sniff later.
Dogs are actually better at that than we are.
I speak as someone who struggled with the seemingly abitrary application of rules growing up. Like why can't you wear make-up in school if you wear it out of the home? Why was it okay to wear mascara and blusher when I was on stage but not when I was in French class? Why was it appropriate for grown men to gawk at me in a leotard but not to wear fitted clothes in public where men may gawk at me? Why did it matter if a boy was in my room at night compared to the daytime? Why did it matter if I came in at 10:45 compared to 11pm?
I was an obstreperous teenager, according to my Nana.
I'm now an obstreperous adult.
For those of you who've seen The Breakfast Club, you're probably seeing me as a John Bender character right now. You know… How come Andrew gets to get up? If he gets up, we'll all get up. It'll be anarchy.
I understand rules that are there for social cohesion, public health, the good of the community. I bag up and bin dog poo. I'm quiet after 8pm. I don't use power tools on Sundays. I don't speed. I stop at traffic lights. I wear my mask. I am also in favour of rules that stop people exploiting others. I like these rules. These structures are important.
I do not understand whimsical rules. No. That's not true. I understand them very well. I do not like them. There is a difference.
Ironically, whimsical rules, as long as they are consistent, make more sense to dogs once they've learned them.
What we can never do is forget that dogs are a social mammal, just as we are.
Learning to be a social mammal is part of developing regulatory skills.
Sometimes, we regulate things from the inside; other times, regulation occurs as a result of social structures.
At first, those social structures are small. Our parents, grandparents, and, to some extent, our siblings, support us as we move from being egocentric individuals to social beings. Our extended family may be involved in that growth.
As we grow, we become part of a wider network of individuals. Non-familial relationships become more important.
In the wild, wolves do not often make that leap other than in choosing a mate. Their mate may be the only non-familial bond they ever form. In glorifying wolves, we often forget that they have very clear rule structures about interactions with non-familial conspecifics. A wolf out of territory encountering another wolf risks an enormous amount. Wolf researcher Rick McIntyre documents that the most common cause for death in adult wolves is to be killed by a rival pack. Even the fact that wolves form long-term pair bonds is unusual. Only 3-5% of mammalian species do that. Dogs don't, usually, when left to live unrestricted lives.
Dogs, then, are more 'human' in their management of encounters with other dogs but don't have some of the tight family-driven social codes of wolves.
We also forget that life within a family group may not be perfect for wolves and also for street dogs. McIntyre documents life for three sisters in a wolf pack in Yellowstone National Park. The ranking female terrorised her sisters. He documents that in Yellowstone, no son had forced their father out of the social group, but that it was not infrequent that daughters would either force out or kill their mothers. He says that the ranking females 'set the agenda for the pack: where to den, when to go out on hunts and when to travel.'
What we in the writing and studies of many wolf scholars and conservationists is a description of life where family structures determine life.
That dogs are more gregarious than wolves is perhaps a story written into their biology. Dogs don't form a family group as other canids do. The whole reproductive biology of the dog is deregulated compared to the wolf's. The structure of social groups is different.
Nevertheless, to live in social groups, you need rules.
I'm reminded of the John Wick films. 'Rules, John. They are the only thing that separate us from the animals.'
As if animals do not have social rules of their own!
I think this human superiority that we are the only species with codified social rules is perhaps why so many people seem unwilling to see that social factors also help our dogs understand that rules apply in certain situations.
We also have ridiculously high expectations of dogs to be able to manage these things themselves.
For instance, expecting a 10-week-old puppy to regulate their own need to play compared to the need of an older dog to sleep…. or expecting an adolescent dog to cope with the social intricacies of interaction with unfamiliar dogs… As a colleague said beautifully this week, guardians overestimate puppies' skills in many respects, and underestimate them in others.
Being more gregarious is not just biology. It is the very important work of socialisation. Neuroscientist and primatologist Robert Sapolsky describes biology as giving us the 'how' of behaviour, where socialisation gives us the 'when' and 'where'. Socialisation also tells us the magnitude of behaviour we'd need. It's a vital part of the canine experience, just as it is the human experience.
Leaving it all to the dogs is to misunderstand what helps dogs thrive.
I have lived with dogs who didn't like each other much. Amigo had a terse relationship with all my dogs other than Tobby. He guarded toys and he needed help around food bowls as well as beds. The beauceron Effel who I had in foster for 18 months (and would have adopted) had many issues with Heston.
Anyone looking at what happened in our home probably would not have seen the small things that made a difference. Meal times were not regimented in terms of behavioural expectations, but I did make small tweaks to make it easier on my dogs. Heston ate last because he had the best manners and was the most patient. Amigo ate first because he struggled.
Effel struggled with excitement and energy levels. He struggled to regulate his own behaviour around Heston at such times. For instance, if Heston ran out of the door, Effel would chase after him. I didn't even walk them together because if Heston was off-lead, Effel was unable to break his visual fixation on Heston. If Effel was also off-lead, he would chase Heston. A few times, Effel nipped Heston's face.
Effel also struggled with small, animated dogs. He would chase them compulsively and struggle not to bite if he caught up to them.
What did I do?
I set up the situation so these things couldn't happen. I walked Heston separately from Effel. I made sure my small fosters had a safe space to play.
All this is just simple management that I'm sure you're already conscious that you do yourself.
I also set up scenarios in which Effel could learn how to regulate himself with intervention where necessary. At first, that meant restorative socialisation with staid, large, calm adult dogs. Then we included large, lively adult dogs. Then we included smaller dogs with great social skills.
The truth is that some dogs are masters in coaching others.
Heston is my master on this score.
You saw him already with a small puppy who was struggling not to bite her littermates really hard. Here he is with a Newfoundland who'd not been socialised. He struggled to cope with other dogs and he was incredibly shy when he arrived. Beyond any play he'd had with his litter, he'd had nothing for a year.
Watch how he coaxes the Newfie into a game of chase. This was the first time this big dog had played. Look at how Heston speeds up and slows down, keeping an eye on him.
This may seem like very one-sided play, and it is *here*. What is he doing though? He's leading the play by taking the role of the chasee. He decides. He speeds up, he slows down.
You can also see my lovely Amigo who did not understand dog play at all and struggled to cope.
Who's regulating him?
I am.
Why? Because managing him (shutting him away) would not have exposed him to play. He's learning that he doesn't have to go and put an end to it.
Should I have left him?
Well, there'd have been a fight if I did.
Should I have put him away?
Well, I'd be completely removing his skills to learn to do this without me calling him or telling him to go.
A short clip but one that supports a couple of points…
Social dogs can be amazing at teaching others through play. They are quite literally coaching other dogs when this happens well.
Some dogs need us to help support them. It doesn't happen by accident. It can also go very badly wrong when we don't take this role seriously. Regulatory skills don't happen in some fluffy, wonderful 'Ain't Nature Grand?' kind of event.
Some people consider the way in which dogs lead captive lives to be a problem, as if street dogs, village dogs and strays all co-exist in a divine and happy world. This is not the case. Unrestrained dogs are particularly territorial. Their behaviour is also hugely shaped by the environment and the people in that space.
More and more studies emerge year on year looking at the ranges of street dogs. There is also evidence of forced dispersal, where street dogs will force a hanger-on to disperse through violence or even death. Most truly unrestrained dogs in urban settings do not live long enough to reach social maturity and so it's very hard to take lessons from what is essentially an idealised group of dogs in different cultures from our own most of whom don't reach sexual maturity let alone social maturity.
Where restricted lifestyles do count is as we have seen in the pandemic with lockdown dogs, dogs like the Newfie above who had no social contact with his own species for 11 months after he went to his permanent home.
Regulatory skills involve social skills when they involve turn-taking too. Watching Effel was to watch a dog who did not understand turn-taking in play. In my opinion, this can be exacerbated by breed, age and hormones. He chased. He tried to manage the excitement levels of other animals, just as a good beauceron is bred to do with errant sheep. He never offered to be the chasee, as Heston does.
Heston is also a good example because his greeting skills are rubbish. I mean they've got better but he really, really struggled with greetings. Shepherds do when they have careless guardians. *Cough*.
He also had his moments. Considering he is intact, he's not much of a one for typically "male" behaviours but there have been times when he was far too interested in young females. Just because you can be a great Uncle with sharky puppies and a great Older Brother to shy dogs and wonderful with flirty old ladies does not mean you're great at it all.
Turn-taking is tough.
Many of us think this is innate. It's not. It's taught. Whether a dog learns to wait their turn might be the result of great and largely unconscious social processes with humans and dogs, or it may be more structured than that.
My girl Lidy, for instance, struggles when there is petting available and she is not the recipient. Learning not to come and shove her fine shepherdy nose into our petting is part of her social education. She struggles and so it is my job to support her in kind, nurturing and consistent ways.
Understanding turns also requires a lot of executive functioning skills – which aren't always onboard until we reach social maturity. Even then, as a populous social species who mostly manage to be harmonious in incredibly densely populated areas, we human beings can struggle. As an English person in French queues, let me tell you, I feel that Gallic impatience seething out of every pore. Let's not even talk about Italians and queues or those hideous Black Friday videos from malls in the USA…
We learn to take turns through the patience, consistency, understanding, and thoughtfulness of adults. This is one reason I think the most important dogs that puppies can meet are adult ones. Whether our dogs are learning from human adults or canine adults is kind of moot. To learn to take turns, we need to know how to handle our frustration when our needs are temporarily thwarted. We need to know how to control our bodies. We need to understand social rule structures and to know how to generalise. Just because we queue to hang our coats up and we take turns asking questions in story time does not mean we automatically understand why we should not push in at the buffet table. We also need executive functioning skills to coordinate all this complex thinking.
In reality, regulation of all sorts is scaffolded. We support early attempts to self-regulate and we help puppies grow by supporting them in emotionally challenging situations. This is what good caregivers do.
We are not doing that if we put the onus on the puppy. We are not doing that if we put the onus on a dog having a very large emotional response to a situation they aren't adequately prepared to cope with.
Passing from co-regulation to self-regulation is a gradual process. It is also an unstable process, where sometimes we will help our dogs more than others.
So when do we co-regulate our dogs?
When we offer distraction if they are struggling.
When we set up situations to help them reappraise and reconsolidate their learning.
When we help them learn to soothe themselves, or when we soothe them.
When we help modulate their responses.
If I see another dog approaching us and I know my dog will struggle, the most scaffolded thing I can do is to distract them. I'll take them to one side and we'll eat biscuits. That's distraction. We don't look at the dog. We don't think about the dog. We just do something else.
As we progress, we will remove that immediate layer of support and help them reappraise. Oh, look! There's a dog! Isn't that great? Just a dog, going on their daily business!
We may also add in prompted soothing. Good girl! Well done! Great stuff! Can you look away? Can you look at me? Can you take a breath? Can we play here? Can you eat?
As we move into self-regulation, we will also prompt our dogs through cues. Leslie McDevitt's perenially excellent 'Look at That!' does exactly this. Look at the dog! Now you need to disengage and look back to me when mark your behaviour. Here, we're helping our dogs modulate their behaviour.
Finally, we'll move to dogs who will look and then disengage without the need for a prompt. That's self-regulation.
My two dogs are a great example of where we're at on this scale.
We're surrounded by sheep where we are now. Heston spent 8 years with cows. I don't think he'd actually ever seen a sheep. Even so, he made that transition from cows to sheep admirably. I didn't overestimate his contextual skills and I did go slowly, but he self-regulates around sheep and he has from Day 1 of seeing them.
This is not by accident!
At 12 weeks or so, he barked at cows and tried to chase them. By 4 months, we'd ironed out the problem. We moved from reappraisal at a distance to prompts to self-regulation. The one or two times cows did something unexpected, I helped him cope by prompting him.
Lidy is incredibly predatory of all moving things. She's also hypersensitive to environmental change. Yesterday she was eyeing up an unexpected soil bag, for goodness sake! I may still need to distract her from time to time if the sheep are particularly lively and giddy. Getting stuck in an escaped flock was *much* fun! But most of the time, I'm helping her reappraise by giving her distance, supporting her decisions, occasionally prompting her to move away if she gets into struggles. We're not, and we probably never will be, at a point where she'll self-regulate completely even in giddy-escaped-flock situations, but we walked past at 20m today and she exhibited THE MOST self-regulation. I mean she looked at them, then looked away.
It's important to understand that self-regulation is the end-product, if we're lucky. We're not being overly prescriptive if we occasionally support our dogs when they need it. We are being good caregivers.
We also need to stop overestimating dogs' cognitive abilities and coping capacity. The *whole* point of being a social species, as Bill Withers would say, is having someone to lean on.
That's our job.
In next week's post, I'll look at practical ways we can scaffold regulation so that we can act supportively as our dogs move to independence.
Don't forget to subscribe if you want occasional newsletters and blogs to your inbox:
If you want to support me further or you want to know more about supporting the human end of the lead, you can also pick up a copy of my Dog Trainers' guide to Client-Centred training. I'll let you into a secret; a lot of it is about that same support and scaffolding for our clients. Whenever we are emotionally overwhelmed, we definitely need someone to lean on. If you've read it already, could you do me a huge favour and leave a review? It helps people decide if it's for them! Big thanks!