A few weeks ago, I did a post about the importance of understanding bias and purpose for social media posts. Mostly, that was focused on the ways we take physical care of our dogs and being careful about where we seek veterinary information. I planned to write a similar post about getting to the bottom of bias and purpose in dog training, but since my gripe was really about two particular posts from one specific trainer, I thought I'd be more precise, rather than just bemoaning the state the internet.
One of the posts was a particularly click-baity one about why some trainer 'doesn't socialise' her dogs. I'm not linking to it for obvious reasons. Gripes about her ethics, her marketing and her training methods aside, posts like that make my blood boil. It makes me cross that people who won't bother getting beyond the headline will then think they too don't need to socialise their puppies. They weren't my main gripes though. My main gripe was with the premise of her article: that dogs don't need early developmental experiences.
But let's just clarify the mixed-up terms she used. Socialisation and habituation are very different things, as are gradual desensitisation and accidental sensitisation. I appreciate they are all lumped under the banner of 'socialisation' where puppies are concerned. But there is a difference.
Some people said that this didn't matter.
I beg to differ.
If you don't have a grasp of what you are talking about, how can you profess to be an expert?
That's like me saying I don't believe in using eggs in soufflé and then going on to talk quite clearly about something that is plainly scrambled eggs.
Am I an expert in cooking if I mix up my soufflé and my scrambled eggs?
Not really.
So, my first gripe was with the mixed-up terms she was using.
First, she mixed up socialisation and habituation, desensitisation, sensitisation and flooding. Now that's not a crime. I've got a degree in psychology and I don't expect everyone to know their Harlow's Monkeys from their Skinner's Rats. But for me, if your post is doing the rounds on social media, it's kind of important to be a bit right.
I don't take my advice on psychology from people who don't understand the basics.
I don't listen to people about social media who don't understand what the difference is between Twitter and Instagram.
And I won't be taking my advice about puppy training from someone who doesn't understand the difference between socialisation and sensitisation.
So… with that in mind, let's sort out that psychology nonsense.
Socialisation is the process by which we become social. It is about our interactions. That can be with your own species or with others, but the crucial thing is that it involves interaction. It is how you learn how to become a functioning member of society. For dogs, this is how they interact with us, with other dogs and with other species with which they have interactions, like cats. We don't interact with egg boxes (or rather they don't interact back) and so how we behave around egg boxes, metal surfaces, icecubes or sports stadium bleachers is not socialisation. Even if that's what many people call it.
Habituation is the process by which we get used to the world around us. It is about how our reactions to the stimuli in the world around us diminish through repetition. It is about reducing the startle reflex. If you imagine hearing a loud exhaust bang outside your house, that would startle you. If you heard it all the time and you got used to it, you would become habituated. Habituation is a fairly normal process and can happen naturally. It's how we move from conscious awareness of new stuff around us to it becoming subconscious. Like the smell at the shelter. I don't imagine it's any less foul than it was when I first started, but I don't smell it any more. If you want to habituate your dog to the world around it, then your dog would be out in the world getting used to stuff. You can also habituate them to people, dogs, cats, sheep etc when your aim is not that your puppy will socialise or interact with it. I don't want my dog to socialise with sheep. I want him to become used to the movement and presence of sheep to such an extent that they are no more interesting than a bush or a tree. But I don't want him to interact with them. That's habituation, not socialisation. I like French for this – 'getting used to something' is s'habituer. It's easier for me to remember what it means. In French, socialiser or even sociabiliser means to make sociable, to socialise. They don't get mixed up so easily. It's definitely an English language thing to mix up those two very different experiences.
However, if you didn't get used to the world around you, you might become sensitised to it. In other words, you'd never get used to it and your startle response would remain constant or even get worse. You may become anxious or fearful, living on your nerves. You might notice it and be unable 'not' to notice it. This usually happens with fear, but it can happen with other negative emotions too. For instance, I may mean to habituate my dog to the car but accidentally sensitise him to it. He might start panicking or vomiting. This is closely tied with flooding where we are exposed – either accidentally or purposely – and we become hyper-sensitive to something in particular. Flooding often leads to a panic state, and to panicked aggression, but it can also lead to being completely shut down.
You may then start a process of desensitisation which is a deliberate process by which you try to make something less powerful. Usually, this is done in a careful and gradual way through repeated exposure at limits that are not horrible and terrifying. Sometimes, we call this systematic desensitisation to make it clear that it's gradual and planned.
So, now that's cleared up, it was obvious in the post that what the trainer was actually advising was not to accidentally sensitise your dog to the world around them. So she wasn't actually saying she didn't help her dog learn how to interact with humans and other dogs, but that she didn't make her dog panic about things like steps and being overwhelmed by strangers. Now I agree with her on that.
But the rest of her article was equally dubious, not least the lack of understanding of basic canine development.
She went on to say that genetics are the "major" factor in what our dogs become and that socialisation destroys the relationship you have with your dog (because hey, that world is INTERESTING and according to her, you don't want your dog to realise that!). Now whilst I agree that it has to be a balance in that relationship between owner-environment-dog and I accept that, I want to get into a bit of discussion about genetics and the dog we have in front of us. Because it's not as clear cut as 'it's either in the genes or it's not'.
Let me give you an example.
I will show you the results of a lack of socialisation. I would share a photo but we don't share information on social media about the dogs at our shelter who live 'in sanctuary'.
This is a true story, though, about a real dog. He's not that different from many of our other 'hard to home' dogs.
He's a breed well-known for being suspicious of strangers and other animals. He came from a long line in that breed who had been purposely bred to be more suspicious than others. If you think these behaviours can't be inherited, they absolutely can: aggression, neuroticism and fear of new things have a genetic quality to them. So you take a dog who already has the 'right' genetic building blocks. Let's add being male to that mix as well. Then you remove him from his mother and his litter-mates at two weeks. Whether you do this on purpose to imprint him more on his owner or through some accident of rearing, the consequence is the same. You fail to socialise him with his litter-mates or his mother, and only socialise him with his owner. He is never socialised with other humans or with other dogs. What you get is a dog who cannot be around other dogs, who is selective about humans he likes or doesn't and who will no doubt live out his days in a very limited fashion.
Don't believe me about the genes being only the building blocks, and socialisation being the process by which they are assembled?
The breeder came to see if he could pick the dog up. He brought with him another dog from the same litter. Same breed. Same mother. Same father. Male. And that dog was the soppiest, friendliest dog ever. The breeder said he'd have liked to have taken our dog back, but there was no way he could keep him in the safety and security that he needed as an absolute guarantee.
Now you tell me what the difference is?
Life experience. Aka. Socialisation and habituation.
Socialisation matters hugely. And habituation. But socialisation is an integral part of the adult dog that you get.
For that, I'm going to be referring a lot to Matt Ridley's excellent 'Nature via Nurture', and to the works of Robert Sapolsky, among others. And, of course, the enormous and epic works about socialisation from Bar Harbor in the 1950s and 1960s, which focused on dogs, among other species.
Sure, breed is important.
Of course it is.
If breed wasn't important, you'd have beagles as police attack dogs and Jack Russells as sniffer dogs. If breed wasn't important, people would be using bichon frise to flush out pheasant, not cockers.
Let's step back a bit. Let's just talk 'Dog'.
Dogs have what is called an 'ethogram'… a list of behaviours that they are physically capable of performing, along with their function. These behaviours are typical for that species. Different species have different ethograms. For instance, 'climbing' is part of the spectacled bear ethogram, by which they mean 'locomotion on structures/trees, not at ground level'. Now dogs can climb. But do they climb trees like bears do? Do they use their tail to hook around the branch like a spider monkey? Do they grasp a branch with their paw and swing from tree to tree?
Not possible.
The canine ethogram is shared across the canine species. There are things that are very similar across all canids, and things that are different. There are things dogs do that wolves don't – dogs are much more vocal than wolves in general – and behaviour, like a physical trait, is also subject to evolution. So all dogs have a basic repertoire of behaviours and functions. For some, those are elongated – like terriers, who have virtually every behaviour in the canine repertoire – and for some that is truncated. We focus much on the predatory patterns and how dogs have elongated or truncated patterns of predation, but this forgets that dogs do a lot of other stuff as well, and a lot of that is the same as every other breed of dog. Predatory motor patterns are not the be-all and end-all of a dog.
But yes, in terms of certain traits, it's a law of averages thing. You'd expect to find fewer Basenjis who vocalise. Fewer salukis with a kill-bite-dissect. More terriers who'll go from orienting on a target to the final dissection. More cockers who are interested in going into bushes and sending up birds. Fewer beagles interested in disinterring your moles. More poodles who find it easier to walk on two legs than Leonbergers.
It's not just the predatory motor behaviours or physical behaviours that dog breeds may differ in.
It can be emotional and behavioural too.
I firmly believe – and James Serpell's work on CBARQ will no doubt be the basis of further work on this – that breeds are more likely or less likely to exhibit other behaviours outside the predatory motor patterns of orient-stalk-chase-grab/bite-kill/bite-dissect. That might include the 'Big Five' of aggression, neuroticism, openness to novelty etc for instance. As an example, if you compare your average Anglo-Français hound, they certainly seem to be less aggressive, less neurotic, less afraid of novelty than your average German Shepherd. There are other things too that behaviourists and trainers will become more in tune with, anecdotally, that no doubt Serpell's work will clarify through time.
That's really evident in my work.
Not a surprise if someone rings me up and says they have a resource guarder. My money is on spaniel or daxie. Dog who runs off with their stuff and tears it apart? My money is on terrier. Dog who has compulsive behaviours and/or anorexic? Dollars to donuts it's a setter. Dog compulsively licking feet?  Pointer or Dally. Dog failing to connect with you? Ancient or Asiatic breed for sure.  Dog chasing tail – could be terrier  – but if self-injuring and stressed, it'll be a shepherd for sure. We're beginning to unpick those genetically-based abnormal behaviours – how bull terriers will 'trance' and move back and forwards under branches, how Doberman might flank suck, how labradors may eat compulsively – but they tell us such a lot. Breed is important, and we know that.
Although Serpell's C-BARQ questionnaire is based on people saying what their dog is like – and people tend to agree with breed stereotypes, like their Akita being aloof when really it may be no less friendly than a cocker spaniel – it is interesting to see behaviour patterns across breeds. The work does confirm what we'd say anecdotally about breed behaviours. That could just be evidence that it's a self-fulfilling prophecy, but if you live and work around dogs, you know it's not just our biases. Your herding breeds ARE more trainable in general, your gundogs ARE less aggressive to unfamiliar dogs in general, and your toy breeds ARE often aggressive towards familiar humans – in general.
You may be forgiven for thinking Serpell's work tells us nothing we don't already know.
But it does.
First, they tell us that genetics is absolutely important.
Secondly it tells us that the average across all breeds is more similar than the average within a breed. That's to say you'll get dogs within a breed who will massively buck the trend.
You'll get shepherds who are soppy love buckets with strangers, as Flika my Foster Mali is. You'll get collies who defy training and seem to have ADHD. You'll get stranger-aggressive hounds (although I have yet to meet one!)
But just because there is a trend and there are 'outliers', does that mean we just accept it?
IF YOU KNOW that your herding breeds are more afraid of the world around them than mastiffs, do we just accept this quirk of genetics?
Heston would say both yes and no.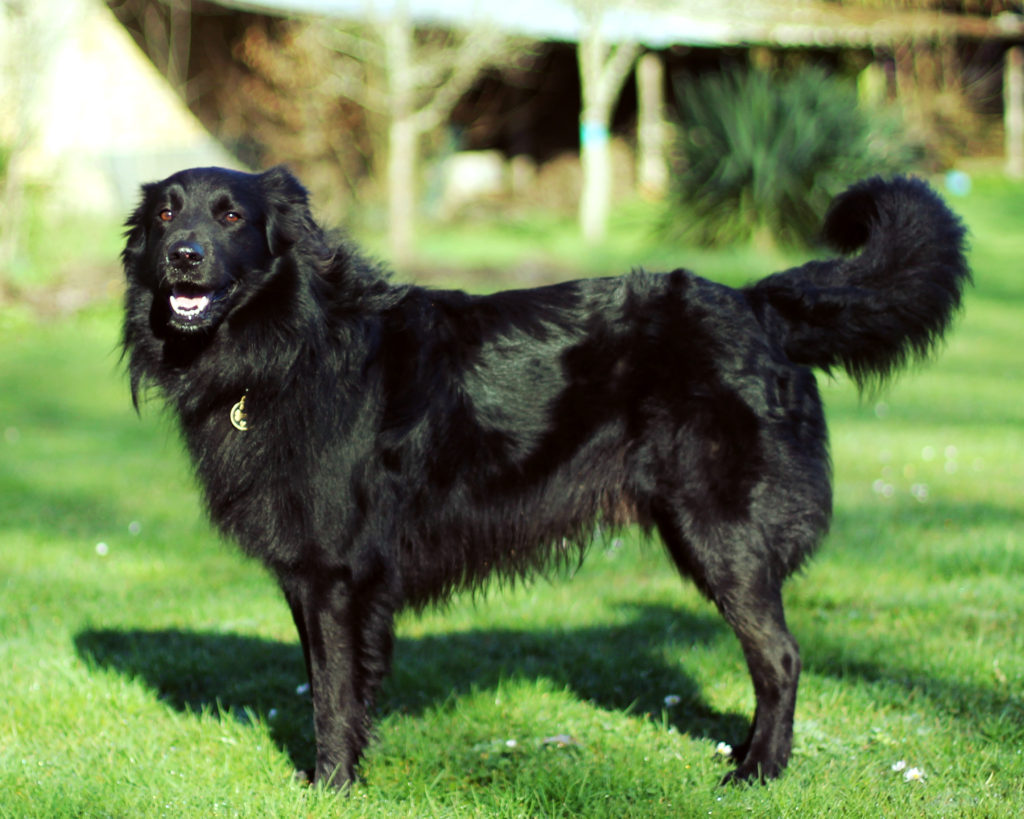 Just to give you his back story, he was found in a box with his siblings at the age of 1 day, and bottle-reared. Not the ideal, I know. But not to have a lecture about the needs for mothering and puppy socialisation – they may not be perfect, but they turned out not too bad at all. The point of this is not about his early social experiences but is in fact about innate breed tendencies. So, back to the breed.
Anyway, litter of 7. Several short-haired with white toes and chest patches, several fluffs. All of them were black with occasional patches of white on chests or toes.
The vet – as best as any vet can do with tiny pups – said collie x labrador, which made sense given the size, weight, colour and hair. As they grew up, several people who'd had flat-coated retrievers thought the long-haired ones were more like that, but a labrador is not far removed from a golden or a flat-coated retriever, and instead of thinking differences, I thought in terms of the group… retriever! Once or twice, groenendael shepherds were mentioned, mostly because Heston's brother Charlton was pointier in the nose, but given the ears, the shape, the size, the weight, the popularity of labradors and their crosses, I raised him as a retriever. He didn't look like a shepherd and given the rarity of Groenendaels and the high frequency of retrievers, it seemed more likely.
Plus, some of his behaviours fitted.
I mean, he loved retrieving.
He learned early on about game and loved to go off and flush out game. His fun ended when the chase ended. He was clearly not a 'run off and dissect' terrier of some type, or a 'kill bite' kind of dog either. We did collie-style heelwork and stuff, but what floated his boat was gundog stuff. It was his preferences as much as his looks that shouted retriever.
He is an immense dog for scent and chase, loves retrieving… finds me dogs all the time.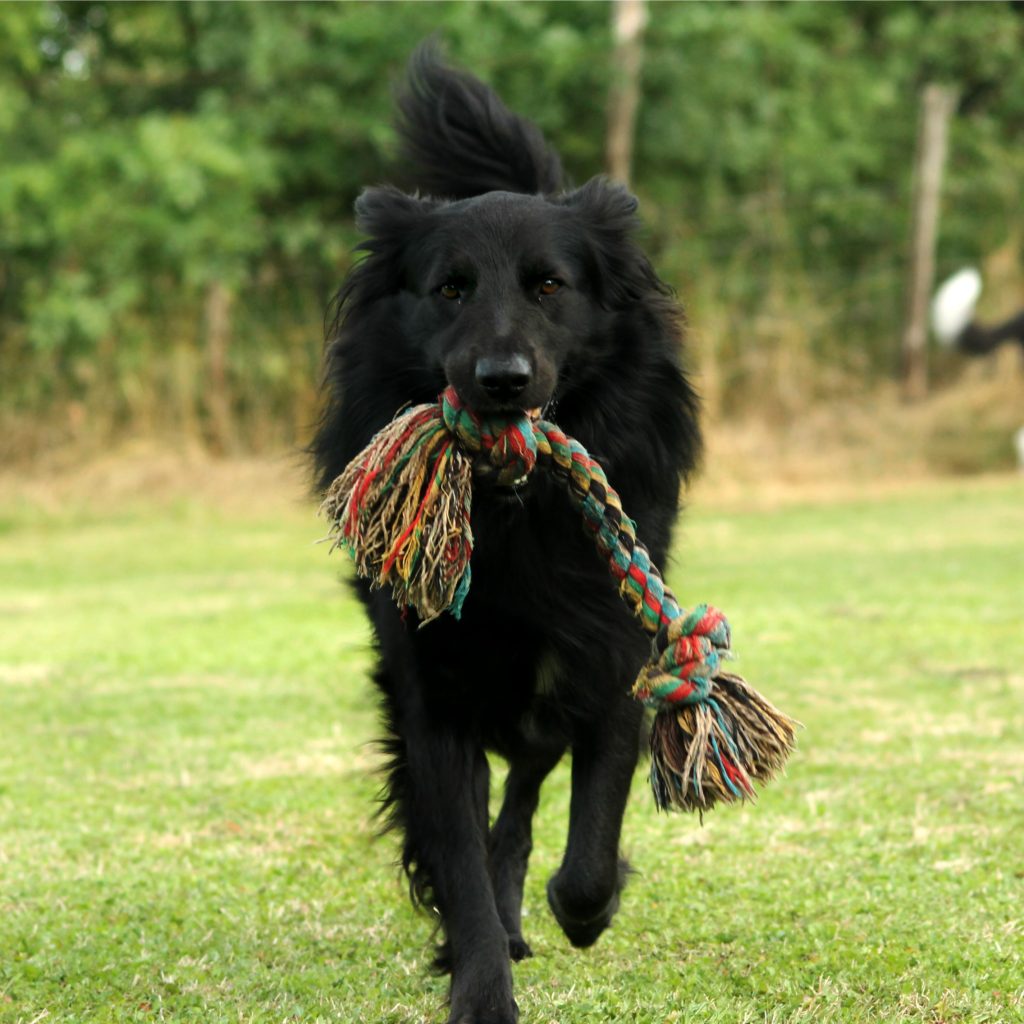 His brother looks a lot like him, just more pointy. One of his sisters also did. And a couple looked like fairly standard black labrador hybrids of one form or another. He didn't have any collie behaviours that I could see. No stalking, herding, eyeing… but lots of retriever stuff. So much so we did lots of gundog stuff. He lives for blind retrieves and quartering, tracking and airscenting.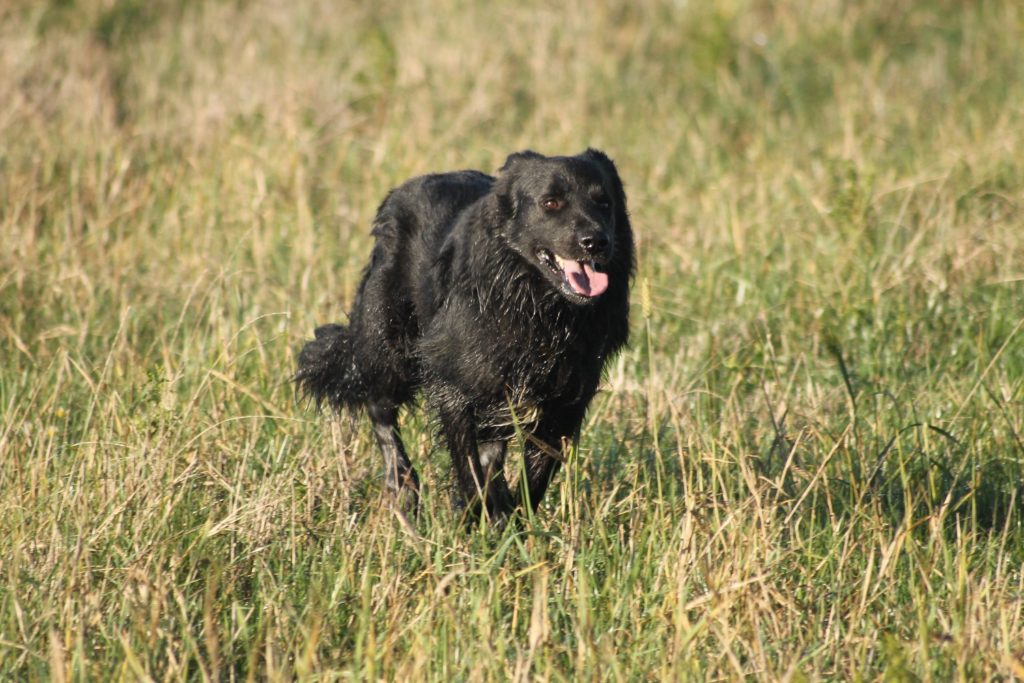 You know where this is going.
One DNA test later and 50% of those Heston Genes are shepherd. Much of him is groenendael Belgian shepherd. Suddenly, that 'stranger danger' barking, that distrust of anyone 'not Emma', that 'love my flock, everything else worries me' behaviour all made sense. It doesn't make sense to have a retriever that doesn't like people. Sure, they exist. But in general, the retriever breeds I meet are all 'Hail Fellow Well Met' types, not the 'Get off My Land!' types.
Huh, I said as I read the report.
Well, it all made sense!
And yes, there's a bit of labrador in there, and a bit of cocker spaniel too if you believe it. Enough gundog stuff to make sense. Zero collie.
But what difference do those genes make?
According to Serpell's research, a stranger-wary dog who is spooked by novel things in the world around him. Fearful of strangers and unfamiliar dogs, highly trainable, higher-than-average levels of energy, lower-than-average aggression to household members.
Which kind of describes Heston.
But a lot of that describes Tilly, who is an American cocker spaniel. And a little of it describes Tobby and Flika, my malinois-mutt pensioners – also both Belgian Shepherds. But they aren't aggressive to strangers. They are highly social, highly trainable, not aggressive…. and yes, malis – highly energetic even with very genetic crippling degenerative conditions and in their twilight years.
So part of me feels like reading breed characteristics is like reading a horoscope. It hits a big target market if you hedge your bets. I'm happy to write off the heart-breaking behavioural similarities between Tobby and Flika as coincidence. Yes, they both had or have separation anxiety, but he shadowed me and she doesn't. His was isolation distress rather than anxiety related to me, despite the shadowing. Yes, he was an escape artist and so is she – and so, for that matter, is Belle, the mali x GSD at the refuge. But then so is Shelssie, and she is an American Staffordshire.
So… the deck you are dealt genetically is of course modified by breed and by being a dog, but your dog has more in common with other dogs than they have differences.
How would knowing Heston's shepherd background have influenced my socialisation, habituation and training?
Well for one thing, I truly believe life can make up for genetic inadequacies, or it can worsen them. If you have behavioural qualities that are less than desirable, I believe a proper programme of socialisation and planned habituation can help overcome those. I think that's absolutely vital with herding dogs, terriers and toy breeds. If you know your dog is 'aloof', then it is your one goal in their development to make sure that you teach them how not to be. Within reason. I'm not saying you turn your Shiba Inu into a setter. But they sure as hell could do with being a little less aloof to get them through life.
Now that's a fine line, I know, and I know it's a delicate balance between habituation/socialisation and accidental sensitisation. That's for another post altogether. How you teach a dog not to be, how you keep those genes from switching on… that is the stuff of books, not internet articles.
But you need to be aware of those breed tendencies, and you need to be aware of the flaws that don't fit in with our modern society. That's where habituation can smooth off the rough edges, It'd be nice if more breeders were breeding for temperament, but that's by the by.
Looking back on two critical moments where I ended up flooding Heston rather than habituating him, I would have been more conscious of that if I thought I was raising a shepherd. There's no way I would have let him be ambushed by a pack of six unfamiliar dogs and no way I'd have taken him to some of the very busy events I did. One of them, around the 16 week mark, was the first time he was reactive. He got over it – he does. But I took him to a very big event and it was too much. I should have been more careful and I didn't think I'd have to be.
I'd never have done that to him, knowing what I know now about socialisation, about shepherds, about dogs. I doubt I'd do it to any dog other than a super chilled hound or bombproof gundog.
But I could never say 'it's in the genes', like I would say 'it's in the stars' as if it is pre-ordained, a matter of fate. Neither would I say 'no point trying' with any dog who has less than perfect parents. Matt Ridley's excellent 'Nature via Nurture' revisits a lot of ideas I studied as part of Developmental Psychology…
Genes are designed to take their cues from Nurture
In other words, they change and are influenced by what our dogs experience. Not only that, there are cut-off dates for that where pretty much everything you do after is remedial. Our innate behaviours are switched on, or not, by the world we encounter.
Niko Tinbergen, the great ethologist who won a Nobel Prize for his work showed that innate behaviours must be triggered by an external stimulus.
If nurture doesn't matter, all puppies from one litter would grow up identical in behaviour and appearance. If worldly experiences are so unimportant, our dogs' behaviour would not only be much more predictable than it is, but it would so be much more fixed than it is. They would be more like their siblings than they are.
The debate is not about Genes Vs Socialisation/Habituation.
It is about how socialisation and habituation affect the genes. It is impossible to say which is the cause and which is the effect. They are so tightly woven into one another that we can't just dismiss socialisation out of hand. But to say 'it's all in the genes' is a bit of a flat-earth view to be honest. And likewise to say 'it's all in the life experiences'. It's not an argument about to what extent it's one or the other. It's both. We know this. It's about that interplay between both of those things, about how genetic, innate factors are influenced or suppressed by experience.
So, back to the dog I started this piece with. Can he learn to be friendly to people? Sure. He has many more friends than he had when he arrived. And friendly to other dogs? Not so much. Mainly that's because it's really, really hard to get those other dog to modify their behaviour in the same way we can.
Would it have been easier when he was 6 weeks old? Sure. By the time myelinisation starts to happen, turning synapses into super-highways or pruning them back, setting habits in cement, we can already have done a lot of work. The extensive work of psychologists in the 50s and 60s on human and animal development shows when those windows open and when they are fairly closed. If you want to know about dogs, read the works of Scott and Fuller, and the lab in Bar Harbor, Maine, where they worked. If you want to know how canine development happens and when it stops, their work is instrumental. What they showed is that breed is part of it: how dogs play, when they bark, when they open their eyes, how they behave with humans and with other dogs. But what they also showed is how vital those early weeks are for teaching puppies how to interact appropriately with other dogs.
But it doesn't end with puppies.
It's not a closed door at 12 weeks, although much of what has happened between 4 and 12 weeks will influence the rest of the dog's life.
Research is showing now that you can take the most genetically impoverished creature – and it doesn't matter the age – but an enriched environment helps them grow new neurons. Robert Sapolsky refers here to a rat that had been purposely tampered with to have the crappiest biology for learning. Scientists had pinpointed the exact bit of the brain that is responsible for remembering, and they'd switched it off. They'd previously made a Super Learner, and now they did the opposite. And what they showed was that, in an enriched environment, it almost made up for that crappy biological deal. We know this is true for young animals, but enrichment is also a factor in keeping the brain ticking in old age as well.
So what do we know?
It's ALL important: breed, line, heritage, prenatal experience, early socialisation, habituation, enrichment. It's a Gordian Knot of infinite complexity. Each experience switches on genes – or not. It lays down patterns – or not. There is a degree of instinct in learning – in why Heston finds it easy to retrieve but also to bark at strangers – but there is a degree of learning in instinct, too. Fear and aggression, in particular, are such a mix of genes and learning that you cannot separate the two. It is easy to get a dog to fear another dog. It is not so easy to get a dog to fear the sound of a fridge opening. Some of those fears will be encoded in their genes: why they find the smell of onions aversive, why electric shock does not need to be taught as painful, but many of those fears are switched on, or not, by learning. A dog has to learn to be afraid of a knock at the door; the approach of strangers, the fear of being alone – they are fears dogs find it easy to learn. Learning is about strengthening connections already in use. Socialisation is about making sure those connections are solid in the first place. Habituation is part of that process.
There is nothing inevitable about innate or instinctive behaviours.
If I believed that, I wouldn't have the world's first Gundog Groenendael X.
Life and experience – including socialisation and habituation – flick the switches on behaviours. Some of those switches flick easily: you don't have to work hard with a spaniel to get it to use its nose. And some of those switches are ones you'd prefer not to flick, like Heston's fear of strangers.
So there's no point saying 'Don't socialise your dogs'. It is a fallacious argument. Unless your dog grows up in a bubble, it will be socialised to the individuals around it. It will habituate – or not – to the world around it. But if you have a dog with inbuilt switches for certain undesirable behaviours, you want to do your utmost to use socialisation to make sure they are not scared of strangers or unfamiliar dogs, that they are habituated to stimuli in the world around them. Learning can smooth the rough edges of genetics. And habituation means that you don't end up carrying your 30kg 4-year-old dog down the stairs because it didn't cross your tiny mind that a dog might not get what stairs are, less when they're marble and spiral and slippy and steep.
You can see now why I find it dangerous to post articles with headings like "Why I don't socialise my puppies."
Firstly, yes you do socialise them. Unless they live in a box, they are learning how to interact with you. Secondly, what you mean is that you don't accidentally flick on the switches for fears. Thirdly, if everybody believed that early developmental experiences were so unnecessary, we'd have a much larger number of dogs seeking sanctuary. Thank goodness most people value the importance of early experience. I needn't really add that the writer of the article has shepherds herself. I wonder why she thinks some of our shelter shepherds are such an unholy behavioural mess if it's all in the genes? Maybe she would like to try and do some remedial desensitisation and socialisation with a 9-year-old mali who never had the benefit of an enriched puppyhood.
From a shelter point of view, a message that suggests you deprive your dog of early social experiences and that "it's all in the genes", is a very damaging one for us. Most of our hard-to-rehome dogs are missing in vital experiences: positive experiences with unfamiliar humans, positive experiences with unfamiliar dogs, experience of novelty and how to cope with it. Not exposing dogs to these things is dangerous and costs them lives. I am not saying this for effect. If your dog is so afraid or aggressive towards unfamiliar humans, many shelters will refuse to take that dog on and that leaves owners with only one choice: euthanasia.
We all need to be aware of the factors that influence canine behaviour. To advise people not to do the one thing that can smooth over the cracks is dangerous. To suggest that it is all in the genes is fatalistic. I believe whole-heartedly that the early experiences of dogs help shape who they become as adult animals. It is our job as their care-takers to make sure we get the balance right between socialisation/habituation and accidental flooding or sensitisation. This is especially true when we know the breed characteristics of the dogs we love. It is our job not to blindly accept those glitches as if we can do nothing about them, but to plan a careful and safe environment in which our young puppies can form a secure base.
It is also our job as dog behaviourists and trainers not to put out information as clickbait just to get people to visit our site. I'm sure the trainer in question has profited enormously from the publicity of her post. Good marketing, perhaps, but certainly not good science and definitely not good advice.