I've not got a problem behaviour to add this week, just a bit of a growly grumble. It has kind of a point by the end, or a theme, perhaps I should say.
The first grumble is over 'accessory' dogs. Most people are going to assume I mean chihuahuas in handbags aren't they? Nope. I'm not talking about ladies and their lapdogs (come and spend 5 minutes with Putchy, the world's littlest guard dog if you think a chihuahua is an accessory dog, by the way…) but macho men with their own accessory dog.
If Barbie women might be fans of dogs in tutus and diamanté collars, then there's definitely a GI Joe (and GI Jane) type out there who like their own accessory dogs. Be they malis, rotties or dobies, there's a certain type of guy who is endlessly attracted to dogs who have either a scary 'hard man' look or who are known for their work in the police and armed forces. These guys, usually Eastern Bloc types with names like Ivan, or South Africans who look like they left on account of the end of apartheid, love the breeds favoured by the military: your GSDs, your Malis and your Dutch shepherds. Forget the 'other' dogs favoured by the police and military – the springers and the cockers for scentwork, or labradors and bassets – the average Ivan or Hendrik wants a dog that looks like it's a lot more temperamental than it is. If sporty, make-up-free ladies with ponytails want a collie for agility, then guys called Dirk want a dog that looks like it just got back from sorting out riffraff in a war zone.
If you don't believe me, go and look at the happy, shiny ladies (almost exclusively) of dog agility teams with their collies and shelties. Then go and look at the schutzhund GI-wannabes (almost exclusively) with their sticks and body suits, camo pants and "K9". See? By the way, then go and look at the fieldwork trials teams who also like to walk around in camo gear and guns with their hairy dogs and hounds.
But here's the thing… protection work is one part of schutzhund. It also involves trailing and obedience. But that doesn't look like your dog is some kind of GI K9, does it?
I think that my point is that for some people, to own a Malinois or Dutch shepherd is just as much an accessory dog (with an accessory sport) as owning a chihuahua you keep in your handbag. They come with their own uniform and reputation.
But unlike the sparkly Legally Blonde ladies with a pooch in a pouch, the over-muscled men who spend too much time in the gym and then buy a malinois because they're very much compensating for something – try to convince us that their dog is special. That it has a job. Because they need a 'killer' dog. Maybe it's because they live in one of those pesky places where you can't carry weapons and a dog is as good a weapon as any. Maybe it's because they failed basic training to get into the army and they fancy themselves as super-tough, ready to fight off insurgents in Walmart.
And what sparked all of this 'hmmmmm' over Schutzhund? A few things really. First, a man (called Ivan) who says that clicker training and positive training (which is what I do) are okay for little handbag dogs but don't work with what he meant as "real" dogs (in his humble opinion). First, I disagreed because you have no need to punish any dog. As my dad said today, punishment won't turn a bad dog into a good dog, will it? Second I disagreed because dogs who are often more impulsive (and some breeds of shepherds have higher-than-average impulsivity on studies) seem to thrive on the energy of punishment. You'd have to really, really, really hurt them.
And, good people of the internet, that is what happens in many French schutzhund clubs. Picking up by the ears, flinging over the shoulder, smashing them to the floor, pulling them by their legs, helicoptering them (suspending them by their collar or lead from the floor) and ear pinches are par for the course.
Now Comrade Ivan says he doesn't do this "traditional" stuff. He's a 'complete' trainer. Apparently. Thus, by implication, I am 'incomplete'. Or, by implication, he missed out a word after 'complete', like 'tosspot'. And needless to say, he is dead wrong. In fact, my positive training and clicker training often picks up with dogs he'd refuse to work with as unpredictable, aggressive and impulsive. The things that have worked best with the dogs that he thinks of as "real" dogs, are…. reward training and clicker training. In fact, Lidy (my current "real" dog project at the shelter) has made such excellent progress with the clicker and sausages that I thought she might like to do a bit of the nice schutzhund stuff with the GI Joes and their perfect obedience machines (competitive obedience and trailing) but… and here's the catch… it's not possible because she's not a pedigree.
How frustrating. You get a dog who's born to do competitive obedience, who has the best nose in the shelter outside of the hounds, who would thrive off being taught to channel her natural courage, tenacity, enthusiasm and energy… and she isn't allowed to play with the GI Joe-alikes and their interbred dogs.
Then I was posted a link. A link to a video with some K9 name as part of its title. It seemed to be promo material for a company (?) in the US who train "real" police dogs. It starts with some police guy saying how his dog let him down. It shows some Dieter from South Africa explaining how you have to "train dogs up here" (ie subject them to insanely abusive training) so they are prepared to deal with real life events "down here".
Well, I'm sorry. I completely disagree. We don't train soldiers like that, even with their cognitive brains and their ability to process. Who would ever say, "you have to be prepared for Mosul, so we are going to subject you to something way more horrific than Mosul?"
Ridiculous argument.
Girls, you might get sexually abused in your life, so we're going to subject you to a rape scenario just so we know you'll cope with it.
Utterly ridiculous.
You can never be trained when the person is wearing a body suit and is predictable. Ask any martial arts person how hard it is to fight a drunk. It's impossible. Real life is unpredictable and even if you are as prepared as Sarah Connor in Terminator II, you are not prepared. And to ask a dog to be prepared is ludicrous. Anyone knows that dogs do not generalise well. You can't train a dog with a schutzhund sleeve or a body suit and expect them to generalise – even if you train them to – and expect it to be 100% reliable. Even men with their giant neo-cortexes are not 100% reliable.
So, Mr Afrika with your "I'd rather my dog got shot than a human being" and "we need to prepare them 'up here' if we want them to perform 'down here'…" – frankly, I think that's a big bag of nonsense. If you want a reliable weapon that can take down a suspect, get a gun. And if that's not reliable enough, blame the man behind it. News for you buddy, few armed response teams on the continent use dogs. They use highly-trained men with assault rifles. And what do they use their dogs for? Bomb, weapons and drug detection, tracking and trailing. So your macho K9 bullshit is not part of most major European police forces, as most are drugs detection dogs. Whilst some help in the execution of warrants and dealing with affray, most of the armed response units in Europe don't have loads of dogs running around like lethal and generally unpredictable bitey targeting missiles. RAID, the department of the Police Nationale in France, has a dozen dogs who are part of the unit, a small number of which are introduced into scenes to check they are clear and most of which are used in firearms detection. The army is a bit different. By and large, though, the jobs done by "K9s" are search, scentwork, tracking. Some protection is part of that, of course.
And why do they use so many shepherds? Because they are biddable dogs who love to work and are highly focused. Some come with teeth – but all dogs do. If you wanted a dog who could give you a bit of a nip, I'd recommend something small, bouncy and scrappy. Anyone who saw the burglar escaping with half of his calf muscles and the remains of his jeans will know that a pack of Jack Russells is a formidable protection detail.
So underneath all your macho faux-army bluster, you're working with a biddable, trainable dog who lives to work. Not super robodog. A dog that has off days, just as you do. A dog that has an emotional brain that they are way less in control of than you are in control of yours. So you can keep your GI Joe fashion accessory and know that, when you've abused dogs and thrown them about in the name of "testing" them or making them "ring ready", or even if you've sorted yourself out with a 'trainer' who is helping you build a "protection" dog to attack intruders, when you fail to instill the 'off' switch, positive training is what makes a difference when you simply can't force submission and your dog is out of control. And a big fat raspberry to any GI-wannabe who thinks that "real" dogs need punishment to learn, needs to face "real-life" excessive handling so they know how to "cope with it" and that we reward trainers are great for teaching parlour dogs to give a paw but we obviously can't work with "real dogs". News for you, buddy. You aren't in Afghanistan facing down insurgents. You are in a ring. You're doing nothing differently than the ponytail ladies with their collies running up A frames and going through tunnels.
On that note, a by-the-way about the Miss I'm working with currently, the Miss who has the brains, confidence and energy to be a star, but none of the paperwork. She's what happens when people don't train these dogs properly. Putchy is what happens when you don't instill good behaviour in a chihuahua. I'll stick to Miss Mali because little dogs scare the bejesus out of me. All dogs need rules and guidance. Not counter-surfing requires as much behavioural inhibition as not biting. Not jumping requires as much behavioural inhibition as not attacking passers-by. For my dogs, not chasing the first smell they come across requires as much behavioural inhibition as any schutzhund trial. This is why the first thing you need to teach is a super-reliable off-switch, whether you are working with a counter-surfing labrador, a cuckoo scent-mad springer or a motion detector greyhound. Frustration tolerance and inhibition are the first thing everybody needs to teach.
That works for children too.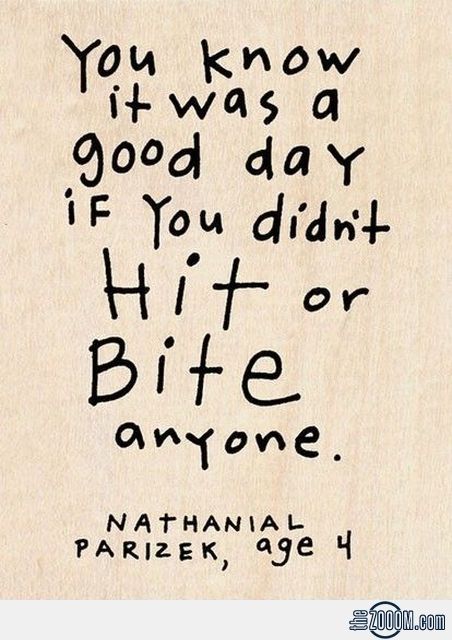 And how do you do that if you're working with a dog who has high impulsivity?
Tiny, tiny steps.
Miss Mali did NOT have a good day on Friday. Neither did my hoodie. Turns out that the difference between four feet on the floor on leaving the enclosure, and saying hi at face level is 10 inches of 'too far' past impulse control.
I'm re-reading (again, and again) Don't Shoot the Dog by Karen Pryor. This book should be every dog trainer's Bible, no matter what your discipline. What it reminded me of was that I had asked too much. Sure, we've done ins and outs without jumping and grabbing. She has that just perfect. But we hadn't done ins and outs with me thinking I'd end the session there if she couldn't keep four feet down.
Saturday… that's exactly what we did. I went back to my clicker. No more excited "Yes!" or praise. Impartial. Cold, even. But precise.
Took me two minutes extra and we enjoyed a no-grab walk.
How to add the 'off' switch is out there for us. It's easy in theory and tough in practice. But it works.
I firmly believe all dogs are real dogs, whether they are primped and preened neutered dogs from show lines with no ounce of aggressivity or whether they are rough-and-ready untrained Heinz 57s. They aren't lifestyle accessories. No ring sport is more challenging than any other (except if you are trying to do them with a beagle or a terrier) and they are SPORTS. You don't have to be a big dude with a Russian name to train dogs for competitions, and it behooves us all to remember that dogs not biting us is their restraint, not their fear.
I end this piece wanting two things. Firstly, anyone who trains shepherds needs to switch to spaniels. Or beagles. Just once in a while. Secondly, anyone who wants an accessory dog should immediately be given the exact opposite. Perhaps we'd have fewer little dogs with constraint and touch issues if their owners had been used to rotties, and perhaps we'd have fewer mouthy shepherds if they weren't trained by people who would be better off playing Paintball and pretending to be a law enforcement officer.