Having looked at what a puppy needs in its first few weeks of life, and why a puppy might not be the most suitable choice for your home, you'll probably be surprised to hear a staunch rescuer say that one of the phrases I never say is "Adopt, don't shop!" Kind of ironic, I know. I've never shopped. I never will. But why do I wish people would be less glib about peppering posts with this phrase when people are looking to acquire a new pet? And why is the "B" word such a dirty word?
One of the most popular (and controversial) articles on a popular dog website is a commentary from an adopter about why she judges people for buying puppies from a breeder. It's always a topic that causes polemics. Good traffic for websites, if not very understanding, sensible or kind.
I have a confession to share as well. Once, a woman contacted me to make a statement about how she was 'unliking' my Facebook page because "our ethics were not aligned". Why? I had posted a link to my friend's dog training page. She's an excellent trainer, by the way. Like frighteningly good. She's a positive trainer – so why were my ethics not aligned to the woman who contacted me? Here's why. My friend has five dogs, and has had two litters of working cockers in the last two years. When I received this snooty message, I was being judged for endorsing the business of someone who breeds one carefully planned litter of working dogs once a year. Somehow the eight puppies that my friend has caused to be brought into the world in the last two years makes her responsible for our shelter having eight hundred dogs through our gates? I don't get it.
If you are a die-hard "Adopt, don't shop!" comment-maker, please try to make it through to the end of the post before you tell me that our ethics are not aligned and cut me off though.
Quite honestly, there are a couple of reasons that I'm tired of hearing "Adopt, don't shop." The zeal and fervour of the self-righteous Rescue Radicals also makes it impossible to have an honest dialogue about some very important issues to do with what makes a good dog and why a rescue is not for everyone. To me, as long as you buy from an ethical breeder then it doesn't matter if you rescue or buy from a breeder. If you work in rescue, you're probably afraid to even mention the B word. Even my favourite trainer of all, Nando Brown, justifies his own choice of a "bought" Malinois by countering that he has done his fair share of rescues; indeed, he has two rescue dogs himself. So why does he feel like he must justify his decision to own Fizz and remind us of the great work he has done? Why are we at the point where our top animal professionals feel the need to remind us that they do rescue too? Is it that they feel the burning eyes of Rescue Radical Judgey-ness upon them?
Two people at the shelter have recently had quiet conversations with me about how they would love to breed dogs but are afraid of the reactions they would get. Despite the fact that they love particular breeds, and breeds that are popular for good reasons, breeds in good health with few known genetic issues, breeds not represented in French shelters, these animal lovers are afraid to promote the dogs they love. Instead, they do a bit of work for breed-specific rescues and try to keep quiet about how they wish they didn't just have to deal with damaged versions of the dogs they love. Do these people know how many dogs there are in refuges? Of course they do. These people WORK in animal rescue. They're the ones picking up dogs and cleaning up the mess that people make. Of course, they know how many dogs are in rescue. Does it mean they don't love Shelties or Salukis? No. They own muttleys. Or they own damaged versions of the breeds they love. I guarantee you that they own more muttleys than you do and that they've taken on dogs with so many complex issues that you wouldn't think it possible. But they are afraid to breed, to promote a breed, to even mention a breed. It's a dirty secret that is more difficult to talk about than many other topics. The Judgey Brigade has made it impossible for us to even talk about the B word. Somehow it's okay to rescue a Beauceron or a Malinois, but not okay to want to have one any other way.
It's clear to see why. Here's a nice, sanctimonious, time-wasting example. Some lovely person with too much time on their hands (and a dog they themselves bought from a breeder) contacted me to ask me if I knew that one of our volunteers actually had puppies for sale? Shouldn't we be adopting and not selling?! That volunteer is a member of a Neapolitan mastiff rescue group. She personally rehomes more mastiffs than anyone else in France. When a mastiff comes in, if she can't place it, she pays for its stay, she walks it, she trains it, she tries her damnedest to make it adoptable. She does pre-visits and post-visits. She lives and breathes mastiffs. She is the most invested person – a breed ambassador. And the do-gooder who thought our volunteers shouldn't be involved in breeding needs to consider one thing: the volunteer doesn't actually have puppies "for sale". She has over twenty homes lined up before the actual mating. Her puppies are never "for sale". They are homed before they are even conceived. I wish every dog born had a breed ambassador like this.
Let me make this clear. Breeders are not contributing to shelter problems. Our shelters in France are not filled with pedigree dogs. We don't have Shelties, Salukis, Springers and Samoyeds for adoption. Not ones with papers. That's not to say we don't have ones without papers, but they usually don't come from anyone I would class as a responsible breeder. This is a really important distinction. Breeding dogs covers the people who pay thousands for the parents' DNA, who have health screening, pages of heritage and don't really care about Crufts, as well as those who churn out over seven hundred dogs a year or those whose labrador gets out when she's in season and runs amok with the village ne'er-do-wells.
Backyard puppy farms are definitely responsible for our problems. Accidental breeders are really, really responsible for the dogs in shelters, but responsible breeders aren't. People who think their girl should have a litter before she's spayed with some mate they found on Facebook are also partly responsible for our problems. Anyone who thinks the world needs more brick-headed labradors is not a responsible breeder. Anyone who has three or four breeds up for sale at any point is not a responsible breeder. Effel, the pedigree beauceron with me in foster care didn't have a responsible breeder. If you sell an energetic beauceron puppy to an elderly disabled lady, and you don't answer her calls when she goes to a retirement home, you aren't a responsible breeder.
Responsible breeders are not the problem. By and large, when we get a pedigree-registered traceable dog in through our doors as an abandonment, many of the breeders will come and pick it up that same day. When one of our American Staffordshires was at risk of being put to sleep because he couldn't cope with refuge life and he'd bitten someone in excitement, the breeder did a ten-hour return journey and placed the dog in a really good rehab programme because he didn't have space himself to take him back.
Good breeders hate the idea that one of their dogs is at the shelter. You wouldn't believe how few pedigree dogs come to the pound in the first place, and how very, very few of those are unclaimed. Responsible breeders' pups leave with birth certificates, chips, addresses for emergencies. They are traceable and trackable. Dogs from responsible breeders don't often even make it through the shelter doors. Look on Seconde Chance if you don't believe me. It aggregates dogs for adoption across all the shelters in France, and is searchable breed-by-breed. When you look at the seven Dutch Shepherds available, five are mislabelled. One is clearly a mali cross. Three are seniors (which is an issue in itself) but only two even look like Dutch Shepherds. None of them are LOF-registered, meaning they came in without microchips, tattoos or birth certificates. You'll find this with breed after breed. Airedales on the site: 4. Proper ones who look like Airedales? 0. Akitas on the site: 4. Number who are proper Akitas: 2. What about a really popular breed, the French Bulldog? 22. Proper Frenchies: about 15. Responsible breeders did not cause this issue. You can bet your bottom dollar that not a one of those Frenchies came from a breeder that only bred Frenchies.
Do we get dogs that have come from puppy farms, unchipped and unvaccinated since birth? All the time. They arrive unchipped, unregistered, unvaccinated and without paperwork. Huskies, Czech wolf dogs, Malinois, hunt breeds, labradors … we get a lot of popular types of dogs who arrive without a chip or tattoo. No responsible breeder would let you leave their home without the pedigree of the dog (if they're pedigree, which I'll come back to later), the dog's birth certificate, copies of the health tests of the parents, (for pedigree dogs) and a microchipped animal that has had its first vaccinations if not its second. Those first vaccinations and a microchip can cost up to 120€ so you can imagine why some breeders wouldn't give them. It wipes out a big chunk of "profit". Dogs that are microchipped don't cause the same problems for us.
So how many of our dogs conform to a pedigree standard? A lot. They're what we call 'type'. They look like a breed without us really knowing if they are. Because they're not chipped, there's no way of knowing if either parent were pedigree or not. We get a lot of 'type' hunt dogs who don't have paperwork, but they're working dogs and they're not "field trial" kind of dogs who need both hunting abilities and Kennel Club papers. We get Anglo types and Ariègeois types, beagle types and terrier types. A good number are not hunt dogs but are popular breeds that people don't want to pay a lot of money for, like Yorkies or Labradors.
The vast majority of our dogs are not French Kennel Club dogs that have come from a proper breeder in the first place. Their dogs are what we call 'race' or 'breed'. They conform to a breed standard and have Kennel Club paperwork. One or two of our dogs have these papers, and by and large, these are not dogs found as strays but dogs handed over by an owner. A number of those dogs are Category 1 or 2 dogs whose adoption depends on that paperwork. Pure pedigree dogs who've been chipped and vaccinated are usually surrendered because of changes in the owner's circumstances. Most breeders on the documentation refuse to take the dogs back because – guess what – it's actually fairly easy to predict who will surrender a two-year-old dog, and if you don't care about that, you aren't going to care if the dogs end up in the shelter. Luckily, most pedigree dogs (except for Amstaffs and rottweilers, which are subject to breed-specific regulation) leave the shelter quickly, even if their breeder thinks so little of them to care what happens.
And we're a rural shelter, so we accept a good number of working dogs. That's not to say all hunters are evil barstewards who kick out their dogs though. Many have dogs who are BOTH tattooed and microchipped. Most of them also have an orange collar with a mobile number on it. I'm not going to get into the whys and wherefores of hunting with dogs, but hunters who are out every day don't have muttley hounds without paperwork. Sure, a dog is a financial commodity. That's the reason why they have pedigrees and field trials. No. We're talking about some random country "agriculteur" who sells "breton spaniels" on Le Bon Coin for 250€, not a premium setter going for 500€ just for breeding rights. Those random country guys who sell hunt dogs cheaply are sadly far too frequent. Their dogs are not so good at hunting and not worth finding if lost, so they pass over to us. We get A LOT of these dogs. Wire-haired fox terriers, wire-haired dachshunds, griffons, pointers, setters, spaniels. That makes up an enormous number of our entry numbers. So do you think these come from people like my friend, whose next litter are already homed even though the mating hasn't happened yet?
On the whole, we aren't getting in dogs from registered, licensed breeders. Nor can we say we get a lot from proper hunters. One 'breeder' brought one of her breeding bitches in herself and handed her over, saying she was dominant. I suspect that, at four, the female was hard work. The woman currently has four different breeds of dog on sale, so let's not call her a responsible breeder. The dog had all the paperwork and I'm no GSD judge, but there was no way she was anywhere close to a breed standard. And if you want to see my neighbour's 400€ allegedly pedigree "Labrador", you'll be surprised to see something more akin to a pointer. But hey.
So where do our dogs come from?
Accidental matings. Yes, even those dogs sold as a 'cocker' from a LOF mum, where the father is perhaps the collie from up the road. This is why matings are declared with the Société Centrale Canine, a birth certificate is issued, and then the offspring must be seen by a judge as the dog matures.
Dogs sold on the internet without papers. "Type" doesn't mean "Race".
Farmers or "agriculteurs" breeding indiscriminately and trying to make a quick buck before drowning the rest. I've been to three farms in the last month to investigate this joyful practice.
Purposeful back-yard breeders who want to make 200€ without incurring costs.
Hunt dogs without papers. Most are muttleys or sans papiers.
Back-yard breeders or rural 'agriculteurs' used to be responsible for a lot of the adverts we saw. Not so much anymore since advertising dogs has become much stricter in 2016. But it's easy to see the ten local "breeders" offering popular breeds at cut prices or to find groups on Facebook where French bulldogs sell for 300€. When you look further, you see their adverts for shih tzus, spaniels, GSDs and French bulldogs… If they can't provide details of DNA health tests for the parent dogs, or they have more than two breeds on site, you're probably talking about a back-yard breeder. And yes, they can show you mum. But it doesn't mean they're a responsible breeder.
In reality, we aren't getting so many of the 80,000 Kennel-Club-registered dogs born in France each year. One or two. But not thousands. There is NO causation, then, between responsible breeding and shelter numbers.
There IS a high causation between irresponsible breeders whose dogs leave unchipped and unvaccinated and the number of dogs in shelters.
This is why the law in France has changed. The laws changed as a result of input from vets, shelters, charities and breeders.
Not any of these groups want irresponsible or accidental breeding, or puppies on sale for 200€. If the bodies who write our laws are saying there is a correlation between backyard breeders and numbers in shelters, why are so many people still on the "Adopt, don't shop" bandwagon treating responsible breeders as if they are the cause of the large number of dogs abandoned in France each year?
When you look at the books of shelters in France, it's clear to see what the problem is and where the problems lie.
Do I agree with pedigree breeding? That's a whole different question. With a Mali who had crippling arthritis and an American cocker with chronic ear infections, food allergies and eye problems, you may see what my viewpoint is based on. I wish people would care more about the personality of their dogs, and people bred for personality rather than looks. There'd be fewer crazy-energetic brick-headed labradors about.
But there IS a certain something to knowing the breed type and their behaviours. Tilly, bred in the US, is up and down the same dog as my Nana's American cocker, bred in the UK, in the 80s. Seeing her on the table that first night was like seeing the ghost of Sunny. They look alike, sure, but they have a lot of similar behavioural quirks. I can't tell you the number of times I've called Hagrid, a mali cross at the refuge, Tobby. They even do the same door nudge "double tap". For all of those who say that breeds don't have particular qualities, I'd like them to come and meet a few Anglos, a few fox terriers. But by and large, the behaviours that dogs have in common go wide across the species, and the quirks and foibles are only noticeable because they are unusual. We fall in love with breeds and I hate that we do. We generalise about breeds and I hate that we do that too. We see humans as individuals and animals as 'species' and we have prioritised looks over personality in our dogs. I wish we loved mutts as much as we love pedigrees. I know my heart melts for the gentle Amigo souls with their dubious heritage and their deliciously gentle natures. My own personal jury is still out on "type" or "muttley". One gives you a bit of an idea what you're getting. The other, well, it's pot luck really, unless you know both parents. I'd much rather someone took two nice muttley dogs and said, "Do you know what? These dogs would make lovely kids between them." Throw in a few health-checks and that's how I wish dogs were 'made'.
So do I think all dog breeders are causing the problems in shelters? No. Only the ones who do it for money. Do I think pedigree dogs are okay? Hmmm. That is a very complicated question indeed. Just because I may not agree with pedigree or closed books at kennel clubs doesn't mean I think breeders cause problems in shelters.
Do I think that you should ALWAYS adopt and not shop? No. No I don't think that at all. Will I judge you for buying a pedigree dog from a reputable breeder? No. Will I judge you for buying a cut-price unvaccinated unchipped dog from some woman on the internet? Damn straight.
But it's not just a question of heritage and kennel club papers.
Why shouldn't you adopt a pedigree? Should we give up our breed fancying?
In all honesty, if you want a breed, you may find one in a shelter somewhere. Like Westies? Get in touch with a rescue Westie association. People do give up their pedigree dogs all the time. Births, marriages, divorces and deaths mean there are often adult pedigree dogs available. If you want a breed-standard rescue puppy, you might have to wait, but you might find one of those too. You don't have to give up on pedigree to rescue a dog. That said, finding a Weimaraner in a French shelter will be tough, and that goes for any number of "types"… unless you like labradors or griffons, beagles or anglo-français, and you don't care about kennel club papers.
Nor do you have to give up on adopting a puppy.
That comes with a massive, massive caution.
You've seen or read Marley and Me, I'm sure. In that, the owners realise what a mistake they've made when they see Marley's dad, who is something of a nutcase. Well, with rescue puppies, you can't see that. You have no idea if the parent dogs have great personalities or not. Not only that but in-vitro stress, inherited fear levels, removal from mum before they're weaned, poverty of experience between 5 and 7 weeks… all proven factors in the development of a "stressed puppy". And yes, that means that our puppies MAY be a harder adoption than you might think because we've no idea what they are bringing with them.
By the way, this is also why I wouldn't buy a puppy from a back-yard breeder since the same pre-natal, neo-natal and post-natal conditions exist for those puppies too. That's the one time I would say "Adopt, don't shop." After all, if you're running the Russian Roulette of cheap puppies, you might as well support your local shelter. They'll probably be less traumatised than one from a puppy mill.
The facts are simple. If we want well-adjusted dogs, we need two well-adjusted parent dogs living in calm, well-adjusted homes, going through pregnancy untraumatised and raising puppies in optimal environments. You can't guarantee that with a rescue puppy or a backyard breeder puppy. Now I don't know who my dog Heston's parents were, but he was abandoned at a day old and hand-reared. He's a very good dog. Not a great dog, but a very good dog. He's still reactive, but he's not the only one of his litter to be so. He's smart and he's healthy, but one of his sisters died because her blood didn't clot after a wound. Heston has not been an easy pup to raise. He has made me have to be the best I can be, and I've made huge lifestyle changes for him. Raising him is probably why I will never raise another puppy again. Give me the old giffers who walk in and crash out within ten minutes. I love Heston, but he is precisely the kind of dog who end up in refuges at two years old, because they are highly energetic, smart, big, muttley and male. How many other people saw a dog like this up for sale or adoption and felt like they had their work cut out for them? How many give up a dog that had such an unknown heritage? The answer is easy to see in the dogs handed over to shelters, the dogs found on the street. Unplanned parenthood for dogs isn't just about the NUMBER of dogs that result from that mating, but the QUALITY and PERSONALITY. Accidents would be okay if the dogs that had bred had well-balanced personalities. But they're not the kind of dogs that get out and go a-wandering when it's season time are they? Dogs with high energy, nervous dogs, fearful dogs, reactive dogs – those poor-quality accidental matings – are what seems to be behind a large number of dogs handed over to our shelter at the very least, to say nothing of the unsuitability of homes that puppies are given to. Let's be honest: if your dog has got pregnant by accident, do you really care that much about who has these puppies with their crazy personalities? I'd had four dogs by the time I got Heston. I'd owned animals all my life. I grew up surrounded by dogs. I have a big garden, and I am at home for large parts of the day. But I was unsuitable. I kind of muddled through but there were a lot of times it was really, really hard work. He made me get good. He still barks at people who come on the property. I managed 1km without a lead lunge today and that is as good as it gets. He knows several heelwork routines, can find the scent of gun oil or oregano over 200m of dense, distracting territory and he is handsome as dogs can be. But I had a lot to learn with him and I'm lucky I had the space and time to do it.
My shelter adoptions and fosters of adult dogs have been relatively easy, behaviourally speaking. But then I had to choose carefully because I've little support if it doesn't go well. Sadly, I couldn't take on the dogs who need a lot of support – a true rescue. Amigo wasn't really a 'rescue', and neither Tilly or Ralf. They were adoptions. Those dogs settled in days. Tobby, he was a 'rescue' with his mouthy ways and separation anxiety. The truth is that many people pick up a rescue dog (or puppy) and are not prepared for it. These are adult dogs with poor experiences and a past they may never come to terms with. I don't want people to be so guilted out by "Adopt, don't shop" messages that they take on a dog that they simply can't cope with simply because they'd love a dog but they feel too guilty to choose one from anywhere else but a rescue.
The truth is, we like dogs. We want dogs in our lives. If we rely on puppies from back-yard breeders, raised in terrible conditions, or accidental muttleys, all that's happening is that we're creating more and more and more dogs who have problems. And if we put pressure on people to adopt, the people who will take a great, well-adjusted dog are reduced. If we turn dog breeding into something that ethical, honest dog lovers turn away from, we leave it wide open to idiots who'll mate brothers and sisters in the name of pedigree. We look at the GSDs at Crufts this year with an attitude of disgust. The breed pool and closed books of kennel clubs have become so narrow that the dogs are clearly in very poor physical health. Talk to a Dobie owner if you don't believe me. And we're not talking about years and years of breed narrowing. We're talking about a couple of decades, and the "slopey" GSD is what you get for a pedigree GSD. We have been very effective in the last 50 years or so at making pedigree dogs into dogs with genetic health risks, and we're only just taking steps to try to weed out those problems. But some of the best people I know who SHOULD be rearing GSDs aren't doing so because they also work in rescue and they're worried about the way they'll be viewed.
The truth is that few people other than great breeders think about the mental health or personality of dogs. Few people think "this dog is a well-balanced, healthy individual" and thinks to breed puppies who will also be well-balanced and healthy. A responsible breeder considers personality as much as looks, but we are discouraging breeders like this and leaving the "market" wide open to unscrupulous people who couldn't give a monkeys about personality, health or DNA tests.
We are effectively encouraging the proliferation of dogs with behavioural problems if we discourage responsible breeders or if we discourage breeders who are breeding great dogs who don't even have paperwork or breed.
And where does that end? If every single person who bought a dog in the next year went to the shelter instead and no puppies were born at all, I guarantee you the shelters would not be empty. Not in the least.
Some shelter adoptions are HARD. I mean, really hard. They take persistence and determination, years of work and expensive rehab. Take my lovely Hagrid. We've been working with him on the mouthiness, but that dog is not a dog for every home. I can't bring him here because he doesn't do male dogs. He needs people with great experience of handling shepherds, who have plenty of time and secure land for him, who will continue to teach him and train him with his mouthiness, who aren't afraid of him, who will spend a big proportion of their day on him and will make the same kind of time-expensive changes to their life that I have made with Heston. A one-dog or two-dog household with no children, no grand-children, experienced owners who've had wily shepherds before. I'd possibly take him if I had no other dogs, and only now I've learned more about wily, bitey shepherds from Tobby. Then again, I'm not sure I have enough time and resources for a Hagrid in my life. But we have many other dogs like Hagrid, Julio, Gaza, Gilda, Loyd, Larry, Sam, Jack, Daluk, … these are not dogs for first-time dog owners, people who work, people with children, people without dog experience, people without ten-foot fences. Of those dogs, ONE has paperwork, by the way. Of our twenty-six dogs who have been at the refuge over a year, how many even look a little "type"?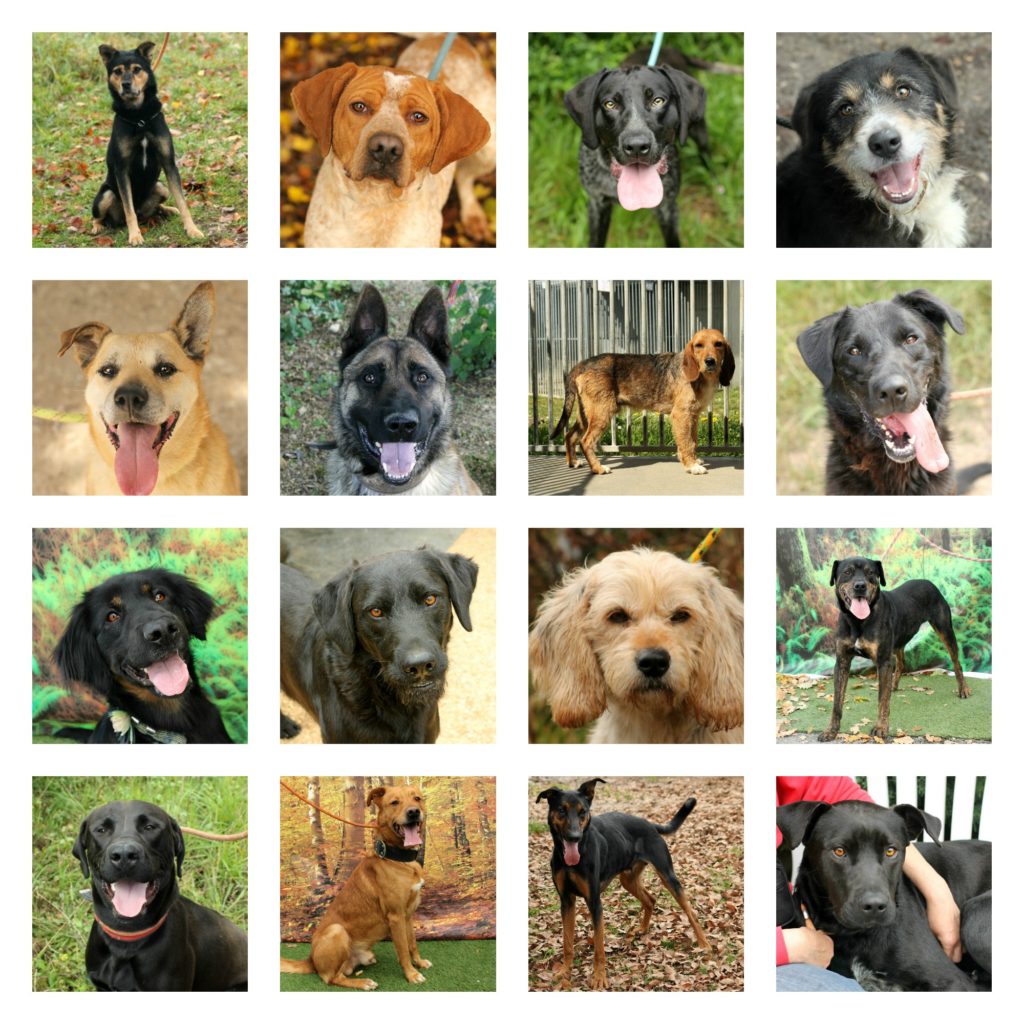 Want to play "Guess the Breed?"
Does this look like a problem caused by breeders or even by backyard breeders? Or does it look like a problem caused by people whose dogs had accidents? It sure as hell looks like our poor sixteen long-stay dogs are more accident than design. Do you think the average person wanting to adopt a dog could cope with some of these dogs? By the way, there's not a one I wouldn't adopt. But there are twelve of the sixteen I can't adopt because they don't do males. With the best will in the world, if these sixteen represented all rescue dogs, I'd have my work cut out finding one that suited my home life and skill level. Do you think any breeding at all went into the 'making' of these dogs?
It's not just our unruly or hard to home dogs that have issues, either.
Take Zouzou and Zoe, adopted some months ago from the refuge, so traumatised that they have developed a range of bizarre guarding behaviours, resistant to touch, to comfort, always a flight risk… Take our nervous hounds who tremble at the slightest touch and run away the moment anything spooks them… Take our destructive dogs who can't be left with blankets… Take our old dogs who need palliative medical care… our boisterous dogs who've never had a lick of training… our unsocialised dogs who hate others… our dogs who kill cats and other small furries… our dogs who are scared of children… our high-energy dogs… our category dogs who need owners with licences and training….
Our dogs left at the refuge for months on end are sometimes here because the number of owners who would be a good home for them are really, really few and far between. That's not always true – we have a number of dogs passed over because of age, colour, size and gender, but it is generally true. Often, our highly adoptable, well-trained, well-adjusted dogs walk out of the door within days.
When people who think that it is more "noble" to adopt rather than shop take on a dog, they often do it for the wrong reasons. You have to know that you are at a good point in your life for a RESCUE dog. Because that's what these dogs are. They aren't cheap dogs. They aren't the "ethical" choice. They aren't the Fair Trade equivalent of animals. They are RESCUE dogs. Some of them are very damaged. A number come with a risk of separation anxiety, with aggression issues, with a past. A lot escape that, which is great. But if you think that if my friend stopped breeding and I started putting "Adopt, don't shop!" on posts that are nothing to do with me — if you think that this will find homes for the sixteen dogs above — have at it and tell me why.
Sadly, misguided ethical adopters are on the rise. I think this is because of a number of reasons. If you choose a dog because you have convinced yourself that it is the ethical choice, the moral choice, then you are soon going to find the stench of burning martyr strong upon you as you are faced with complex behavioural issues or requirements.
Hagrid, Gaza, Zakari, Teddy and Daluk don't need owners making an ethical choice, they need owners who are not blinded by their own moral goodness. They need owners going into adoption with their eyes fully open, completely prepared for any eventuality, otherwise that adoption will fail. I've seen these dogs returned from well-meaning owners (and occasional idiots) and "the ethical choice" is the very last reason you should adopt. If you feel smug about having a RESCUE, then you have gone about it the wrong way. Feel happy to have a dog that's right for you and you're right for it. If that is a dog you bought, so be it. If that is a rescue, so be it.
In the meantime, I'd like to see fewer articles by smug people whose only connection to the rescue world is that they have adopted a few dogs.
Don't adopt a dog because it is the ethical choice. Adopt a dog because you fell in love and you know you can provide a home that is right for that dog.
And stop blaming the breeders.
Blame your neighbours who don't sterilise their dogs. Blame the back-yard breeders who'll sell a "knock-off" pedigree. Blame the people who keep them in business and buy from pet stores rather than homes, who prefer to buy a Yorkie for 200€ off some dodgy website rather than pay 1000€ for a Yorkie whose parents aren't related to each other and who've had a suite of genetic tests. Blame the cult of pedigree dogs. Blame people who walk into Dogs 4 Us and think that they can buy a dog here.
Tell people to "Shop Better" rather than "Adopt, don't shop". But don't think that a rescue dog is for everyone, or that a person who buys a dog is immoral. If people "shopped better" and bought puppies from great homes (regardless of paperwork, pedigree or price) rather than "buying easily and cheaply" then there would be fewer dogs in shelters.
And if people who couldn't ensure their muttleys wouldn't reproduce got them sterilised, then there would be fewer dogs in shelters too. In fact, if people stopped letting their dogs have accidental litters, our shelter could probably close. If people stopped thinking that you can buy a great dog for 300€ from Facebook and if breeders cared enough to register and track the dogs they cause to be brought into the world, we'd definitely close.
So I will never judge you for buying a puppy from a responsible breeder. I will never blame you for wanting your puppy to have the absolute best start in life, great genes, a great early experience. How could I blame you for that?
But… I will also say that despite their questionable heritage and their poor experiences, a rescue dog can prove that much of this doesn't matter. We have great dogs walk through our gates every single day. There are times when I feel like I should say "Adopt, don't shop." But instead, I'd say "Before you buy, check out your local shelter… and your not so local ones. Maybe you'll find a dog that fits right in. But if you don't, good luck and please make sure you shop responsibly." Many, many of those misshapes, mistakes and misfits make great family pets. I know. Ralf was just about the easiest adoption ever. Amigo is a dream of a dog and I wish I could have fifty with his sweet, sweet nature.
Stopping saying "Adopt, don't shop!" will not only stop alienating people, it has other benefits too.
That way, we keep the conversation open between responsible breeders and shelter workers, and we keep our eyes open about what makes a good dog after all. And then, maybe then, we'd have an honest conversation about whether Kennel Clubs are a good idea at all and why pedigree dogs are perhaps causing so much heartbreak with inherited diseases, quirky behavioural throw-backs and genetic dead-ends. There are battles to fight, people, but guilting people into rescue isn't one of them.
Hopefully you won't be unliking my page and thinking that our ethics aren't aligned now you understand a little about where I'm coming from. A little understanding and acceptance would go a long, long way.