A couple of weeks ago, I was at an adoption drive with a few of my kittens. There were a good number of dogs there from local rescues, who were by and large really well behaved given that some had come straight to the event from the pound or rescue facility.
At one point, a guy and his family came in with a beautiful Australian shepherd. Nothing wrong with that. The first thing I noticed was that the dog was wearing a halti. Nothing wrong with that, either, if you want to control rather than eliminate a behaviour. The second thing I noticed was a prong collar.
Yes, a halti and a prong collar. No prizes for guessing that the guy is finding the dog hard to walk.
No prizes either for guessing that neither the prong nor the halti are working. Definitely not on their own, and probably not in combination.
And it's not hard to realise why.
The dog is severely stressed because he's come into a place and guess what… right in front of him there are five dogs, two kittens in a cage, at least ten people, all the usual garden centre weirdnesses and smells. There are birds and hamsters, rabbits and fish. You can imagine it, I'm sure.
An environment like this can be either extremely exciting or extremely frightening for a dog. If I brought my super-reactive Heston in here, every single thing would be setting him off. Dogs first. He'd be yanking on the lead to get to them, pulling and making lunges towards them because he really, really, really wants to say hi. Like really. And if I brought my spaniel in here, she'd be barking her head off about stranger dangers. Amigo would be hiding behind my skirt and Tobby would be trying to lick everything that moved. Dogs, like all animals, are either attracted to novelty, or they're not. For dogs like Heston and Tobby, they love new stuff. Neophilia means that your dog will be interested and curious about new animals or experiences and want to investigate. For dogs like Tilly and Amigo, they are neophobic, and find new experiences, things, people or animals to be overwhelming. Dogs who aren't bothered either way… I never saw one of those. Even my mattress-back uber-zen Ralf would pull me on my arse through a field full of cows to go see a dog he'd never seen before.
Some dogs are going to be pulling to get nearer, and some dogs are going to be pulling to get away. Either way, they're less likely to obey your commands whenever you introduce novelty into their lives.
It's not rocket science to know that I'm not going to take my dogs into a garden centre like this during an adoption event unless I want to see them at their very worst. If I got there and it was a surprise to me, I'd have backed right off and put the dog in the car if I needed to go into the shop to buy something. Avoiding problems is perfectly okay. Our dogs don't have to be equipped to go into garden centres and meet five strange dogs and twenty strange people at an adoption event. That's not a usual, daily event for most dogs.
Don't get me wrong. I like my dogs to socialise and to become habituated to novelty. I like that very much. I like them to go into populated or new areas. I regularly set up situations where my dogs go into town and see all kinds of strange things. I take Heston to the shelter when I drop the van off specifically because he likes meeting other dogs off lead and the dogs who live free at the heart of the shelter are all great dogs for him to do that with. But those are situations I set up as training events to make sure they are prepared for times when they meet other people and dogs, since we don't meet other people and dogs often on a walk. We don't walk in urban areas. I don't ever plan to either. But I never know if I need to go to town with my dogs, or if I'd need to move house at any point to a more urban area, so it's my duty to ensure that my dogs are not lacking in the ability to cope with novelty, or environments where there is a lot of novelty.
You can read a lot more about this here on Dr Jen's Dog Blog about why avoiding a problem can work.
As she says, "you have to pick your battles".
And this guy with the Australian shepherd had clearly picked a battle that he was losing.
I'll describe what happened next.
He forced his dog to be restrained in approach, getting nearer and nearer to all the adoption dogs. His level of yanking and correction increased to one every ten seconds over a ten-metre approach. Then he stood with his dog, forbidding it to approach the other dogs, holding the dog's muzzle and preventing it from growling. Finally, the dog gave in, rolled on its back and just lay there.
I'm sure some people would think that looks cute.
That, though, is a dog who is completely broken and has given up. Not cute if you ask me.
And what has the dog learnt?
That when they see other dogs, you hurt him. The more you see other dogs, the more you hurt him. You cut off his oxygen so he can't think straight. You add a little pain which also increases adrenaline (just ask anyone who loves a little spanking in the bedroom!). In fact, cutting off oxygen, increasing adrenaline and adding pain are three things that people do with other people to ENHANCE excitement in the bedroom!! Yet they are things we do to dogs when they are excited.
Why do we think that they would work to decrease a dog's stimulation?
In fact, they're also what we do to other human beings in another setting too. When we cut off the oxygen of another human being, when we hurt them, when we cause them pain to get them to do what we want… it's called torture. Sometimes it works. Often, just like our dogs, you can increase the pain and it hardens resolve to do a thing. Then you have to increase it more until you 'break' the person who's resisting.
Of course, most of us don't increase the pain our dogs are enduring to this point. You might think that low levels of 'correction' are okay.
But are they really as efficient as you think?
The fact is that pain works. At first. Correction works. At first. Give someone a speeding ticket, and for a few days, they'll be careful to follow the law. That's how we work – human beings – rational thinking beings with our giant neo-cortexes who have the power of language to be able to understand cause and punishment.
Imagine though living in a foreign land where you don't speak the language. A police officer follows you around everywhere, and every time you think you're doing something right, he tasers you.
And that's what was happening to the Australian shepherd. In fact, he was just being a dog. In his eyes, he was doing a normal dog thing: wanting to get closer to other dogs to suss them out. In his eyes, it was something natural. Something normal. Something right. He saw other dogs and he wanted to approach them. He's a social creature. That's what dogs do. He wanted to go and see these dogs and sort out friends from foes. And every time he tried to, his owner hurt him, restrained him and punished him.
In the 1960s, Dr Martin Seligman and his colleagues undertook a series of what are, quite frankly, disgusting experiments. They wanted to find out about "learned helplessness". Post-war Americans want to know why people don't run away or try to escape. It's a theme that dominates cognitive and behavioural psychology in the post-war era: human beings and what makes us hurt others, what stops us from escaping. 20 years on from the Holocaust and you too might be wondering why so few people tried moves like "The Great Escape". Why did people just give up? And even when they could escape, why didn't they? You can imagine the questions in Seligman's head about why people – with our rational thinking brains, let me stress – give up. Seligman used dogs to find out. It wasn't intended to be comparative psychology or even animal psychology. It was intended to teach us about humans. Inadvertently, it taught us about dogs.
First, he put them in something called a Pavlovian hammock. That's a nice way to describe an "inescapable" situation in which a number of dogs were placed. And then he used electric shocks. He taught them that pain was inescapable and unpredictable. He found that these dogs, when later placed in a situation from which they could easily escape, chose not to… even if shocked to the point where their muscles no longer functioned.
His conclusion was that once you have been subject to inescapable punishment, you are so broken that you would choose not to escape even if you could. He called this "learned helplessness". He thought that this was why people with post-traumatic stress, depression, anxiety or other disorders might choose not to end their anguish, even if they could. The escape routes just weren't visible to them.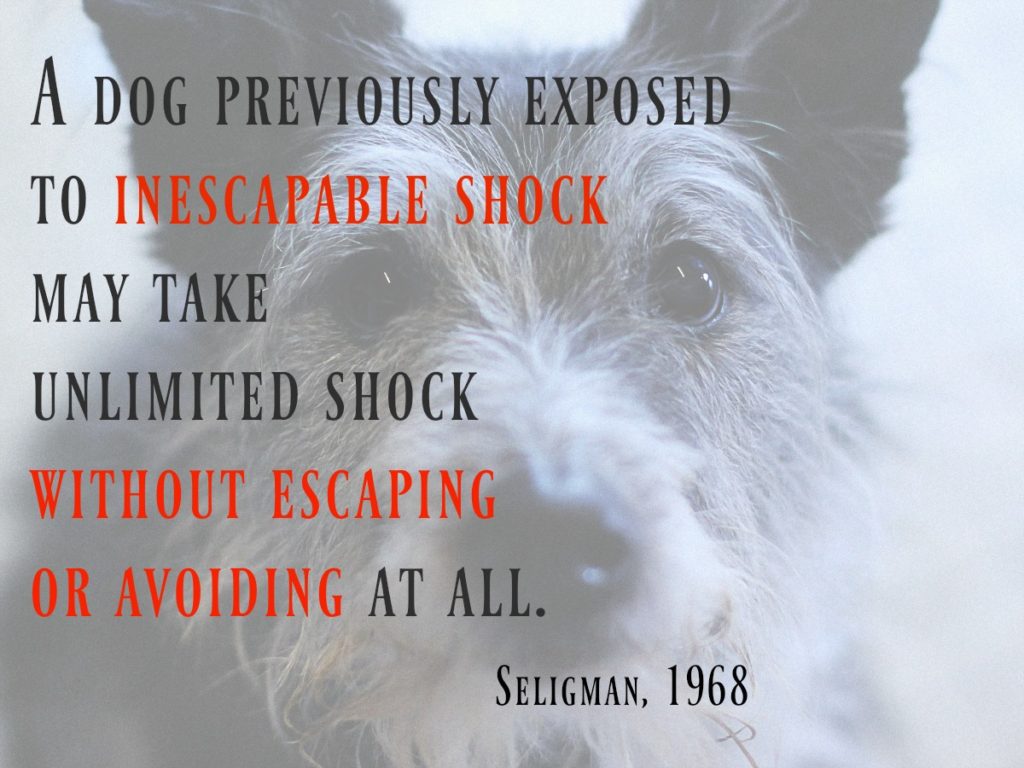 And that is exactly what this Australian shepherd went through, just on a less scientific level. He couldn't escape the situation and so you can inflict as much pain as you like: he's just given up.
He's learned that there is no point resisting. He's learned something else too.
Like being followed around by a police officer who slaps a fine on you for leaving chopsticks in rice, for blowing your nose, for looking someone in the eye, what you learn is not that you shouldn't do certain things, but that you are in the company of someone who, to use the words of Nando Brown, is "a bit of a knob". In other words, you don't learn that in this foreign country, it's bad manners to leave chopsticks in rice, to blow your nose in public or to eyeball someone (all things that are well-established cultural patterns in Japan, by the way) what you learn is that the presence of the police officer is a reliable indicator that you might get punished.
The first consequence of using punishment, then, is that you may have to administer increasing 'doses' of correction once the dog realises that the punishment is insufficient to make their 'bad' behaviour not worth doing. Like if you give me a 1o cent fine every time I swear, the swear box will be filled in no time. In fact, you're going to have to increase the punishment if what I get from the behaviour is more pleasurable than the punishment is a deterrent. Remember that scene in The Breakfast Club where Paul Gleason is having a showdown with Judd Nelson? The teacher is trying to threaten Judd's character, student John Bender. In the end, the teacher threatens to put Judd's character in detention "for the rest of your natural born life if you don't watch your step". It doesn't make much difference and ends up escalating the situation.
That's what you have to do with punishment and correction: be prepared to escalate it.
In fact though, John Bender is doing resisting for all sorts of reasons. But dogs resist your punishments for one very good one. It's not resentment. It's not because they think they're better than you, they're dominating you or they're showing off to their friends. It's not because they're social misfits who've had a hard life or a sucky home environment. Dogs resist because whatever it is you don't want them to do is simply more rewarding and reinforcing than you can ever punish them for.
So the dog who wants to run off from the yard and needs a shock collar? The call of the wild is really powerful, or the urge to escape is overwhelming. The dog who barks and needs a shock collar? Barking is obviously really rewarding and reinforcing. You better get a collar that you can turn up, because once your dog realises that the shock isn't enough to put them off, you'll need to increase it. And increase it. In fact, you and the collar will probably fail long before the dog's desire to bark does.
That's the first consequence of punishment. You'll need to be prepared to increase it if the dog's desire to do whatever it was doing is more powerful than the punishment.
The second consequence of punishment is that even if it is predictable, if it works, the dog has not really overcome its behaviour. You've just taught the dog that it might as well give in. There is no escape, so give in and you'll avoid the punishment. That's not a dog who has mastered its desires or frustrations. It's a broken dog whose spirit is crushed. That's "learned helplessness" in action. We see this in concentration camps and in hostage situations, as well as in people suffering from post-traumatic stress, depression and anxiety.
That, then, is not an obedient dog. It is a dog who has learned there is no point.
A third consequence of using punishment is that the main thing your dog will learn is that your presence is a reliable indicator that he might get punished. YOU are the common denominator. Why do you think companies are offering "remote" punishments, so that you don't even have to be near the dog when you administer a shock? Because the thing the dog learns is not that its behaviour is not desirable to you, only that you are a bit of a knob. But if you use a choke collar, prong collar, a physical reprimand or a physical punishment that you have to be present to administer, YOU become the reliable indicator of pain, not the behaviour.
Some "dog trainers" will tell you that it's not just this random and dogs will quickly learn that it's only in certain conditions that you would punish your dog, this is nonsense too. Back to the mean cop example… Even if this police officer restricts himself to only fining you for chopsticks, and you can kind of work out a pattern, that doesn't work either. That's why anyone who tells you that a prong collar will work because the dog will learn that it only hurts if he pulls (i.e. there's a clear condition attached to the punishment) actually is spinning you a line that is quite anti-experience and anti-science. In other words, they're telling you a complete fabrication that is not rooted in reality.
The reality is that, like this Aussie shepherd, you just become habituated to the pain and need more and more. Where do you go next when a prong collar AND a halti isn't working? A zappy collar as well? Punches in the nose? A kick to the backside? At what point have you crossed a line into abuse?
Some countries have already decided that shock collars and prong collars have crossed the line.
A final really, really important reason is that punishment is proven to make dogs more aggressive. One day, that dog might really turn around and bite you. If you've used physical correction with a dog, you've destroyed all trust between you. If you hurt a dog, don't be surprised if one day it says that enough is enough. It may never get to a bite. But who wants a dog who growls at them, who snarls or snaps out of anger or fear?
It doesn't take the law of the land to make me realise that punishment is not working as a training tool. Whether you don't want to have to escalate the punishment to abusive levels, whether you realise that your dog is not obeying and has just learned to give in, whether you don't want to destroy the trust between you and your dog and ensure your dog ends up more reactive, not less… there are plenty of reasons not to choose punishment as a tool when training.
I want to finish with the story of a malinois who came in the next day. He was wearing a muzzle, so for one reason or another, this is a dog who has a history. His owners had a really loose lead, and whenever the lead got a little tight or the dog was responding negatively, they backed up a little. They went up different aisles. They took their time, gave the dog space, allowed it distance. The muzzle was a very effective way of telling other people to keep their distance as well. Ironic, really. Ten minutes later, the muzzle was off, and the malinois was happily nose-to-nose with some of the dogs for adoption.
These weren't expert dog trainers. They were just people who understood and responded in ways that got a wanted behaviour from their dog, rather than failing with haltis and prong collars, perhaps leaving the dog with a residual memory that means "when I see other dogs, my owner hurts me" rather than the response you wanted to instill.
I long for the days when we have more Malis in muzzles than Aussie shepherds in haltis and prong collars.