Shelters have difficult choices to make when it comes to the animals in their care. You may have a number of volunteers who care deeply about dogs and about rescue, who want to do their absolute best by the animals. Unfortunately, although we may all say that animal welfare is our number one priority, there are certainly times when we need to step back and make a reasonable and rational decision based on good dog science. Caring for animals and understanding animals are not always things that go hand in hand.
Before I go any further, let me clarify. I don't expect every dog lover or dog owner to be super-knowledgeable about dogs. I don't expect every shelter volunteer to have a masters in animal ethology. Most of the time, we humans and our pets get along just fine. We've had thousands of years of collaborative interspecies learning. Some would argue that dogs understand us a whole lot better than we understand them. Most of the time, caring for animals and loving them with your whole heart doesn't put animals' lives at risk.
But for certain dogs, certain breeds even, they need us to have a higher understanding of what it means to be a dog. Caring for them isn't enough. Couple our kind and caring hearts with a love of a breed type and you have a potential recipe for disaster, especially if that love for a type isn't paired with much breed knowledge.
That's most clear with dogs like Flambeau, on the right. Flambeau is a husky. I think that much is evident. And people generally know enough about huskies to know that they have certain physical needs as well as certain inbuilt behaviours. That dense undercoat makes them less suitable for life in a warm house. Imagine being stuck in a centrally-heated house in a fur coat that you simply can't take off. How long would it take before that becomes cruelty? Huskies are one of the land animals who can use up the most calories in a day for their size – sometimes over 11,000 a day in sled racing. They have stamina and speed in their blood. Who would disagree with the fact that it is cruel not to give them the exercise for which they have been bred?
Flambeau came to the shelter having been surrendered. He'd been living down at the bottom of a garden for 4 years. Nobody would disagree that this is cruel. Dogs are social animals and whether they need sheep, people or other dogs around them, they don't thrive on their own.
But Flambeau, as other huskies, attracts interest of many people who don't put animals' needs first. Living in an apartment, working full time, not being able to take him out for a good load of exercise every day… sure, it's a home. But is it a good home? Many volunteers would celebrate the adoption without considering how suitable a home that is for Flambeau.
Dogs adapt. It's what they do. But should they have to? And does that come without cost?
The cost of adapting to an unsuitable life can be high for a dog. Dog behaviours are likely to "pop out" as they struggle to adapt. They vocalise, howling, barking, whining. They chew. They may bite. They dig. They may suffer separation anxiety or boredom. They might sleep more or stress drink, pace or become depressed. These are often behaviours that cause an animal to be surrendered.
That's why I've had four offers for homes for Effel, my foster beauceron, and four times had a conversation where I've had to explain about a dog's needs. Effel has very mild separation anxiety. He enjoys human company and dog company. He also feeds off movement energy like many pastoral dogs, and has nipped. A home with children, or on his own, or left to his own devices is as cruel to me as a home where he is left at the bottom of the garden. If shelters think with their hearts, they may allow dogs like Flambeau and Effel to go to homes that are making high demands of adaptation that the dog may never be able to reach. If we think with our heads, we are often accused of overlooking good homes. I can't count the number of outraged people I've seen on Facebook moaning about how they were turned down in the adoption process. Like, how very dare a shelter care enough about an animal that they might have a standard?!
Sometimes, yes, those expectations are unrealistic. I would like Effel to go to a home where he has a big, bouncy mid-aged, well-trained, playful girlfriend. He needs a secure garden and I'd prefer it was a big one. He also needs owners who don't work, or who work from home. His attraction to movement and mouthy reactions mean it is essential they don't have children in his future home. I appreciate that those things are unrealistic and I'll have to compromise on his behalf. That said, I am not going to wet my pants if someone who works all day, has children, who has an old setter and no secure garden offers him a home. Maybe I'd think differently were he in the shelter rather in foster, but he has needs too and I need to be rational about those. To what extent can I expect him to curb his nature? How will doing so manifest in adjustment issues?
And do you want to know something? I am not at all sad that I've pissed a couple of people off by suggesting Effel is not the right dog for them. Anybody who can't see that they are an unsuitable home for him doesn't really care about him. Do I want him in such a home?
For other dogs, we can care so much that we ignore their needs. This is why we need to be so careful in how honest we are about the dog's needs and in our screening process. If we don't understand the dog's nature and we don't find a home that is a good match for those needs, we are putting the dog's life in danger.
Take Hagrid. He's the toothy GSD x Mali on the left. He's been hard to rehome and we're just starting to consider homes in other areas to help him find somewhere. One thing is for sure, rotting in the shelter is doing him no favours. But caring too much and not understanding his needs could very seriously put his life in jeopardy. His behaviours are such that, if they are not understood, he runs a risk of biting. Once out of the shelter, we have no way to ensure that his owners don't decide he's unworkable and take him to be put to sleep. 

Then we could all shake our heads and blame his former owner for not teaching him a soft bite, or try to be compassionate and say things like, "well, they couldn't risk him biting the children!"
Much better to accept that some dogs will be just hunky dory in a home without small, flappy, unpredictable humans. That is especially true if the dog gets all big-eyed around stuff that moves. The predatory sequence is part of any dog's genetic heritage. Some of those behaviours have been suppressed though selective breeding. Some have been accentuated. But all dogs have the capacity to do those things. Scan, eye, stalk, chase, grab-bite, kill-bite, dissect, consume. Even your little poodle cross may find himself swimming upstream after a family of ducks, not quite sure what he's doing there or how he got there. Like it or not, some of those natural predatory behaviours can pop out when a dog is excited or stressed, even if they have never done before. And if they are nearer to the surface and more easily apparent, then we have to be careful where these dogs find a home. A dog whose aim is to stalk and chase is going to find recall difficult. Can you imagine this dog in a home without a fence? Put them in an unfenced home on a main road with lots of traffic and you can see why this wonderful rehoming would turn out to be a death sentence. A dog like a terrier who was bred to enhance those grab-bite/kill-bite skills… if they find it hard to control those impulses when excited, do you want them around children? My old woofer Tobby was one of those. Add pain and old age to the mix and you can see why it was vital that he went to a home without children and with adults who knew what they were doing. His Malinois "chase-grab/bite-kill/bite" skills were close to the surface but very rarely popped out. By this, I mean we both did a good job of managing his life so that he didn't have the urge or the opportunity. That couldn't be guaranteed in a home with kids or kittens.
Back to Hagrid. Now, I'm not going to be all starry eyed about him, or put my rescue coat on and think that all dog adoptions are shiny-happy-marvellous. In fact, I've found myself explaining so many times to people about his behaviours that you'd think I wanted to keep him at the shelter forever. The trouble is that often, they are homes where he is going to be face-to-face with things that bring out his predatory drive, which he isn't always successful at managing.
Because he's not successful at managing these natural, instinctive, normal dog behaviours, it absolutely needs us to be on his behalf.
So what are those behaviours, and what security measures do we need to put into place to find him a suitable home?
I've done the C-BARQ and Monash Personality Questionnaire for him. It looks like this: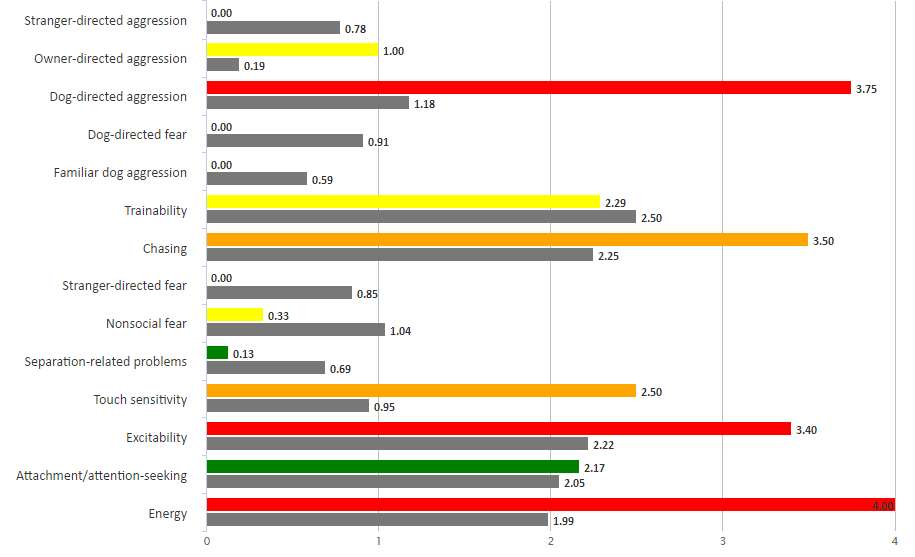 The grey is an average of all dogs who have a profile on the C-BARQ assessment. That's interesting in itself. You can see that "non-social fear" is fairly high, as is chasing. There are things wrong with owner-reported surveys, of course, but the C-BARQ has high reliability.
What does this tell us?
Hagrid is an energetic, excitable and touch-sensitive guy. He has issues with movement and a desire to chase moving things. He's also not a dog who tolerates other dogs in his space. Nothing that's news to me. He can be left alone, which might give him the makings of a guard dog, but he is not aggressive towards humans and he is not afraid of humans, which makes him a rather crappy guard dog. I mean, what use is a guard dog who doesn't scare people off?
The kind heart in me is saddened by how long this magnificent dog has spent waiting. I'm desperate for him to move out of the shelter. I love him. I'd have him in a shot if I didn't have other males. If you ask me, he is one of the smartest, keenest dogs in the shelter.
That said, I think it's absolutely vital that he go to a home where he is understood and where his needs are met. For HIS own safety, he needs an environment with little chase potential and no opportunity at all for him to get out. He needs a home where he never comes in direct contact with children and where his owners are both kind and experienced in channelling a dog's energy.
If his safety is not met, it could likely put his life in jeopardy. One bite may be all it takes for him to realise that screams and flapping arms from children is the most fun he's ever had. Whether he hurts a child (or an adult) or not, a home that does not pay attention to his safety is a potential minefield. A ticking time bomb. Safety means freedom from the risk of injury. That goes two ways. It's not just safety for the people who keep him, but Hagrid's own safety too. Few vets will have an issue with euthanising a dog who has bitten. Making his environment risk-free (as much as possible) is how we keep him safe.
Let's be clear. Biting is only an issue in that it may cause injury to other animals or to people. Biting is not an issue for a dog. It's a natural canine behaviour. They experience the world with their noses and with their mouths much more than we do. There is no need to put a dog to sleep because of it. There is a very great need to secure their environment. There is also a need to stop thinking with our hearts and to be sensible about canine behaviour. Not every dog can or should fit into every home. It makes no sense to me that people would accept huskies need to live in homes where they have space and exercise, but then think that there is something horribly wrong with suggesting herding dogs or terriers may not find living in a home with children to be an environment that is safe for them. Accusations fly in some circles if you so much as suggest a Jack Russell terrier or a collie may not be the perfect dog for young children, that a bull terrier or a Malinois may find it impossible to constantly be on their best behaviour around things that move.
We expect so very much of dogs that we forget how much we are asking them to control their own impulses with those tiny neo-cortexes they possess. When humans lose control on Facebook so easily where animals are concerned, and insults fly fast and free, it amazes me that we write off our own impulse control yet expect so much of dogs.
For this reason, we need to care for dogs by understanding them.
Only in putting their needs first can we ensure that they are in a home that is right for them. We also need to stop romanticising dogs and rescue work. Some dogs, like Hagrid, have complex needs that cannot be easily met. It doesn't mean we should stop looking, but it doesn't mean a home at all costs. Cooing over dogs and their plight, or taking risks through lack of assessment and understanding puts dogs' lives in the balance. Loving dogs means we do need to consider the world from their perspective and accept that there are times that we ask too much of them. Coming to terms with a dog's limitations and inability to adapt perfectly to human expectations is essential. Only then can we truly say we care for them.
So when I say a dog's safety should be our number one concern, I'm not referring here to keeping them from chocolate and grapes, or having doors that lock or harnesses in the car. I'm referring to the fact that we must consider our dog's needs first and ensure the world around them suits them as well as possible. Only by truly understanding dogs and adapting the world in which they live can we truly say they are safe.