In October 2014, there were twenty-eight dogs over the age of ten at the refuge. Whilst winters can often be mild in France, it is not unknown to have weeks of snow, and I had no intention for these twenty-eight old dogs to be at the refuge over the Christmas period. No old dog should spend the winter at the refuge, sleeping in draughty corridors on damp concrete.Even comfy duvets and kennels don't make much of a difference and it is not the same as being in a home.
For that reason, I thought of the Dogs' Trust advert that said "A dog is for life, not just for Christmas."
What if you could have a dog just for Christmas?
My first aim was to have foster homes for a two-week period over Christmas. Fewer dogs mean the staff have more time to focus on the ones who are there. And many people can't have a dog for good, but might have wanted to foster a dog for a short period. I added a couple of other long-termers and hard-to-homers onto my list and set about photographing thirty-two dogs. There are twenty-four days in the Advent Calendar and I thought that a few of the thirty-two might reasonably have found a home, so it gave me a safety net. I am not a fan of tugging heart strings where dog adoption is concerned (which is why you won't see many photos of the cages and the concrete – dogs are emotive enough without that!) as I think that it leads to emotional adoptions rather than rational adoptions. We all know which type don't work out. For that reason, I don't do it often.
But here were thirty-two old dogs who needed a break. Some had been at the refuge for years. Ufo had been there for seven, Dalton and Paulo six. Wolf, Tino, Usty and Edge had a five-year stay apiece. Alaska and Fairbanks had been there for four years. That's some serious doggie time. These were dogs who needed me to remind the world they had a heart, so I was going to pull out the emotional stops. What would dogs wish for at Christmas? A family of course!
Back in October the refuge staff thought I was a little crackers to be setting up a Christmas tree, laying out presents. It took me a couple of weeks to process all the photos and then a couple of weeks to put the montages together. I was left with a fabulous set of thirty-two dogs. I prioritised the oldest and the long-stay boys and had the others as back-up.
It looked like this: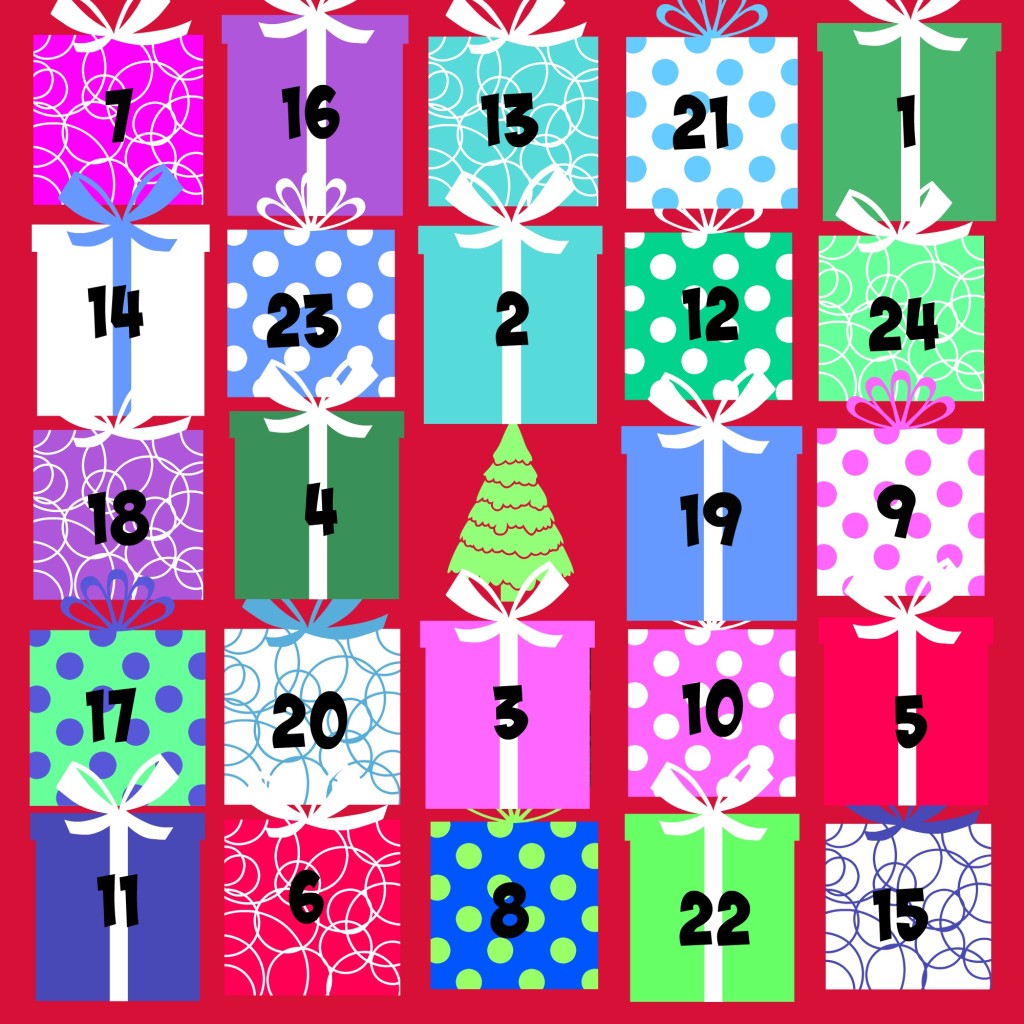 Behind each of those doors was a little dog in need of a home.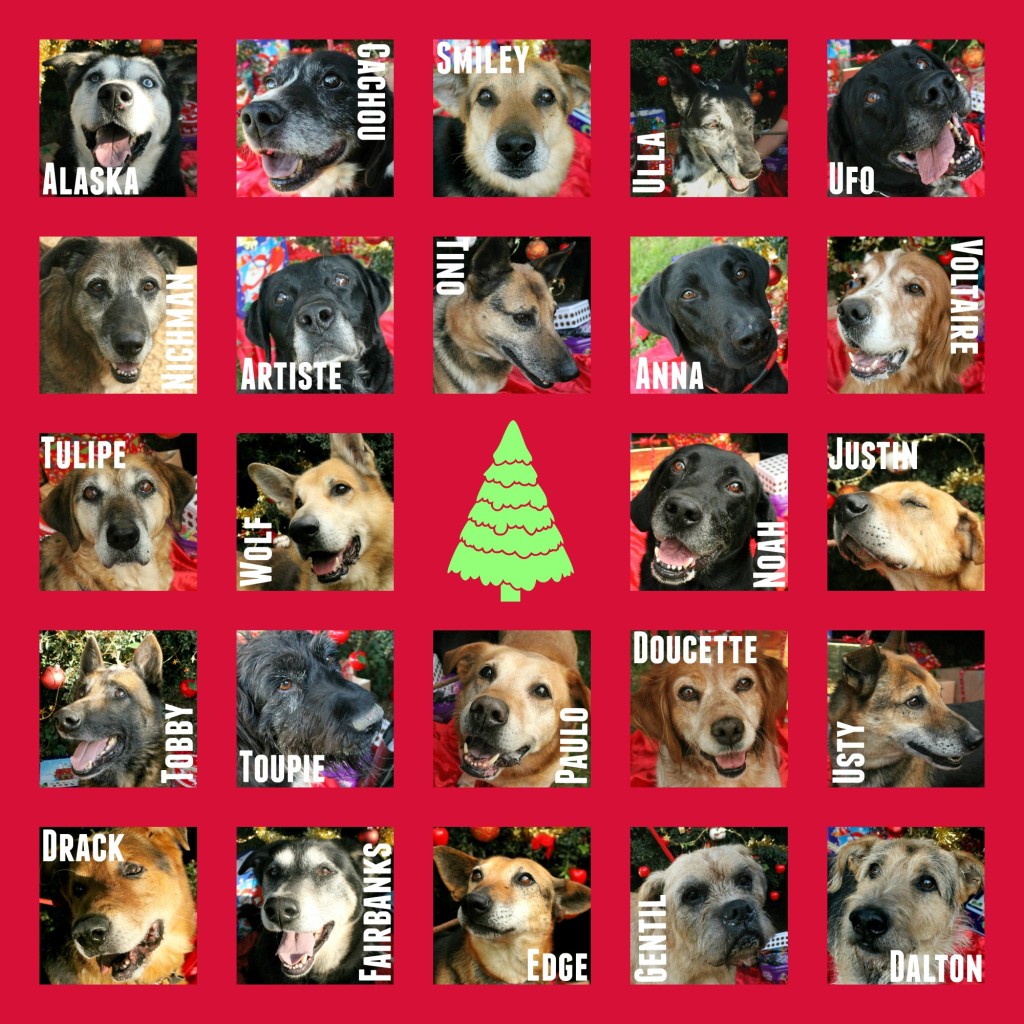 I put out a picture in French, English and German (we have many of our dogs adopted in Germany)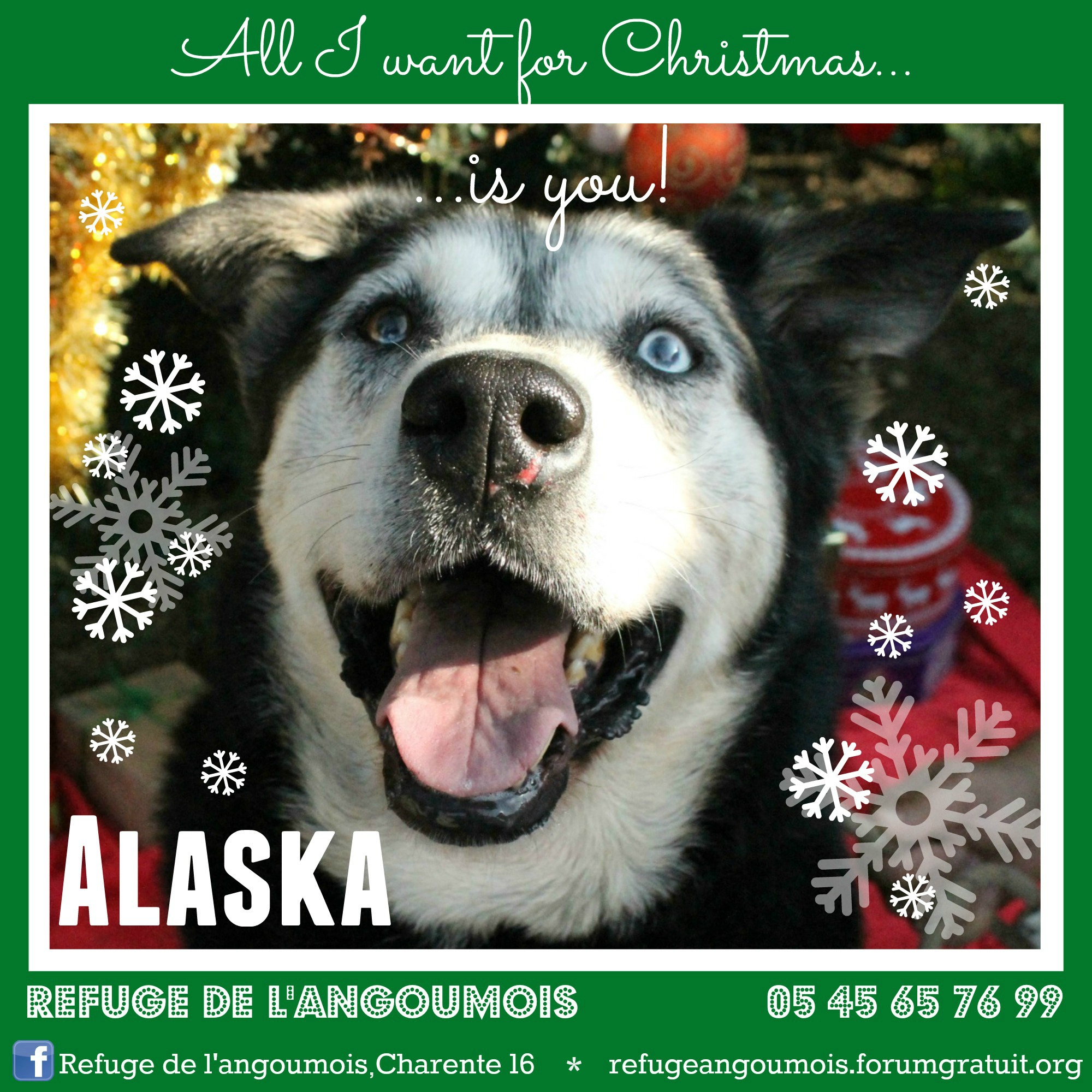 And with each day of Advent, we revealed a "new" dog.
Some dogs didn't make it to their calendar day, like Dalton and Voltaire, as they were adopted before their appearance. Toupie, Wolf, Artiste, Alaska, Fairbanks and several others found homes in Germany. Cachou went to Luxembourg. Ufo was adopted on my birthday, and Alaska and Fairbanks reserved, which was the best birthday present ever. Several dogs eventually went to English people, like Edge, Justin, Paulo and Doucette. And Tobby of course. He lives with me.
They didn't all go before Christmas. Nine had been adopted by Christmas day, out of the thirty-two. Twenty-four had been adopted by the end of February.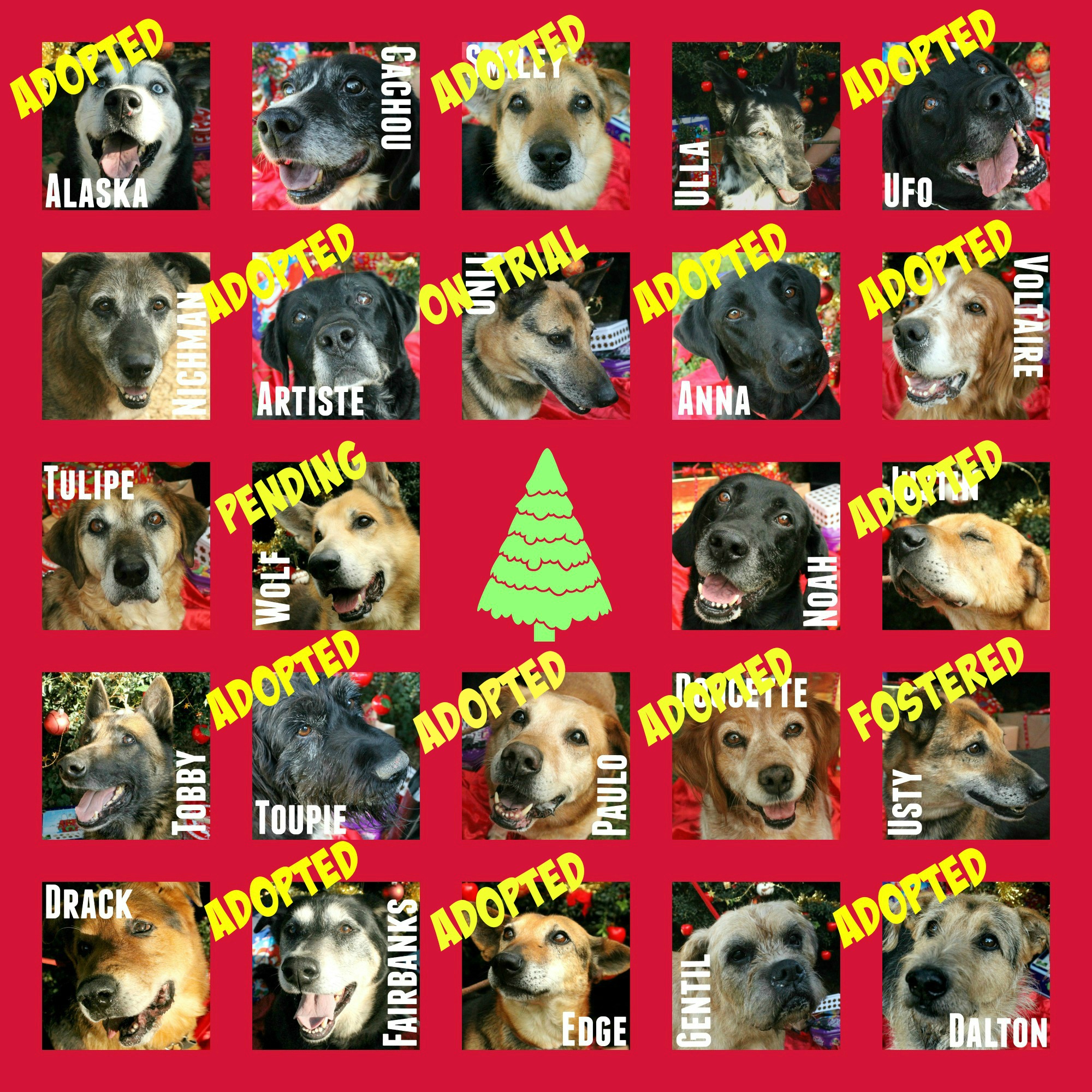 Almost a year later, all but three found homes. Noah and Gentil are still waiting.
My lovely Drack sadly died of a stomach torsion. He was twelve years old. For a shepherd cross, that's not a bad innings, and he hadn't been well for a long time. I'm still upset. I promised I'd find him a home and he's one name I will never be able to write adopted across.
That said, so many dogs who you might have thought had a less-than-zero chance of being adopted… WERE adopted. Wobbly Bob, a.k.a. Tobby is asleep at my side, which is a bit like cheating just to make the numbers up. Still, I'm happy about that.
In the meantime, Gentil and Noah still need a home.
You can read about Gentil here. He's not a well boy and he would really appreciate a quiet home. At the moment, Marie the vet nurse wants to keep him at the refuge until all his tests are back. It shouldn't stop you reserving him though.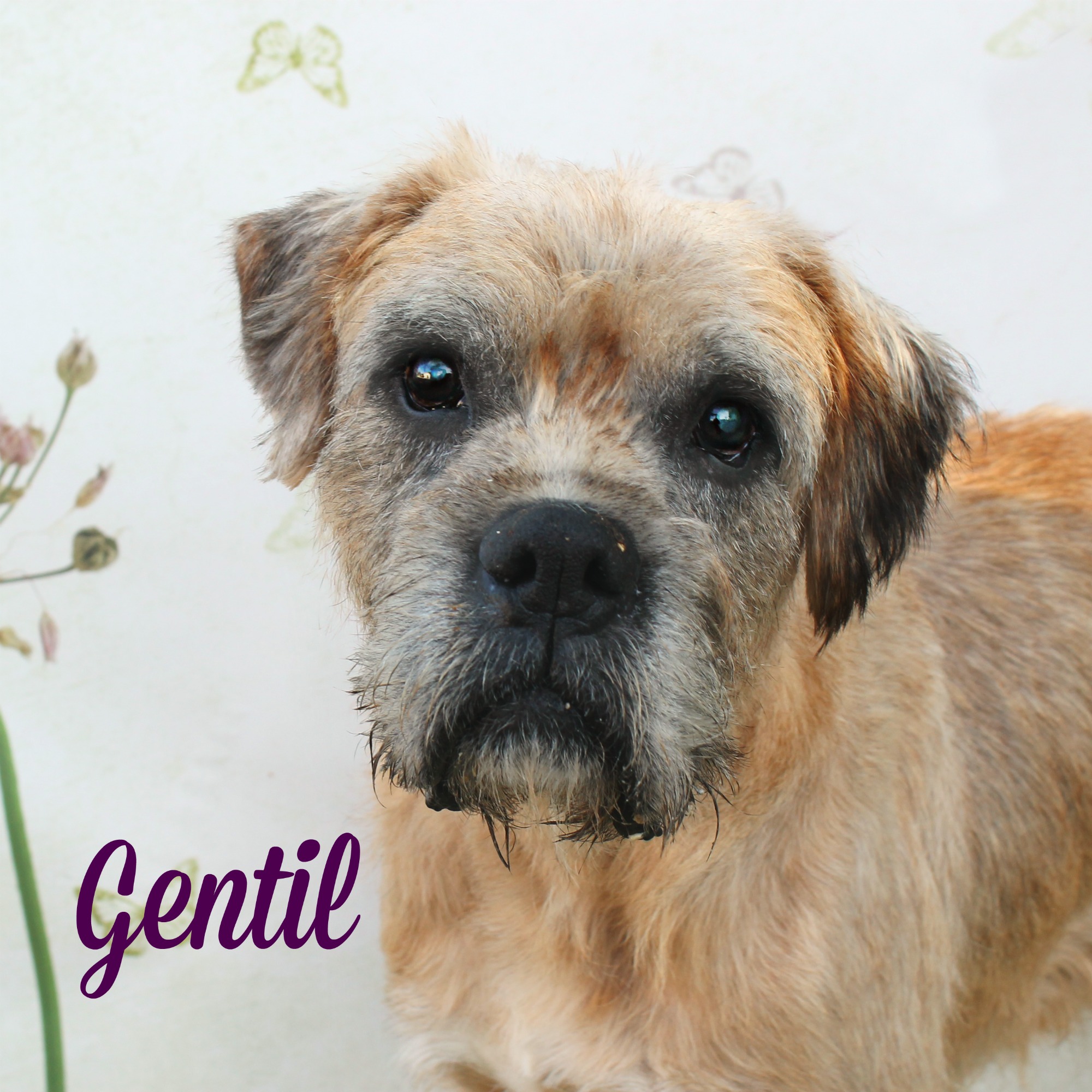 It would be nice if there were no old dogs or old-timers at the refuge this winter. Sadly, kicking your old dog out before the holidays is par for the course, so a new Advent calendar will be running for 2015.