What do dogs have in common with trolls? Sometimes, they take offence at goats trip-trapping over their bridge. Okay. Not sometimes. Quite often. And by goats I mean humans and other animals, and by bridge, I mean by their window, by their door, by their gate, by their kennel and by their crate. This week, dealing with a couple of territorial dogs and a crate guarder, it necessitated a bit of a detour from the article I was planning on writing about overcoming arousal around a trigger. That said, this article in itself is about overcoming negative arousal around a trigger, so you can see patterns in play here that you'll see elsewhere too. 
So why do dogs guard spaces? 
Dogs are predators – even the littl'uns – and predators, by their very nature, often have a 'home ground' or range. Even free-roaming dogs, street dogs and community dogs will have a patch that is largely defined by how many other dogs there are in other patches, and what resources there are. And just like the gangs in The Wire, they expand to fill the gap and to take advantage of available resources. Dogs are generally affiliative in these circumstances and seek to avoid confrontation, often in overlapping territories. But they'll engage in ritualised aggression to see off intruders and defend their area if under threat: they don't give up without a fight. Funny that. Sounds like a lot of people too. 
This behaviour is fairly pointless for many domestic pet dogs, but humans have specifically selected in many breeds their ability to stay in a territory and guard a resource in that territory. Dogs aren't just used for finding drugs stashes, but are used more and more to guard them, as well as guarding houses, yards and herds of animals. So guarding a space and protecting it from intruders is a behaviour that comes naturally to a dog.
It's a throwback behaviour that is often no longer useful in the home but we often profit from. Dogs do make us feel safer, even if it's a tiny little pomeranian alert barking at the postman. That's one reason dogs can be territorial over space: it's been a useful behaviour through history. Plus, though they are not cats, they do love a nap. And nothing is worse when you're having your nap than someone coming up to you and interrupting your napping by coveting your bedspace. Thou shalt not covet your neighbour's bedspace.
Encroachment during resting is one worth a show of aggression or actual aggression. 
Pet dogs have another factor to consider, however. They are bound by fences, walls, gates, windows, even leashes and cars at times – things that don't bind a free-ranging dog. 
Normally, free-ranging dogs don't also have to deal with the psychology of the barrier. Fences, leads, gates, windows, doors… they're all laden with frustration and fear. You'll certainly find videos of dogs on Youtube going mental at other dogs behind a fence and then wagging their tail when they get to the open gateway. My dog Heston does this with our shelter guard dog Belle when I get to the shelter: he barks, she barks, the gates open and they're 'Oh hi! It's you!'. It's a subject that divides the dog world in terms of how to introduce dogs – some say throw them right in and avoid leash frustration, and some say take your time and be safe. I'm on the 'take your time and be safe' team. I know of far too many dogs who have been turned on by a big pack who live in free-ranging shelters, or dogs who have been killed through a bite in the park. These issues can be mitigated in some circumstances by sterilisation, but they can be worsened too. It's very complicated. Socialisation and breed also play a part in how well dogs handle off-leash meetings and free-ranging living. It's never black and white. But that said, I appreciate how difficult it can be for some dogs on a leash to greet other dogs when they are frustrated and they would rather be free to make their own greetings. A crate, gate, fence or kennel run can cause just as much frustration for a dog. It is unquestionable that a leash causes frustration and can increase aggression, just as fences do. 
Fences are a little different than lead aggression. That boundary line is not just drawn in the sand, a notional, temporary boundary. It's a physical, actual line. It defines 'intruders' and 'family' very clearly. Inside, you belong. Outside, you're an intruder. For dogs who guard, fences, walls and even windows are very clear, well-defined markers of where 'friends' are and where 'foes' are. Their 'Halt. Who Goes There?' is just a bit noisier and canine than ours is. 
So we have to be mindful of the fact that an animal appearing aggressive behind a barrier or on a leash may not be aggressive 'in real life'. On the whole, though, it's fairly easy to see which dogs at the shelter are receptive to visitors and other creatures, and those who are not receptive to visitors and other creatures, and there is a correlation between barrier behaviour and general behaviour otherwise. A confident dog has no need to bark at an intruder on the other side of a fence or see off a stranger. 
So, we can see that many times, that fence, gate or leash is there for a reason. For instance, if my dog was good at recall and friendly to all dogs, I wouldn't be tempted to use a leash in greetings. However, if he is an arse, I'm going to put him on the leash so that I can intervene a bit. Generally, the leash and fence are there to stop my dog biting the postman in the first place, and the leash or fence may cause additional frustration in a dog who already has some defensiveness or aggression. Effel and Amigo do not bark behind gates because they aren't fussed about intruders. Heston and Tilly do bark like crazy behind gates and on the leash because everyone is a rapist mugger in their eyes, sometimes even me. So is the leash causing aggression? I think the dog is probably suspicious in the first place and the leash or barrier is just making it a bit more frustrating. The dogs who are lions in a kennel and lambs out of it are few and far between. 
So often, those barriers are there for a reason. 
And that's often to protect ourselves from erratic or unpredictable canine behaviour.
It's also to keep dogs safe. So in an entirely well-meaning way, we can use leashes and fences to protect our dogs, which in turn give them something to protect. Complicated.
There are shelters, for instance, where the dogs free-roam within a pen or a park or a farm. Ours, the dogs are in double enclosures, with about a quarter in single occupancy kennels, and the remainder as a pair. Whilst that keeps our dogs safe from one another, it also stops them interacting with each other, which can be frustrating to a dog. It's a dilemma that doesn't have an easy solution. Personally speaking, I think that a number of our dogs have excessive breed tendencies and have had poor socialisation experiences that it'd be a real leap of faith to allow some of our more defensive dogs to interact freely with a range of other dogs. 
We have to accept that barriers will always exist, and there will be dogs who are snarling, snapping, barking and growling behind them simply because they are on high alert for intruders. It doesn't matter if that barrier is a crate, a fence or a leash. And it's a behaviour that can be applied equally to familiar guests and dogs or unfamiliar guests and dogs. As well as the occasional feline intruder of course. 
There are lots of reasons why a dog might behave aggressively or fearfully on approach. Those reasons are sometimes hard-wired. It's one reason proposed as to why we kept dogs around us all those thousands of years ago. A sentinel dog with their enhanced hearing and nose was a useful way to protect ourselves from other predators. But they're sometimes responsive to the environment. They guard because they learn it keeps strangers out.
It's not just about the barrier either. Sometimes it's about what's inside.
For that reason, many dogs start to feel on edge long before they see a person approaching their crate, bed, house, garden or kennel. Heston will bark at things in the garden that are a good 50 metres away if he can see or hear them approaching. 
Part of that is sometimes the sound of approach without being able to see the 'threat': dogs often hear a threat before they can see it, like the sound of a post van approaching. This is then intensified by seeing the 'intruder' approaching. It can also be worse with 'sneak' approaches which must seem like nothing short of an ambush to a dog from some stealthy ninja, rather than just the approach of a cat.
Part of approach reactivity is also the tension of the body posture of the person who then continues to approach: we are on edge of course when we approach a dog behind a barrier, be it a window, a grille or even a door. We speed up to get it over with. We take a direct route and we may keep our eyes on the 'target' entry point in case the dog comes bursting through it. These behaviours are very confrontational for a dog and if they can see us, they no doubt confirm the bad intentions they think we have.
Part of it is also learned behaviour. Many 'watchdogs' are on guard most of the day, and in their heads they are very effective. They spend the whole day practising when we are not there. Every time a car pulls up, they bark and in their rationale, they are responsible for preventing an intruder when it drives off. Every time a passer-by goes past the window, they approach… the dog aggresses… the people walk off. To a dog, these events are connected, despite the fact that there is no connection between their barking, snarling and aggressive posturing. That behaviour is practised over and over and over again. 
Whilst it may seem irrational to guard a derelict yard, a concrete kennel run or an empty metal crate, to a dog, this is its space. I often think they see it almost as armour. Space is a valuable commodity to a dog, and a fence, wall or barrier means the boundaries are very clearly defined. They also seem to have no concept that an intruder cannot get in and they are safe in an enclosed space: otherwise, why bark at people or cats at the window?
So when they feel under attack from an intruder, be it a jogger, car, cat or burglar, even someone coming to walk them at the shelter, dogs growl, snap, snarl, fling themselves at windows, hammer on fences, throw themselves against doors… or they go low, protecting what's inside, preparing for attack. For fearful dogs, they will seek to escape to evade. And if they can't escape, they will hide, seeking out kennels to hide in or couches to hide beneath. You'll find them at the back of their space, as far away from entry points, small as they can be, trying to show that they are no threat.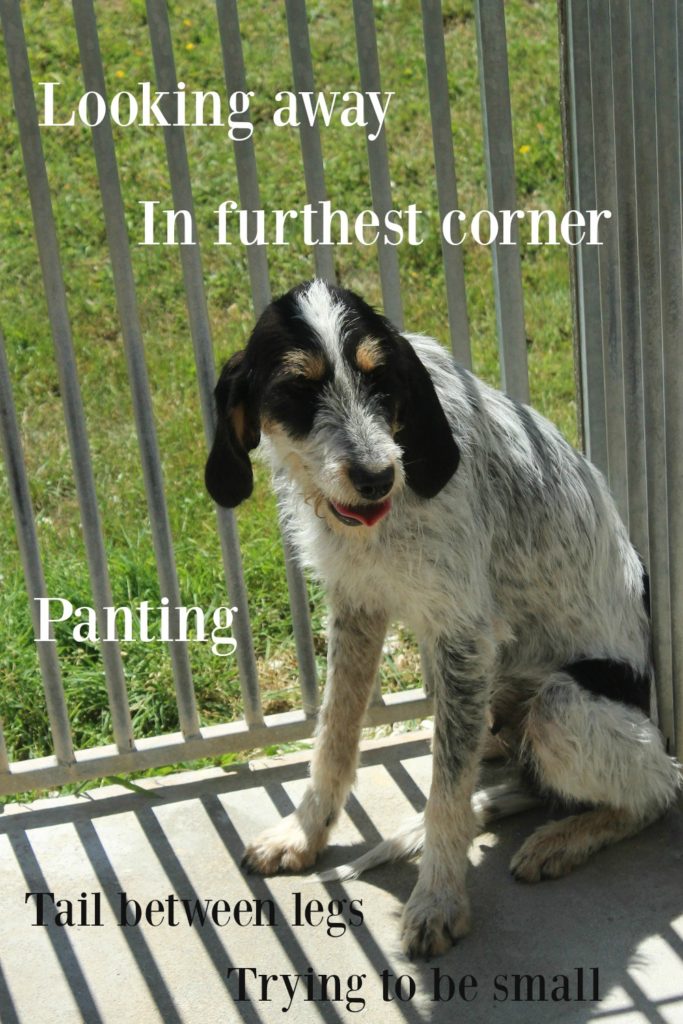 The approach outlined is aimed at changing a dog's emotional response to a regular 'intruder', be it a staff member in a kennels, a volunteer dog walker or a person who finds a canine ogre guarding its crate. It works for fearful dogs as well as it does for dogs reacting in other ways.
UNDER NO CIRCUMSTANCES SHOULD FEAR, PUNISHMENT OR CHASTISEMENT BE USED.
These will undoubtedly turn a negative experience into something worse. A dog who is reactive to people approaching is not going to be made to feel better by yelling, shouting, reprimands, shock collars or spraying it in the face. Nor is it going to be made to feel better by confining it, removing it or punishing it physically. If you are afraid of burglars, someone coming into your house and yelling at you will not make you feel more calm or relaxed.
It makes me hugely sad to realise on Youtube that many people find this approach reactivity to be a battle for 'dominance' and seek to frighten an already frightened dog into submission. Even my bête noir trainer who uses a range of physical punishments actually realised the dog was frightened and calmed it rather than punishing it. When I see still, frozen dogs, it makes me so sad. It is most sad that so many 'dominance' trainers fail to see how fearful the dog is. I don't see a dog who has 'learned' to overcome their fear of things approaching a kennel or crate, I see shut down dogs who are terrified to move. I wish I had a penny for every time a so-called balanced trainer or 'dominance' trainer said the dog was 'totally calm' or 'he doesn't really move around much because he's calm'. Those dogs are completely shut down through fear. The videos of static, unmoving, terrified dogs makes me literally sick to my stomach. Prong collars, choke collars, shock collars, spray collars, punishment or eyeballing the dog… these are no way to treat a dog who feels insecure. 
I guess that goes without saying.
The changing behaviour model I use warns reactive dogs of an approach, desensitises them to the approach and allows them to choose an emotional reaction when they are still calm enough to do so. It uses classical conditioning to pair up an approach with a positive event, so like Pavlov's salivating dogs, they anticipate approach with a positive situation. Then it allows you to teach them a new response so that they have another behaviour instead. 
First, you  need to 'charge the cue', or make sure that the target dog knows that your approach word signals the arrival of something good. Choose a moment when the dog is in neutral or even relaxed behaviour inside the kennel. Do not do this if the dog is stiff, glaring, growling or hostile. You may be able to do this by just backing up a little, or turning to your side. Body language is your friend here. The dog is safe and you are safe, so you can take your time. Move slowly, curve in, don't use direct eye contact, be fairly still but relaxed. Using soft eyes will also help. 
If the dog is growling or aggressing, do not 'reward' a dog for this by using food at this point because they may learn that their poor behaviour is being reinforced. For a dog who is very aggressive behind a very secure barrier, you may choose to wait until the dog has calmed down and throw in a really high-value treat a couple of seconds after they relax. You can reward all calm behaviour or reductions in aggression. For M, a large and unpredictably approach aggressive dog, every time he was slightly more calm, I threw in a treat. Progressively, his behaviour was less and less aggressive and I shaped a quiet and calm response from this, from which I could then continue with the rest of the protocol.
Far better, however, to announce your presence from a distance in a cheerful, friendly and upbeat manner, or use an unusual noise to announce your presence, and then approach. Use a curving, non-confrontational approach, do not use direct eye contact, keep eyes soft, hands loose and your body relaxed and soft. Having a shake-down before you do it really works!
You can use a verbal cue, like "hi doggie!" or use their name. If it's a dog you know, you can use a loaded phrase like "treat" if it always gives a positive reaction. You can also use a silly, non-meaningful word like "bananas!"
You may also choose to use a non-verbal cue, like a whistle or a non-meaningful noise. Be mindful of choosing something that is not loud, sharp or surprising. A very loud kissy noise can work, as can a "twit-twoo" like you're whistling at someone good looking. Use small, high-value treats like cheese or sausage and make sure you adjust the dog's food ration accordingly. You will need 15 pieces of food each time, so keep them small. The size of a fingernail is more than enough. You can quite easily get through a dog's entire food allowance using this method.
The full protocol is available to download here
You can also tie this in with other calming activities on the other side of the barrier if it is your own dog. 
It's very important to help your dog generalise and understand that everyone who approaches has great intentions. For this, you'll definitely need to use this protocol with a number of other people once the dog is happy about your approach. Dogs, especially reactive ones, are very in tune to small details. Even a limp or a box being carried, a hat or sunglasses can throw them off and make them unable to recognise you. Lidy, my current cutie hot mess Mali at the shelter, always knows it's me – she sees me coming from metres away. She runs and sits by the gate to her enclosure. But the time I turned up in wellies and a jumper instead of my usual coat and boots, she stood staring at me like 'who the hell are you?'.
Be mindful of the fact that sometimes we smell different, we walk differently, we carry things that dogs may not realise are part of us. The rules of sevens can help a dog quickly generalise using the same approach protocol once you have helped a dog get over its fear or aggression on approach.
Seven approaches carrying or wearing different items e.g. a large bag, a box, a coat, glasses, tinted glasses, a hat, an umbrella

Seven approaches by similar people to you e.g. similar age and height females or males
Seven approaches by people of the same gender but older, younger, shorter or taller
Seven approaches by people of the opposite gender
Seven approaches by very different people including old people, those with canes or handicaps, and older teenagers
Seven approaches by older children
Seven approaches by younger children
You can build up to a number of people arriving at the same time or crowds etc. The idea is that everything is staged and progressive.
Dogs should face their fears and learn that they have nothing to be afraid of. But to do so in a manner that overwhelms them or floods them is not only irresponsible and dangerous, but it won't work. You may end up with a shut-down dog, and that's fine if that's what your goal is (well, it's not fine to me, but hey, I don't expect anyone except a hardened animal hater to say they want a shut-down dog as their goal). The approach uses gradual and progressive desensitisation where a dog becomes accustomed to approaches in a staged and controlled manner. 'Flooding' is the term psychologists use to describe a situation in which dogs (and people) are dropped in at the deep end, hoping that they will cope. Personally, I have never seen this work and the consequences can be long-lasting and hugely damaging. Sadly, the difference between desensitisation and flooding is only one your dog can choose. If at any point the approaches are overwhelming or cause a dog to bark or growl, you are back to square one. Slowly, Slowly, Catchee Monkey.
Still, the results are really worthwhile: a dog who learns to anticipate with excitement the approach of strangers and realises that people are not mean old bald apes after all. For dogs who are suspicious of unfamiliar people or who are uncomfortable with people approaching their crate, their fence, their enclosure or their yard, this protocol is the difference between being met by 40kg of barking, jumping, lunging, growling, snarling, snapping shiny white teeth and 40kg of wags and sits.